No Wall Can Destroy the Bridges our Cities Have Built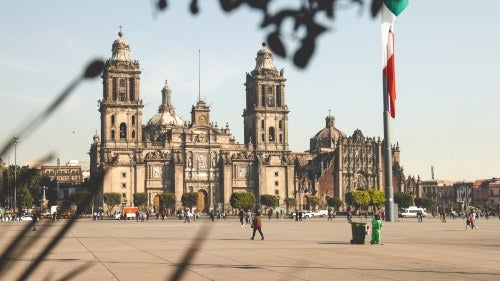 As the new administration deemphasizes global engagement, sister cities such as Chicago and Mexico City show walls can't destroy the bridges cities have built.
Thousands gathered in Mexico City on February 12 to protest the new US administration's immigration and trade policies, deeply concerned about what this new climate could mean for the future of relations with the United States. Proposals related to the border wall, tariffs on imports, raids on undocumented immigrants, and taxing remittances have created unprecedented tensions at the national level. 
But tensions at the national level need not dictate relationships at the local level. 
Mayor Miguel Angel Mancera of Mexico City recently embarked on a diplomatic tour to major American cities, including Chicago, to meet with mayors, business and civic leaders, and the Mexican community to reaffirm his city's bilateral relationships with its American counterparts. During his visit to Chicago, he and Mayor Emanuel made clear that no physical wall or derogatory statement can—or should—destroy the countless bridges our cities have built with one another. 
Sister cities since 1991, Chicago and Mexico City have a long history of exchanges, collaborations, and partnerships among their cultural, civic, business, educational, and government sectors. In 2013, under the coordination of the Brookings Institution, the two cities signed a Global Cities Economic Partnership to explore joint initiatives in trade, innovation, and education to increase global competitiveness. They were identified as "prime candidates" for this new model because of the interdependence of their economies. More than 130 Chicago-area companies have operations in Mexico, and about ten Mexican companies have a presence in Chicago. And despite the national-level turmoil, many of Chicago's business leaders affirmed they will continue to invest in Mexico because it is an important market for growth. Used to uncertainty and adjusting to changing political and economic climates, global companies don't let political whims alter their broader global strategy. 
For more than a century, Chicago has been a destination for Mexican immigrants, a vital part of the city's history and social fabric. Chicago is home to the second largest population of Mexican immigrants and their descendants. They have fueled economic growth, filling important jobs and starting businesses. The Mexican neighborhood of Little Village on Chicago's Southwest Side is the second-highest-grossing commercial corridor in the city after Michigan Avenue. While Chicago has been losing population, the decline has been—until recently—largely offset by immigration from Mexico. Communities have formed numerous hometown associations who organize soccer clubs, prayer groups, advocacy, and remittances. With such a large Spanish-speaking population in the city, fifteen of Chicago's Public Schools offer dual language education where all students receive core instruction in both Spanish and English to become bilingual and biliterate. 
The large immigrant and undocumented population in Chicago makes it a target with the President's increased immigration raids. Yet Mayor Emanuel has repeatedly vowed, as have other mayors in prominent American cities, that Chicago will remain a sanctuary city and that he will not use local law enforcement resources to conduct federal immigration business. In his meeting with Mayor Mancera, who is deeply concerned with the treatment of Mexican expats, Mayor Emanuel noted that he recently hosted four Mexican DREAMers in his home for dinner, among others, to remind them that in Chicago they are secure, safe, and supported. 
Educational partnerships are also prominent in the cities' relationship. Northwestern University works with Universidad Panamericana in sending business, medical, and undergraduate students to Mexico through a variety of programs, including "Public Health in Mexico" which they've offered since 2000. The University of Illinois at Chicago recently signed an agreement for a new academic and cultural partnership that could include faculty and student exchanges, research, and education. More than 500 alumni of the University of Chicago live in Mexico City, regularly hosting events, faculty, and exchanges. The National Autonomous University of Mexico, one of the largest universities in all of Latin America, has had a campus in Chicago since 2001. 
Deep cultural ties connect the cities in immeasurable ways. Chicago's architect Francisco Gonzalez-Pulido of JAHN has designed a new sports stadium in Mexico City while the Goodman Theater features Mexican playwrights and companies. Chicago's Yo-Yo Ma performs with youth in Mexico City's Sala Nezahualcoyotl while the Lyric Opera hosted a mariachi opera to engage the city's Mexican community. The National Museum of Mexican Art in Chicago, one of the country's largest Mexican art collections and the first Latino museum accredited by the American Alliance of Museums, has had traveling exhibits in Mexico. Restaurants, markets, festivals, and sports unite our souls and passions. 
There are numerous other connections. Both cities are members of the C40 Cities Climate Leadership Group and collaborate with other mayors from around the world to identify policies to ensure their cities are low carbon and sustainable. Eight flights connect Mexico City and Chicago every day. The Consulate General of Mexico in Chicago and the US Embassy in Mexico City regularly facilitate diplomatic visits and trade delegations. The MacArthur Foundation, headquartered in Chicago, has operated an office in Mexico City since 1992. And through churches, nonprofit organizations, community groups, and professional associations, there are thousands of linkages between the millions of people in Chicago and Mexico City who work together daily regardless of national policies. 
Cities are economic, cultural, and intellectual engines of the world, and they rely on business, civic, cultural, and social interactions to thrive in the global era. Pragmatic and practical, they understand the importance of open engagement despite increasingly nativist and insular sentiments at the national level. Global cities don't represent political parties; they represent people, institutions, and ideas. City-to-city diplomacy and engagement is more important now than ever before. President George Bush once said that "the United States has no more important relationship in the world than the one we have with Mexico." While no one may know what's in store at the national level, Chicago and Mexico City have reaffirmed that no wall can destroy the strong bridges our cities have built. 
Nonresident Senior Fellow, Global Cities


Council senior fellow Salomón Chertorivski Woldenberg was Secretary of Economic Development of Mexico City from 2012 to 2017. While in this role, the city's economy grew twice as much as the national economy. He also served as Mexican minister of Health, changing the ministry's approach to healthcare treatment to a preventative model and implementing a comprehensive pharmaceutical policy.