Half of Americans Support Use of US Troops in Defense of Ukraine

On the heels of Ukrainian president Zelenskyy's meeting with US President Biden, the 2021 Chicago Council Survey finds that a record 50 percent of Americans favor the use of US troops if Russia were to invade the rest of Ukraine.
On September 1, Ukrainian president Volodymyr Zelenskyy met with US president Joe Biden at the White House. The long-anticipated meeting between the two heads of state comes as Ukraine enters its eighth year of war since Russia invaded the eastern part of country, a conflict which has resulted in more than 14,000 deaths. The United States represents an important partner for Ukraine, with the US providing economic assistance dating back to 1992 and security assistance since 2014. Zelenskyy underlined that importance in his opening remarks, stating that the United States is a "strategic partner and a supporter of [Ukraine's] sovereignty and […] territorial integrity".
Rising support for US Involvement to Defend Ukraine
New data from the 2021 Chicago Council Survey, conducted July 7-26, finds that Americans are more willing than ever to support Ukraine, including using US troops to defend it. For the first time since the question was included in 2014, half of Americans support the use of US troops if Russia were to invade the rest of Ukraine (50% favor, 48% oppose). This is a significant increase in support for US intervention since 2014, when only three in 10 Americans (30%) supported sending US troops to Ukraine.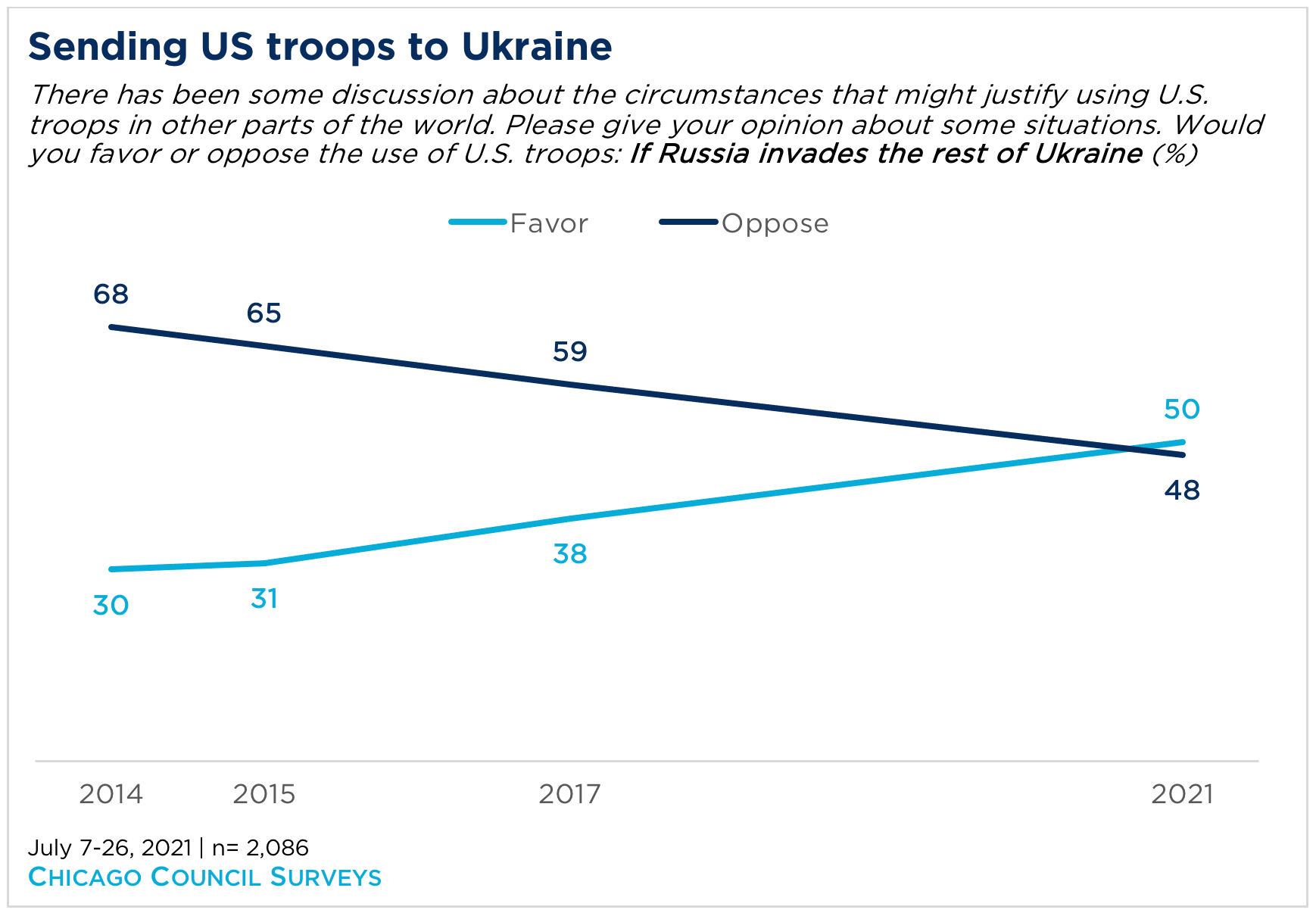 This growing support has occurred across partisan lines. Today, a majority of Democrats (54%) support sending US troops to defend Ukraine, up from 39 percent in 2017. Over the same period, support has risen 10 percentage points among Republicans (51%, up from 41%), and eight percentage points among Independents (46%, up from 38%).
But Only a Minority of Americans Favor Selling Arms to Kyiv
While half of Americans are ready to send US troops to help protect Ukraine from further Russian invasion, only a minority (41%) think that the US should sell arms and military equipment to Kiev. This hesitance to sell military weapons is a view that cuts across partisan lines (42% Republicans, 39% Democrats, 42% Independents support arms sales), and is largely unchanged from a 2015 Chicago Council Survey which found only four in 10 Americans (40%) would support the United States sending arms and military supplies to the Ukrainian government. Indeed, Americans are usually hesitant to sell arms to other countries. The 2019 Chicago council revealed that a majority of Americans (70%) said that the United States' selling weapons to other countries made it less safe. In this case, public opinion about selling arms abroad is at odds with current US policy towards Ukraine, which features important supplies of military armaments.
Though public opinion provides mixed messages for the future of US-Ukraine relations, President Zelenskyy surely came away from his DC visit pleased. The meeting renewed friendly relations between Kyiv and Washington, a relationship which had been badly tarnished during the Trump administration. That closer relationship brings Zelenskyy closer to his primary aim: the creation of a strategic alliance, one that could ultimately deter Putin from further invasion.
The Biden administration's move to make "standing up to Russian aggression" the number one goal of its strategic partnership with Ukraine is a significant step in this direction. "The results of this visit are a clear signal to Moscow not to escalate in Ukraine," said John E. Herbst, Director of the Atlantic Council's Eurasia Center and former US ambassador to Ukraine. "This is exactly what Zelenskyy wanted."
Fosca Majnoni d'Intignano
Former Intern, Public Opinion and Foreign Policy

Fosca Majnoni d'Intignano joined the Council in July 2021 as an intern with the team working on the Council's annual public opinion survey.

Assistant Director, Public Opinion and Foreign Policy


Craig Kafura is the assistant director for public opinion and foreign policy at the Chicago Council on Global Affairs, a Security Fellow with the Truman National Security Project, and a Pacific Forum Young Leader. At the Council, he coordinates work on public opinion and foreign policy and is a regular contributor to the public opinion and foreign policy blog Running Numbers.


Related Content

The Council's Ivo H. Daalder and Washington Post columnist Anne Applebaum discussed Ukraine, Russia, and if the West can help avoid a war with Russia in Europe's borderlands.