Did the UNSG Say "Revolution"?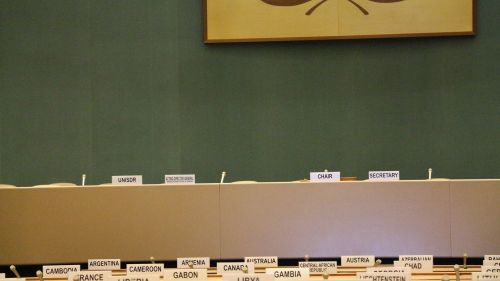 Ian Klaus writes about the role global cities play around the world and the urgent need to adapt governance practices.
On October 15, as part of the Pritzker Forum on Global Cities, the Chicago Council on Global Affairs and the Financial Times will virtually convene local, national and international leaders to discuss governance innovations and practices during the COVID-19 pandemic. While there is nothing convenient about 2020, the Forum's upcoming live stream has been helpfully anticipated by a series of publications that speak to the high stakes currently in play in cities around the world and the urgent need - from the perspective of both efficacy and equity - to adapt governance practices.
In July, the United Nations published the UN Secretary-General's policy brief on "COVID-19 in an Urban World," with input from experts at UN Habitat, United Cities and Local Governments and other institutions. In that same month, C40 Cities, for which Los Angeles Mayor Eric Garcetti now serves as chair, released the "C40 Mayors' Agenda for a Green and Just Recovery." And just this week, the Special Working Group (SWG) of the Urban 20 (U20), published "Financing Cities' Recovery from Covid-19 and Preparing for Future Shocks" (for which the Chicago Council served as a knowledge partner, and on which myself and Distinguished Fellow Mauricio Rodas served as lead authors). As leaders from city halls, national governments, civil society and the private sector gather to discuss new practices in governance, it's worth highlighting some shares ideas as well as divergent but bolds ones across the reports.
To begin, some key-shared points. First, the pain in cities and urban areas is significant and not shared equally. Despite months of everyday bravery and resilience, there is devastation. These reports provide helpful common ground on COVID-19's effects on cities and urban areas. Much of the analysis will likely ring sadly familiar: the devastation among small and medium enterprises; the extreme blow to the service sector, including tourism and restaurants; and, perhaps most importantly, the disproportionate effects among poor, marginalized and vulnerable populations around the world.
Second, city budgets are in free fall. Drawing from the World Bank and other UN entities, the SG's brief estimates that local governments will lose 15 - 25 percent of revenues in 2021. A survey of 21 of the largest urban economies in the world conducted by the U20 SWG found that nearly 90 percent expected to reduce their operating expenses, with 80 percent seeking support from capital markets. In some cases, the numbers are extreme: New York City, for example, is staring down a reduction in tax revenue of upwards of $7.4 billion over two years. And, as the US Conference of Mayors' aptly titled Fiscal Pain Tracker makes clear, the reductions are not limited to big cities. The SG's policy brief put it bluntly: "In the near term, for many cities, the COVID-19 health crisis has expanded to a crisis of urban access, urban equity, urban finance, safety, joblessness, public services, infrastructure and transport, all of which are disproportionately affecting the most vulnerable in society."
Third, near-term budgetary crunches do not negate ongoing long-term crises. For all the tragic novelty of 2020, the social and economic faultlines and inequalities that COVID-19 laid bare did not begin this year; nor, for that matter, were many of the most effective responses the results of spontaneous collaboration of newly-borne task forces. Tipping our hats to Marc Bloch, Lucien Febvre and Fernand Braudel, we are again reminded that historical events cannot separate themselves from wider historical trends. Build Back Better has become a familiar and focusing mantra but that doesn't make it easy. As Aromar Revi recently detailed in a response to the SG's brief, "Harnessing Urbanization to Accelerate SDG Implementation in a Post-COVID-19 world," progress on the many of the Sustainable Development Goals has been reversed by COVID-19. According to Revi, the Director of the Indian Institute for Human Settlements, the pandemic
[H]as driven national economies into deep recession, plunged hundreds of millions of people into uncertain livelihood conditions (SDG 8), and consequently worsened poverty (SDG 1) and food insecurity (SDG 2). It has also closed down education systems (SDG 4), disrupted access to public transport (SDG 11) and as demand and real incomes fell, to affordable clean energy (SDG 7) as well as clean water and sanitation (SDG 6), in some places. Tectonic fault lines of economic (SDG 10), gender (SDG 5) and other forms of social inequality have opened, potentially undoing decades of peacemaking as well as institution- and partnership-building (SDGs 16 and 17).
This analysis is not pretty in the short or long-term. But as with the three aforementioned reports, Revi is forward looking, with policy prescriptions to match the somber analysis. There is indeed something nearing consensus around the need for green infrastructure development; increased national budgetary support for local governments; increased engagement between international financial institutions and municipalities; and improved multi-level governance that allows for local voices from government and civil society.
Of course consensus does not always favor the bold. And given the scale of the challenge cities face, it's worth highlighting the more radical ideas, even if they do not find universal support at the moment.
The C40 Agenda is a collection of ideas that, owing to the organization's own successes, have moved from the radical to the realistic. That said, its boldest language comes through in the recommendation to "end all public investment in fossil fuels." The SWG report, for its part, targets national governments and doesn't advocate radical reform; instead, it's boldest idea comes in the form of the a Global Urban Resilience Fund to support short term and long term (resilience-building investments in public infrastructure/public goods) recovery efforts. At its boldest, the UN brief is also, well, eminently diplomatic. In its focus, it looks at cities and urban areas; its audience remains, however, member states. That said, the brief itself lays out a framework that, if delivered upon, would "lead a revolution and collective reprioritisation of the world's cities." Perhaps unsurprisingly, it is Revi who goes furthest. His concerns center upon Covid-19 and the climate crisis, but also the legitimacy of the multilateral system itself. Revi argues for "national Governments and the United Nations system to consider a time-bound transition to a greater institutional voice and agency for local and regional governments." Make no mistake, this is radical reform couched in bureaucratic language. Just ask any Indian, Russia, or for matter, American diplomats, what they think of the idea.
Whether change is delivered through a new fund, divestment, time-mandated reform to seventy-year old international organizations, or through urban "revolution" delivered by countries themselves, the bet here seems to be that adaptation is not going to be a subtle affair.
Senior Fellow, Global Cities and Foreign Policy


Ian Klaus also serves as director of research and policy for the Global Parliament of Mayors and as the series editor of the AR6 Summary for Urban Policymakers. Previously, he served as a diplomatic adviser to the Urban 20 and C40 City Climate Leadership Group.