A very real guide to Chicago's unicorn world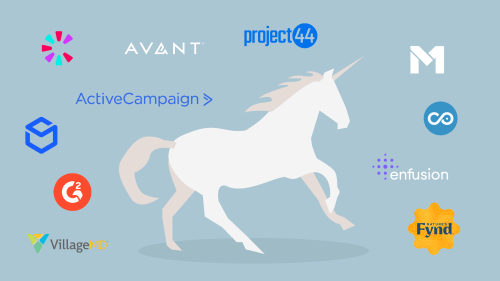 It's not your imagination. Chicago has experienced a unicorn explosion in recent years. What makes the area so appealing?
Take a walk around the Chicago Loop and you might see a unicorn or two — not the mythical horned creature, but a privately held startup company with a value over $1 billion.
The Chicago metropolitan area has 23 unicorns as of July 2023, according to World Business Chicago. Although Chicago is far behind the global leader San Francisco — with 162 unicorns, according to Failory — it has seen unprecedented unicorn growth in recent years. Chicago welcomed 12 new unicorns to its startup ecosystem in 2021.
This growth is thanks to Chicago's unique conditions, including a strategic location in the center of the country, multiple top-tier universities, and a culture of strong work ethic.
"Chicago is a city that welcomes growth while still holding on to the traditions that make it one of the best cities in the world," Paul Zhang told the Council in an email. "There's always room for a new idea, product or solution that will impact the city and the people that live there in a positive way." Zhang is a co-founder of the fintech unicorn Avant.
This environment dates back to the 19th century, when Chicago began to rise as a major railroad hub in the U.S. WBC Innovation & Venture Council Chair Mark Tebbe described Chicago's location today as a "geographical blessing" due to its status as both a freight and air travel hub.
These unique conditions mean that logistics and transportation is the city's largest unicorn-producing industry, according to WBC.
Jason Duboe, formerly the chief growth officer at the logistics tech company project44, said Chicago has an ecosystem of entrepreneurs and operators with plenty of "logistics success stories."
"There's a reason why Chicago has been put on the map as a global transportation hub," Duboe said. "We are strategically located kind of in the middle of the country, and in a lot of ways in the middle of the world for a lot of supply chains."
When it comes to foreign direct investment, Tebbe said O'Hare Airport has been an asset due to its large quantity of international flights, bringing more global attention to the city.
Duboe also said that Chicago is a great place for project44's headquarters because there are a lot of people who helped "globalize" the company as it was growing.
"We shouldn't be labeled as a Chicago company, or a Midwest company," he said. "We happen to be started in Chicago, but you're solving a national problem, you're solving a global problem, you're solving problems for lots of customers, and that should really be embraced."
Aside from location, Chicago's universities aid companies by producing talented potential employees. People who go to school in Chicago are more likely to stay in the city and contribute their talents to the business ecosystem.
"Talent is borderless at this point," Duboe said.
Not only is talent available in Chicago, but Midwesterners — concentrated in Chicago — tend to have strong work ethics, according to Tebbe.
Duboe, a Chicago native, said he found Chicagoans to be "ambitious but humble." Zhang had a similar experience when he co-founded Avant.
"When we started Avant as three people in one office, we embodied the hard-working, 'big shoulders' attitude that is instilled in every Chicagoan," Zhang wrote. "The team we've built in our time in Chicago represents the caliber of the professionals that graduate from the universities in the Chicagoland area."
Despite Chicago's booming unicorn scene, there is always room for improvement, Tebbe said. Mainly, there needs to be more awareness around what Chicago has to offer in order to grow the business community.
"It starts building up the community; the more people, ideas and companies that are involved in the startup community, the stronger it becomes," Zhang wrote. "This extends to capital, talent and mentorship. If we can do that, the opportunities for the startup community are limitless."
As chair of the WBC Innovation & Venture Council, Tebbe works to make this happen. Among other initiatives, WBC hosts the Chicago Venture Summit each year, connecting startup founders to local and global investors.
In the meantime, Duboe thinks it's important to appreciate the successes of the city so far.
"Chicago needs to continue to be proud of what we are and what we've built," he said.
23 unicorns:
ActiveCampaign, a marketing software company that aids in customer experience automation
Amount, a financial technology company that helps partners to optimize performance and enhance their digital experience
Avant, a private financial technology company that provides access to personal loans and credit cards
Bringg, a software company that offers a mobile-based platform for supply chain technology, people, and providers to connect
Cameo, a video-sharing website where customers can pay for personalized videos from their favorite celebrities
Copado, a Salesforce platform that aids clients in deployment and releases management
Enfusion, a financial software company that simplifies and solves problems in the investment management industry
FourKites, a technology company that provides tracking and supply chain visibility solutions
G2, a software marketplace for business organizations
Groupon, a website and mobile app that provides coupons and group deals to customers
LivingSocial, an online local marketplace for users to buy and share things to do in their city
Loadsmart, a logistics technology platform that offers freight brokerage and software for shippers
Mu Sigma, a data analytics firm that partners with companies to help in their data-driven decision-making
M1 Finance, a financial services company with a hybrid investment app that offers both self-directed trading and automated investing
Nature's Fynd, a company that develops microbe-based proteins as substitutes for meat and dairy products
project44, a logistics technology company that develops supply chain management software
Relativity, an artificial intelligence software company that helps users organize data
ShipBob, a global company that helps brands ship orders to customers
SMS Assist, a facilities maintenance firm that helps companies from a wide range of industries maximize their efficiency
Tempus Labs, a technology company that works toward advancing precision medicine through artificial intelligence in health care
Trustwave, a cybersecurity company that detects and responds to security threats
Uptake, an artificial intelligence software company that helps companies translate data into failure predictions and prevention
VillageMD, a platform with tools, technology, and operations to aid primary care physicians
Former Intern, Blue Marble Studios

Fiona Roach joined the Chicago Council on Global Affairs as a 2023 summer intern with Blue Marble Studios, and is a student at Northwestern University studying journalism and international studies. She's originally from Chicago, specifically Ravenswood and Forest Park neighborhoods. Previously, she worked for The Daily Northwestern and Growing Community Media as a reporter and an editor.