Bridging Gaps to Achieve Good Food for All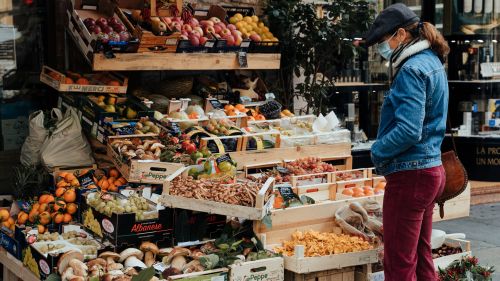 Paul Newnham identifies key gaps in efforts to end hunger, and offers solutions to break down silos and build up food systems.
In 2015, when world leaders adopted the Global Goals, they promised in Sustainable Development Goal 2 (SDG2) to work together to end hunger, achieve food security and improved nutrition, and promote sustainable agriculture by 2030. In 2015, taking inspiration from the progress made in recent decades, there was reason to be optimistic that with concerted effort, it was indeed feasible to end hunger. However, hunger has been rising each year since the Sustainable Development Goals (SDGs) were adopted. A combination of factors is driving this trend—including the impact of climate change, conflict, and economic downturns.
The COVID-19 pandemic has simultaneously made more visible and compounded many challenges and inequities in our global food systems, which have previously been overlooked or underplayed. Even though we saw people coping, adapting, and innovating across the world, at all levels of the food system the pandemic still led to a staggering rise in already high levels of food insecurity and malnutrition, and to an inconceivable loss in livelihoods. In short, the pandemic has highlighted that we are off track to achieving SDG2 and that food systems today are fragile and failing to deliver good food for all—healthy diets that are accessible, affordable, and built on equitable and sustainable foundations. In many ways, this last year has been a wake-up call highlighting that if we are to ensure a sustainable future for people and the planet, we must act with urgency and resolution, right now.
To achieve good food for all, we must bridge gaps within and across food systems. Firstly, we must move beyond the silos within SDG2 and coordinate action on agriculture, nutrition, and food security. Secondly, we must bridge gaps between stakeholders and encourage a diversity of voices to be included: rich or poor, young or old, everyone needs to eat and the responsibility for functioning food systems is shared between a multitude of actors. A transformation of food systems will only be as effective as the perspectives and initiatives driving it are diverse and aligned. Thirdly, we must bridge the gaps between the Sustainable Development Goals and beyond just SDG2 as food systems touch on all the Global Goals.
2021 has the potential to be a much-needed catalytic year that helps us bridge these gaps and set us on the path towards ending hunger and malnutrition and achieving good food for all. In July and September this year, the United Nations (UN) Secretary General will convene the first Food Systems Summit, a landmark event aspiring to shape global commitments and to raise global awareness of food systems and the crucial importance to transform them. This summit offers a unique opportunity to achieve global agreement on food systems challenges and solutions, and drive a food systems transformation that is inclusive and rooted within a systems approach.
Bridging Gaps Within SDG2
To get on track to achieve SDG2 by 2030, the SDG2 community must come together around a joint agenda for action. One that calls for a recommitment to sustainable agriculture, nutrition and food security with coordinated investments and a clear accountability framework. With less than 10 years to go, to be successful, such investments must scale up proven interventions and approaches, bridge gaps to address the multiple drivers of hunger and food insecurity, and leverage every dollar invested by working across sectors to take "double or triple duty" actions that are sustainably increasing livelihoods, improving agricultural productivity and delivering better nutrition. In other words, to drive positive outcomes for people and the planet, it is critical that we promote agriculture investments that are climate-smart and nutrition-sensitive.
Good food begins with farmers. Small-scale farmers are at the heart of local food systems. Yet too many live in poverty. New research conducted by Ceres2030 has identified 10 of the most effective actions to double the incomes of smallholder farmers and promote sustainable agriculture. This provides an investment roadmap for decision-makers.
Good food is also nutritious. Healthy diets are out of reach for too many people in the world, especially, ironically, for the smallholder farmers in low-income countries. The economic cost to individuals, families, communities, and economies of malnutrition, especially among adolescent girls, women, infants, and young children, is far too high to ignore any longer. It has enormous, life-long health consequences—COVID 19 has made that abundantly clear. It also affects educational attainment and income potential. Nutrition should no longer be considered a "nice to have," it is a "must-have." We need to transform food systems to deliver healthy, affordable diets and resilience by supporting smallholder farmers to sustainably increase the production of fruit, vegetables, and other nutrient-rich crops, through agricultural extension, cold storage, access to markets, financing, and risk insurance; investing in research and innovation on drought-resistant, nutrient-rich crops; expanding food fortification and biofortification of staple crops and investing in female farmers and small and medium-sized enterprises (SMEs) working in the nutrition space. In addition to the UN Food Systems Summit, Nutrition for Growth (N4G) will be a particularly important opportunity this year for collective action on nutrition.
Bridging Gaps between Stakeholders
Achieving SDG2, the broader SDGs and good food for all depends on and will require coordinated action across a variety of stakeholders—governments and policymakers, farmers large and small, scientists and researchers, businesses and SMEs, civil society, and, of course, all of us who buy, prepare, and consume food. We can no longer afford to function in silos. With the UN Food Systems Summit, the Climate Summit, and the Nutrition for Growth Summit all this year, all stakeholders have a unique and extraordinary opportunity to work together to design solutions that tackle the overlapping challenges of food insecurity, malnutrition, livelihoods, productivity, resilience, climate adaptation, and sustainability.
The UN Food Systems Summit—a people's summit—actively encourages everyone to engage to ensure that all ideas and perspectives are considered. You can join the Food Systems Community—a platform to engage other stakeholders, there are national and independent dialogues in which all stakeholders can input. And you can share your ideas on the five Action Tracks online or turn your ideas/insights for food system change into action via the Food Systems Game Changers Lab.
Actively involving a variety of stakeholders across all levels of food systems in the summit process is crucial. In fact, a food systems transformation will only be as effective as the perspectives driving it will be diverse. Tying together diverse views and solutions does not work if we don't have a facilitated process to formulate open, transparent partnerships and so your participation and input are critical.
Bridging Gaps on the Global Goals
When the SDGs were adopted, it was recognized that all the goals are interconnected and that we will only progress on one goal if we make progress on the others. This is especially true for SDG2. In many ways, SDG2 is foundational for people, prosperity, and the planet. As such, it is important that we break through sectoral silos across the goals to create the space for comprehensive solutions to interconnected problems.
We stand at a crossroads on our way towards 2030 and need to ensure that 2021 marks the starting point for a determined and rapid transformation of our food systems. As highlighted, to get back on track with all SDGs, and especially SDG2, we must bridge gaps within SDG2—across nutrition, agriculture, and food security—to build and pursue a joint agenda of action. We must also bridge silos and gaps between stakeholders to make sure that solutions tackle overlapping challenges, and, finally, we must bridge gaps on the global goals, recognizing that all goals are interconnected and that no progress can be achieved unless progress is driven on them all. The UN Food Systems Summit as the key advocacy moment this year offers a unique opportunity to achieve all three of those goals. Let us come together and make sure that our food systems become more inclusive, nutritious, resilient, sustainable, and equitable, setting us on the right track to ensure a healthy future for both people and the planet.
"Harvesting Tomorrow" Series
The Chicago Council's Center on Global Food and Agriculture is proud to share a new blog series, Harvesting Tomorrow. The series highlights up-and-coming faces and ideas in the agrifood industry, and features much-needed game-changers in every facet of the food system—from field to plate and beyond. Read all posts from this series.
Director, SDG2 Advocacy Hub Secretariat

Paul heads up the Sustainable Development Goal (SDG) 2 Advocacy Hub, an initiative bringing together NGOs, advocacy groups, civil society, the private sector, and UN agencies to coordinate global campaigning and advocacy to achieve SDG2. Paul seeks to generate change that will impact food systems, people, and the planet.