Zoonotic Possibilities, Earthquake Aftermath, and Taking to the Streets
February 10, 2023
Check out our roundup of the week's top news and research in food, agriculture, and global development.

Credit: REUTERS/Sarah Meyssonnier
Top Story 
Earthquake Aftermath: Hunger in Türkiye and Syria
Earlier this week, a deadly earthquake and series of aftershocks hit Türkiye and Syria, causing over 20,000 confirmed deaths. The earthquakes leave thousands of people without access to shelter or food, leading many organizations to take action by providing immediate food assistance. World Food Programme teams are already on the ground in both countries, alongside World Central Kitchen and others. With roughly half of Türkiye devoted to agriculture, the damage to farmland is likely substantial and may affect the region's food security well into the future.
Council Insights 
Protecting Zuni Youth
"Capitalism is directly contradictory to the traditional way of Zuni life. Yet, Zuni youth need to find the balance of both worlds in order to live," writes Tahlia Natachu in Global Food for Thought. "How do Zuni youth, or any Indigenous youth, stay connected to their traditions and have a strong sense of identity while pursuing goals in a fast-paced and ever-changing world?" Read the full blog post.

Food & Agriculture 
The Year of Millets
Last year revealed frightening weak points in the global food system as the war in Ukraine and climate change upended supplies and raised the price of foodstuffs. To prevent future disruptions, FAO is attempting to revive millets, a hardy and fast-growing grain alternative. More tolerant to poor soils, drought, and harsh growing conditions, millets could help fill gaps left by falling grain exports, and have already seen great success in India, China, and parts of Africa.
Paris Protests
Hundreds of French farmers are driving their tractors through Paris to protest the country's new pesticide restrictions. The French government recently banned neonicotinoids, a class of insecticide heavily used in sugar beet crops. While proponents argue that the ban preserves honeybees and biodiversity, farmers say that the ban restricts efforts to boost domestic food security. 
Zoonotic Possibilities
The bird flu is no longer contained to birds. Recent infections in minks, otters, foxes, and sea lions illuminate that the virus is capable of jumping between species, causing sharp declines in livestock numbers and raising concerns of animal-to-human transmission. WHO Director General Tedros Adhanom Ghebreyesus said that although the current risk of avian influenza to humans is low, we cannot assume this will remain the case.
Deeper Dive 
European Pesticide Bans
France is not the only country that is restricting pesticides and other environmentally harmful practices; Germany recently came under fire for doing the same. The German government attempted to ban the export of pesticides, but manufacturers and distributors raised concerns that it would limit sales markets. In a similar vein, the European Union is considering banning "forever chemicals," illuminating trends towards environmentally sustainable practices.
Resilience
Fishy Solutions
As Kenya grapples with climate swings, farmers are struggling to make a consistent income, but they have found a new solution: fish. Through fish farming, farmers can harvest rainwater during heavy rains and use it to irrigate their crops during dry spells, improving crop outputs while simultaneously making a profit from selling the fish. Coupled with government support in building fishponds, fish farming is rapidly growing in Kenya and could help reduce the impact of climate change.
DC Report
Boosting School Nutrition
In an attempt to curb childhood obesity, diabetes, and other nutrition-related diseases, the Biden administration proposed new nutrition guidelines for school meals. The guidelines would bring school meal programs up-to-date with federal dietary standards by limiting sugar and salt while increasing whole grains. However, some schools are raising concerns over whether they will be able to afford sourcing ingredients that meet the new guidelines.
Big Actors
Ag Export Uncertainty
Rocky relationships between the United States and China are calling into question existing agricultural exports. As the top destination for US agricultural products in 2022, accounting for 19.2 percent of the value, China plays a significant role in farm exports, especially for major items like grain and meat. If trade flow between the two countries is called into question, US farmers may have to start looking for new markets to invest in.
Big Ideas
Lovable Landfill
In Kigali, Rwanda, the production of a new landfill is under way, but it's not like all the others; this landfill will convert organic waste into biogas, electricity, and fertilizer. Through collecting the gas produced by the fermentation of organic waste, the landfill can burn it in a power plant to create electricity while simultaneously reducing the amount of gas in the atmosphere. The project is expected to come to fruition in May 2023, sparking hope for the future of environmental sustainability.
Ask an Expert
As the Colorado River continues to dry up, conflicts between states are starting to appear. How might this look on a global scale, as tension over access to clean water resources grows? How will this impact global food security?
"We should expect water resource insecurity to deepen steadily as a combination of over-exploitation, climate change, and pollution threaten agricultural production almost everywhere on Earth. Agriculture depends on regularity in water and temperature, which these things disrupt, and our highly globalized food system means that production problems in distant places cascade across the globe. The Western United States, where lots of our domestic produce originates, will be transformed by water insecurity. But the population that will bear the brunt of water-related food insecurity are the global poor who overwhelmingly depend on agricultural production for their survival."
— Nonresident Fellow Dr. Michael Tiboris
Nonresident Fellow, Global Water


Michael Tiboris is nonresident global water fellow at the Chicago Council on Global Affairs and was a public fellow for the American Council of Learned Societies. His research focuses on primary resource stability as a foreign policy objective, and is particularly focused on water resource policy, cooperative resource governance, and global justice.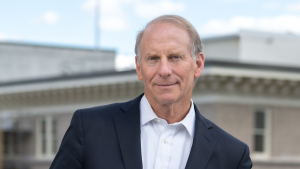 Council on Foreign Relations President Richard Haass offers suggestions on steps we can take to preserve American democracy and tackle challenges facing the United States.
Did you miss one of our previous livestreams? Don't worry! They are all available on our website to watch at any time.
Other Upcoming Events
Private Sector Finance for Small Producers' Climate Adaptation: Can It Be Done?
Date: February 14
Time: 3:00 - 4:30 p.m. CET
Why is Financing Food Systems Transformation the Latest Global Challenge?
Date: February 15
Time:: 1:45 – 2:45 p.m. CET
Healing with the Land: A Celebration of A Darker Wilderness
Date: February 16
Time: 7:00 – 8:00 p.m. ET
Farmers for Climate Action: Rally for Resilience
Date: March 6 - 8
Green and Growing Summit
Date: May 6
Time: 8:00 – 3:30 p.m. CT
---
Land Acknowledgement Statement
The Center on Global Food and Agriculture recognizes it occupies the ancestral land of the Kiikaapoi, Peoria, Kaskaskia, Bodwéwadmi, and Myaamia people. Indigenous communities around the world disproportionately experience the pressures of climate change, global conflicts, and the COVID-19 pandemic, while simultaneously stewarding 80 percent of the world's biodiversity. These Indigenous tribes and nations are the original owners of this land and continue to be systemically erased by policies and practices that ignore their histories. To learn more about Indigenous foodways and practices, check out our 2022 blog series "Stewardship, Sovereignty, and Solutions."
Communications Officer

Natalie Burdsall joined the Chicago Council on Global Affairs in 2022 as the communications officer for the Center on Global Food and Agriculture. In this role, they promote the work and impact of the Center to expand public engagement in global food and agriculture, and assist in bringing the Council's digital transformation to fruition.

Intern, Center on Global Food and Agriculture

Clayton Elbel joined the Council as a 2023 spring intern with the Center on Global Food and Agriculture.