Tribal Solutions, Rat Infestation, and Baby Food
January 27, 2023
Check out our roundup of the week's top news and research in food, agriculture, and global development.

Credit: REUTERS/Bruno Kelly

Food & Agriculture 
Brazil's Humanitarian Crisis
Farmers Feeling Brexit
Rat Infestation
Deeper Dive 
Why Are Egg Prices Skyrocketing?
Resilience
Eating Enzymes
BASF and Cargill announced an expanded partnership to bring enzyme-based products and solutions to the animal feed market. With the United States as the latest country to be added to the joint development, the partnership will build on previous collaboration across Argentina, Brazil, Mexico, Portugal, Spain, the Middle East, and Africa. It is designed to help improve productivity and sustainability, and will address cost challenges for consumers.
DC Report 
FDA Takes On Baby Food
The FDA issued a draft proposal limiting lead amounts in processed baby foods. The proposed limits range from 10 to 20 parts per billion, and include baby foods like puréed fruits, yogurts, and cereals. If adopted, the agency expects the proposed limits to reduce dietary lead exposure by about 25 percent. This draft proposal comes after the FDA recommended limiting lead levels in juice and inorganic arsenic in infant rice cereal last year.
Big Actors 
Gender Hunger Gaps
The emerging climate crisis is creating a growing gender hunger gap, seen in the prioritization of men's diets over women. The World Food Programme predicts climate change will continue to produce environmental shocks that disproportionately affect women, children, and Indigenous people, leaving millions hungry. To advance human and environmental health, communities must promote gender equality and women's empowerment. Read more in our Global Food for Thought Blog A Gender-Responsive Approach to Natural Resources.

Trade & Commodities 
Corn Battles
USTR and USDA Officials raised "grave concerns" over Mexico's push to ban human edible GMO corn from entering the country, the latest in a months-long fight. Mexico had proposed extending the moratorium on US biotech corn until 2025. The statement argued the move threatens to disrupt billions of dollars in bilateral agricultural trade and stifle progress on climate and food security goals. With the United States accounting for most Mexican corn imports, USTR is considering taking formal legal action under the US-Mexico-Canada Agreement. 
Ask an Expert
Can farmers utilize agtech to enhance sustainability without widening existing technological divides between low- to middle-income countries (LMICs) and high-income countries, or are technological divides an inevitable consequence?
"Farmers are already using tech solutions to improve their farm businesses in so many ways, including simple technologies we may not consider agtech, like coordinating input purchases or sales via WhatsApp. I worry less about a generalized divide between farmers in high and low-and-middle income countries and more about the gender divide within LMICs. Recent evidence from GSMA on the digital gender divide suggests the divide has been pretty static in most places, though widening in South Asia and always worse for rural people than urban dwellers. So, agtech is operating in this wider context and needs to be aware.
To limit the risk of exacerbating inequity and contribute to a more equitable expansion of agtech, I see three areas of action: 1) we need collective investments in closing fundamental digital gaps across equipment access, broadband and confidence for the most marginalized producers, especially for rural women; 2) we need to ensure product designers are trained in assessing user needs and existing behaviors around tech adoption so they can design useful and inclusive products; and 3) we need to advocate for tech and policies that protect individual privacy and agency over data about them."
— Nonresident Fellow Alesha Miller
Nonresident Fellow, Global Food and Agriculture


Alesha Miller is a nonresident fellow of the Center on Global Food and Agriculture at the Council. She currently advises a social impact technology startup and is an independent consultant and public speaker on food and agriculture. Most recently she was managing director of the Council's Center on Global Food and Agriculture, overseeing strategy, research, policy development, and team management.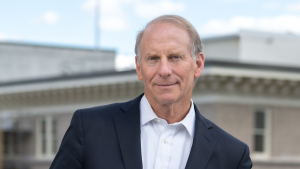 Council on Foreign Relations President Richard Haass offers suggestions on steps we can take to preserve American democracy and tackle challenges facing the United States.
Did you miss one of our previous livestreams? Don't worry! They are all available on our website to watch at any time.
Other Upcoming Events
Food Matters Chicago Think Tank
Date: January 31
Time: 8:30 a.m. – 12:00 p.m. CT
The Future of Food and Agriculture: Drivers and Triggers for Transformation
Date: February 1
Time: 10:00 – 11:15 a.m. ET
Taking Stock of Africa's Agrifood Processing Sector
Date: February 9
Time: 8:00 – 9:30 a.m. ET
46th Session of the IFAD Governing Council
Date:  February 14 – 15
Green and Growing Summit
Date: May 6
Time: 8:00 a.m. – 3:30 p.m. CT
---
Land Acknowledgement Statement
The Center on Global Food and Agriculture recognizes it occupies the ancestral land of the Kiikaapoi, Peoria, Kaskaskia, Bodwéwadmi, and Myaamia people. Indigenous communities around the world disproportionately experience the pressures of climate change, global conflicts, and the COVID-19 pandemic, while simultaneously stewarding 80 percent of the world's biodiversity. These Indigenous tribes and nations are the original owners of this land and continue to be systemically erased by policies and practices that ignore their histories. To learn more about Indigenous foodways and practices, check out our 2022 blog series "Stewardship, Sovereignty, and Solutions."
Communications Officer

Natalie Burdsall joined the Chicago Council on Global Affairs in 2022 as the communications officer for the Center on Global Food and Agriculture. In this role, they promote the work and impact of the Center to expand public engagement in global food and agriculture, and assist in bringing the Council's digital transformation to fruition.

Intern, Center on Global Food and Agriculture

Clayton Elbel joined the Council as a 2023 spring intern with the Center on Global Food and Agriculture.