Techno Rice, Trouble in Tunisia, and a Chance for Chicken
December 16, 2022
Check out our roundup of the week's top news and research in food, agriculture, and global development.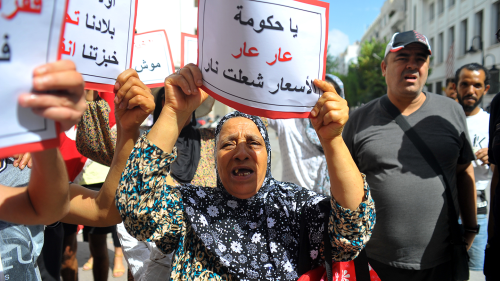 Credit: REUTERS/Yassine Mahjoub
Top Story 
Catastrophe in Somalia
Conditions in Somalia are catastrophic. Several parts of the country are at risk of famine between April and June 2023, while more than eight million people presently face an unprecedented level of food need. Caused by five consecutive failed rainy seasons and exceptionally high food prices, hunger in Somalia has no clear end in sight, leading the UN to urge countries to provide humanitarian assistance immediately.
Council Insights 
Avoiding the GMO Curse
"If these CRISPR crops can avoid being regulated like GMOs, they might create significant opportunities for low- and middle-income countries, and help combat both hunger and poverty," argue Natalie Burdsall and Robert Paarlberg in Global Food for Thought. Read the blog to learn more about CRISPR regulations, and how it can benefit the agricultural sector.
Food & Agriculture 
Pakistan's Crisis
In Pakistan, the effects of summer flooding are dire. Destroying more than $30 billion worth of farmland and other assets, the flooding caused severe agricultural losses that cannot be replaced, leaving locals with dwindling access to food. Coupled with massive inflation, communities are being pushed further into poverty and desperately need government assistance before the next crisis strikes.
Trouble in Tunisia
Tunisia is facing a major economic crisis as elections approach, leaving voters with one thing on their mind: food shortages. Experiencing a toxic combination of rapidly rising inflation and the global financial crisis, the majority of Tunisians are struggling to meet their basic needs as grocery store shelves remain empty, exacerbating existing class divides.
Tightening Supplies
Global farm production is predicted to decrease as fluctuating weather, the war in Ukraine, and high energy costs tighten supplies. Wheat, specifically, will continue to fall through the beginning of 2023, as production is unlikely to be enough to replenish already dwindling supplies. This has food import costs on track to hit nearly $2 trillion—a new record—forcing low- and middle-income countries to cut consumption.
Deeper Dive 
Class Divides in Tunisia
Worsening food shortages in Tunisia are drawing attention to existing class divides. In La Marsa, a wealthier coastal town, luxury imports of foie gras and trendy health foods are easily accessible, a stark difference from other communities that are struggling to obtain even the simplest of meals. Without intervention, food inflation will continue to exacerbate inequity and widen the gap between the rich and poor.
Resilience
Techno Rice
A German chemical group has found a way to use AI to improve rice yields in Japan, making up for farmers' labor shortages. Through developing real-time analysis based on satellite and weather information, the technology provides custom fertilizer recommendations for each farm section. It allows farmers to apply fertilizers more accurately, increasing yields by up to 25 percent in some fields and providing hope for improving global rice outputs.
DC Report 
Climate-Smart Funding
On Monday, USDA announced another $325 million for agricultural projects designed to reduce greenhouse gas emissions, this time with a focus on small and underserved producers. Following a $2.8 billion investment in September mostly given to large-scale projects and organizations, the funding sends a message that all producers can contribute to ending the climate crisis. With agriculture responsible for an estimated 11 percent of the US's climate-warming emissions, the funding could not come soon enough.
Big Actors 
Grain Grab
Since the start of the war, three of Ukraine's biggest farming operators have lost some 400,000 acres, more than twice the area of New York City. However, the farmland was not taken by the military but by a company owned by a Russian oligarch. Through the seizures, the company stands to become the largest farm operator in Ukraine. This move threatens to put a large portion of one of the world's biggest grain harvests under Russian control, increasing Moscow's global economic leverage.
Trade & Commodities 
A Chance for Chicken
Malaysia is facing a chicken crisis. Low ceiling prices and increasing chicken feed costs are putting immense pressure on breeders, lowering yields and worsening the country's dependence on imported chicken. However, Singapore may have a solution. Through exporting agricultural technology to Malaysia, Singapore can help address the chicken egg shortage by maximizing productivity.
Ask an Expert
What is the long-term impact of the first 1,000 days of a child's life?
"All through the long, dark days of COVID, I worried how the moms and children featured in The First 1,000 Days book were faring. Had COVID reached their rural villages in India, Uganda, and Guatemala, where health care was at best very basic, beset by shortages of vaccines and equipment even before pandemic? Had there been widespread illness and death? Resuming international travel during the second half of this year, we were delighted to find them all in good health, with most of the adults vaccinated. After one or two years of virtual schooling, relying on very shaky cellphone connections, the children, now nine years old, are back in the classrooms. The moms, unanimously, said their commitment to good nutrition in the first 1,000 days provided a better start in life for their children and helped fortify them during the pandemic. Stay tuned for more updates–with photos and video–in a new digital epilogue to the book."
— Senior Fellow Roger Thurow
Senior Fellow, Global Food and Agriculture


Roger Thurow spent three decades at The Wall Street Journal as a foreign correspondent based in Europe and Africa prior to joining the Council in 2010. His coverage spanned the fall of the Berlin Wall, the release of Nelson Mandela, the end of apartheid, and humanitarian crises. He is the author of three books.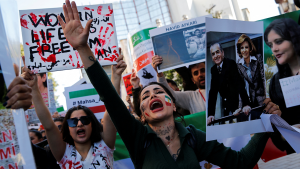 Experts discuss the movement's momentum and the deteriorating human rights situation in Iran, and how it is shaping the future of women's rights.
Did you miss one of our previous livestreams? Don't worry! They are all available on our website to watch at any time.
Other Upcoming Events
UN Biodiversity Conference (COP15)
Date: December 7 - 19
Virginia Biological Farming Conference
Date: January 6 - 8
Farm Commons Webinar for Illinois Farmers: Farm Liability and Insurance Basics
Date: January 23
Time: 6:00 - 7:00 p.m. CT
Black Earth Wisdom Virtual Panel with Leah Penniman
Date: March 23
Time: 7:30 - 9:00 p.m. ET
2023 NE Farm to Institution Summit
Date: April 18 - 19
---
Land Acknowledgement Statement
The Center on Global Food and Agriculture recognizes it occupies the ancestral land of the Kiikaapoi, Peoria, Kaskaskia, Bodwéwadmi, and Myaamia people. Indigenous communities around the world disproportionately experience the pressures of climate change, global conflicts, and the COVID-19 pandemic, while simultaneously stewarding 80 percent of the world's biodiversity. These Indigenous tribes and nations are the original owners of this land and continue to be systemically erased by policies and practices that ignore their histories. To learn more about Indigenous foodways and practices, check out our 2022 blog series "Stewardship, Sovereignty, and Solutions."
Communications Officer

Natalie Burdsall joined the Chicago Council on Global Affairs in 2022 as the communications officer for the Center on Global Food and Agriculture. In this role, they promote the work and impact of the Center to expand public engagement in global food and agriculture, and assist in bringing the Council's digital transformation to fruition.