The Council convened a task force to provide recommendations to advance the goals of the 2022 White House Conference on Hunger, Nutrition, and Health.
The White House Conference on Hunger, Nutrition and Health Is an Opportunity for Transformational Change
In every country, a clear national strategy, goals, and metrics are needed to end hunger, improve nutrition, reduce diet-related diseases and create a just, sustainable, and equitable food system.
The Chicago Council on Global Affairs partnered with Food Systems of the Future, the Friedman School of Nutrition Science and Policy at Tufts University, and World Central Kitchen to form the Task Force on Hunger, Nutrition, and Health. As an independent group of national leaders and experts,1 the task force released a comprehensive report to inform the 2022 White House Conference on Hunger, Nutrition, and Health, the first conference of its kind held since 1969.2 The White House Conference ultimately influenced the United States' nutrition agenda and policy for decades.
2022 Task Force Report 
The Task Force Report provides far-reaching, consensus-based recommendations founded on diverse perspectives from academia, the private sector, civil society, and the government. The report includes insight from the task force members, along with a strategy group of 26 national organizations3 that represent a diverse community of thought leaders. To inform the recommendations, the task force convened 15 listening sessions across the US4 that heard from people with lived experiences to ensure that those most affected by the policies have their interests heard and prioritized within the report. The Task Force also held three in-person national policy convenings5 that gathered over 240 multi-sector stakeholders and leaders, and reviewed more than 75 existing policy reports. The task force report was shared with the White House for consideration prior to the Conference on Hunger, Nutrition, and Health. 
Containing 30 high-priority policy recommendations with more than 200 specific actions for federal agencies, Congress, and other stakeholders, and 12 recommendations for the private sector, the task force report represents one of the most comprehensive and far-reaching reports aimed at ending hunger and advancing nutrition in the United States. Although the task force report was not endorsed or formally requested by the White House, it provides invaluable insight into future policy actions that could catalyze historic, transformational solutions for food across the nation.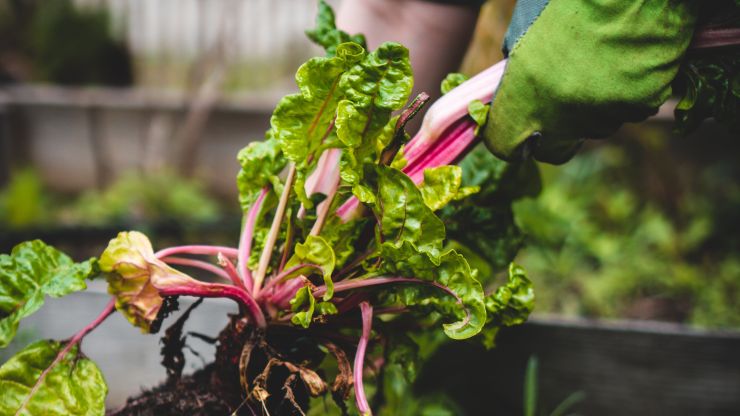 2022 Task Force Report Webinar
The task force co-chairs discuss the 2022 task force report in an online webinar. Watch the webinar or view the presentation slides to learn more about the report and its implications for hunger in the United States.
Identifying Major Themes in Listening Session Feedback 
The Chicago Council on Global Affairs' Center on Global Food and Agriculture, with support from the Rockefeller Foundation, collaborated with World Central Kitchen to host listening sessions in Chicago, IL, Oakland, CA, and Selma, AL to help inform the task force report. The sessions focused on learning directly from individuals with lived experiences of hunger and food insecurity to explicitly center and prioritize their voices and perspectives in policy conversations. The Center identified major themes in listening session participants' feedback to develop a series of blogs illuminating key issues for consideration in the White House Conference on Hunger, Nutrition, and Health. The listening sessions also culminated in a policy brief that presents key learnings and connects them with seven actionable policy recommendations.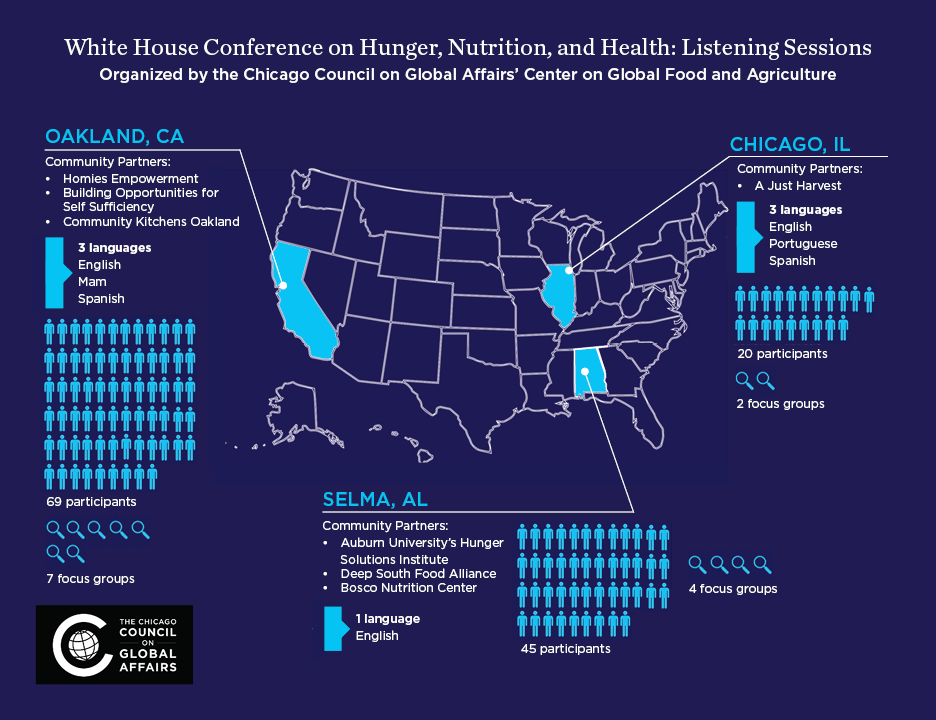 Ending Hunger and Advancing Nutrition: Lived Experience Perspectives
Accessing and affording healthy food is a challenge for many Americans. In collaboration with World Central Kitchen, the Council provides domestic policy recommendations.
---
Task Force co-chairs consisted of Chef José Andrés, Ambassador Ertharin Cousin, Senator Bill First, Secretary Dan Glickman, and Dariush Mozaffarian. Task Force members consisted of Sonia Angell, Catherine Bertini, Catherine D'Amato, Robert Egger, Curt Ellis, Priya Fielding-Singh, Sam Kass, Jim Krieger, William Li, Roberto Meza, Angela Odoms-Young, Rear Admiral (Ret.) Frank Ponds, Martin Richards, Teresa Romero, Leslie Sarasin, Pam Schwartz, Hilary Seligman, Brooks Tingle, Ann Veneman, Donald Warne, and Kim Williams.
The first White House Conference on Food, Nutrition, and Health took place in early December of 1969. Convened by President Richard M. Nixon, the conference was designed to end hunger in the United States, and improve the nutritional health of all Americans. Through bringing together stakeholders from academia, policy, and civil society, the conference led to the creation of the Special Supplemental Nutrition Program for Women, Infants, and Children (WIC); nationwide expansion of the food stamps and the National School Lunch Program (NSLP); the permanent authorization of the National School Breakfast Program; and produced approximately 1,800 additional recommendations, 1650 of which were implemented within two years of the conference. Kennedy, Eileen, and Johanna Dwyer. "The 1969 White House Conference on Food, Nutrition and Health: 50 Years Later." Current developments in nutrition. Oxford University Press, May 15, 2020.
The Strategy Group consisted of The 1890 Universities Foundation, American Academy of Pediatrics, American Diabetes Association, Academy of Nutrition and Dietetics, American Cancer Society, American Heart Association, American Society for Nutrition, Bread for the World, Center for Science and the Public Interest, CommonWealth Kitchen, Food is Medicine Coalition, Hunger-Free America, International Fresh Produce Association, Intertribal Agriculture Council, National Alliance For Hispanic Health, National Association of Community Health Centers, National Family Farm Coalition, National Produce Prescription Collaborative, National REACH Coalition, National WIC Association, Partnership for a Healthier America, ScratchWorks, Swipe Out Hunger, The Nature Conservancy, and Wholesome Wave.
Listening sessions were held in Chicago, IL, Louisville, KY, New York City, NY, Oakland, CA, and Selma, AL. All sessions were closed to the press.
National policy convenings were held in New York City, NY, Oakland, CA, and Washington, D.C.