Greatest Threat: Democrats Say White Nationalism, Republicans Say China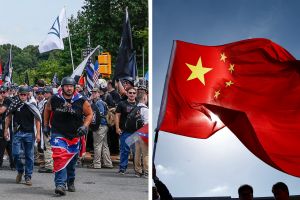 New survey data shows a partisan divide on what Americans believe is the greatest threat to the United States: Democrats rank violent white nationalist groups the highest, while Republicans list China as the greatest threat.
Just a few weeks into taking control of the White House, the Biden administration faces a variety of threats. On the home front, President Joe Biden warned about domestic terrorism in his inaugural speech, including the rise of political extremism and white supremacy. US Secretary of State Antony Blinken identified several global threats, describing China as the country presenting the most significant challenge and estimating that Iran is just months away from the ability to produce the necessary fissile material to build a nuclear weapon. And US agencies are broadly reviewing Russia's recent actions, including the SolarWinds hack into US computer systems, to determine whether a response is warranted.
In other words, there is no shortage of threats to US security today. What do Americans think poses the greatest threat? Recent Chicago Council surveys find that similar to many issues today, perceptions differ by political party affiliation.
Militant Far Right Extremist Groups and China Viewed as Greatest Threats
In September 2020, FBI Director Christopher Wray warned the House Homeland Security Committee that racially motivated violent extremism, mostly from white supremacists, made up the majority of domestic terrorism threats.
The survey data show that Democrats recognize violent white nationalist groups in the United States (47%) as the greatest threat, though only 3 percent of Republicans agree. (In an experiment, half the survey sample was asked about far right extremist groups and the other half about violent white nationalist groups in the United States, yielding similar results.) A 2019 Huffpost/YouGov survey found a similarly partisan divide about the threat of white nationalism in the United States, with nearly four times as many Democrats as Republicans considering it a very serious threat (63% vs. 14%).
While the Chicago Council survey shows that Democrats are much more likely to view violent white nationalist and militant far right groups as the greatest threat, they are much less likely to view state actors like Russia (14%), China (10%), or North Korea (6%) as the greatest threat. Similar proportions view terrorists outside the United States (10%) and militant far left extremist groups in the United States as the greatest threat (9%).
To the contrary, Republicans are more likely to name China (45%) as the greatest threat and to consider militant far left extremist groups (17%) a greater threat than white nationalists. While Wray said some individuals claiming affiliation to far left groups have committed violent acts in recent years, attacks by far right extremists and white nationalists have been more lethal. Fifteen percent of Republicans consider terrorist groups operating outside the United States the greatest threat, and only 5 percent select Russia from this list. For their part, Independents are nearly evenly divided, selecting militant far right extremist groups (28%) and China (27%).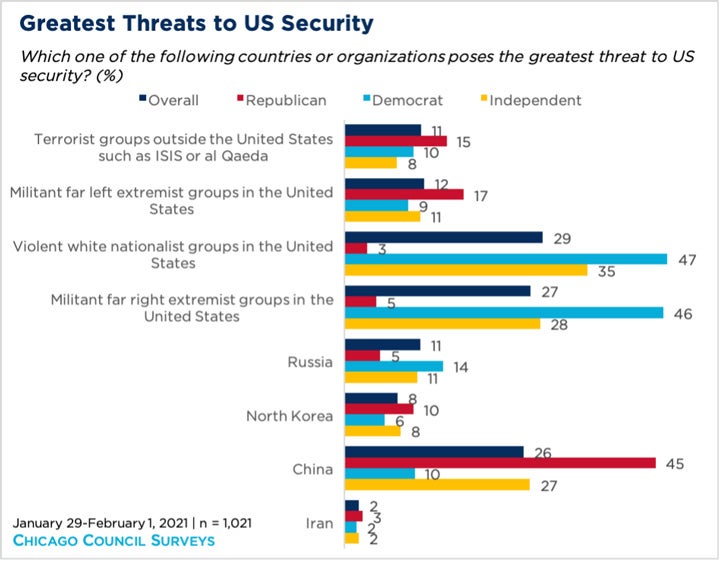 Methodology
This analysis is based on data from the a January 2021 Chicago Council Survey of the American public on foreign policy, a project of the Lester Crown Center on US Foreign Policy. The January 2021 Chicago Council Survey was conducted January 29–February 1, 2021 by Ipsos using its large-scale nationwide online research panel, KnowledgePanel, among a weighted national sample of 1,021 adults, 18 years or older, living in all 50 states and the District of Columbia. The margin of error is higher for partisan subgroups or for partial-sample items.
Partisan identification is based on respondents' answer to a standard partisan self-identification question: "Generally speaking, do you think of yourself as a Republican, a Democrat, an Independent, or what?"
Senior Fellow, Public Opinion and Foreign Policy

Dina Smeltz, a polling expert, has more than 25 years of experience designing and fielding international social and political surveys. Prior to joining the Council to lead its annual survey of American attitudes on US foreign policy, she served in the Bureau of Intelligence and Research at the US State Department's Office of Research from 1992 to 2008.

Former Research Assistant


Brendan Helm is formerly a research assistant for the Lester Crown Center on US Foreign Policy and Public Opinion teams at the Council. After earning his undergraduate degree in international relations from the College of William and Mary, he worked at Teaching, Research, and International Policy—a survey project which examined the gap between academia and policymaking.