Ethiopia: Propping up One Strongman after Another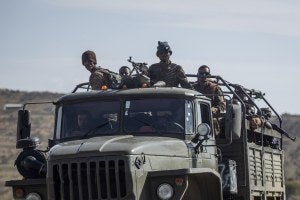 America's unconditional security sector assistance has helped facilitate Ethiopia's violent responses to opposition.
Ethiopia is Africa's second most populous country and the oldest independent nation on the continent. From 1991 to 2018, the Tigray People's Liberation Front (TPLF) led Ethiopia's autocratic government, despite representing an ethnic minority that makes up just 6 percent of the country's population. Under TPLF leadership, Ethiopia was one of Africa's fastest-growing economies, earning the praise of the United States and other supporters, who did little to push back on the TPLF's harsh rule. However, much of that wealth went to the civilian, military, and political elite dominated by the Tigrayan minority, which spurred discontent and mistrust in much of the population.1
Tensions came to a head in 2018, and Ethiopia's two largest ethnic groups, the Oromo and Amhara, joined forces to oust the TPLF from leadership in the governing coalition, placing Abiy Ahmed at the helm as prime minister. Abiy, an Oromo with Amhara heritage, was seen as a consensus candidate who could lead reform, but he led the country to war against the Tigray region instead.
In November 2020, war broke out between the federal government and the TPLF and devastated Ethiopia's northernmost region. A tenuous peace agreement has been in place since November 2022, but human rights abuses are reportedly continuing, and conflicts are still flaring up in other regions as well. Ethiopia today remains in a precarious position.
America's Enabling Role
For decades, the United States considered Ethiopia a key partner in America's global fight against terrorism, so it provided largely unconditional support to the federal government, first under the TPLF and later under Abiy, overlooking bad behavior. This ultimately helped arm the country for war against itself, undermining prospects for peace and America's interests in stability across the region.
The US-Ethiopia relationship dates back over 100 years, but it was only after the 1998 embassy terror attacks in Kenya and Tanzania that Washington pursued a close security partnership with Ethiopia. At the time, Ethiopia was engaged in a bloody border war with Eritrea that claimed over 100,000 lives. In 2000, the United States and other international partners helped broker a peace deal that awarded the disputed territory to Eritrea. Despite agreeing to the deal, the TPLF regime never gave up the territory. The United States failed to press Ethiopia to implement the agreement, and shortly after, it began boosting Ethiopia with significant security support.2  This not only empowered Ethiopia to ignore its obligations but also helped push Eritrea toward the isolationist path it remains on today, distrusting of the international community generally, and the West in particular.
Between 2000 and 2020, the United States provided at least $152.7 million in security aid to Ethiopia and trained at least 4,000 of the country's troops.3 Much of that assistance went toward counterterrorism efforts in Somalia. In 2006, the United States backed Ethiopia's invasion to oust that country's Islamic government. Instead of mitigating the terrorist threat from Somalia, the foreign intervention spurred the rise of al-Shabaab and the displacement of hundreds of thousands of Somalis, many of whom sought refuge in Ethiopia.
Even so, Ethiopia's role in Somalia ushered in a new era of international clout and political power for the TPLF. The Ethiopian government became the world's top supplier of UN peacekeepers and hosted hundreds of thousands of refugees from other neighboring conflicts. In return, the United States provided substantial development assistance. In the 2010s, Ethiopia was one of the highest recipients of US development aid, behind only Israel, Afghanistan, Jordan, and Egypt.4
But tensions within Ethiopia grew over the years as the Tigray minority held a monopoly on power and opportunity, benefitting disproportionately from Ethiopia's economic growth, while the majority of Ethiopia's population benefitted little.
America's unconditional security sector assistance helped facilitate Ethiopia's violent responses to opposition. In 2007, the TPLF retaliated brutally to a separatist movement in Ethiopia's Somali region with collective punishment, conducting widespread attacks on civilians and villages.5  The government also passed an "anti-terrorism" law in 2009 that facilitated the arrests of journalists and political opponents under the guise of fighting the war on terror. In 2014, security forces responded to protests over planned displacements of farmers in the Oromia region with excessive and lethal force, killing hundreds, injuring thousands, and arresting tens of thousands.6
In all cases, the United States failed to push back publicly against the Ethiopian government or to persuade it to change its behavior. It largely turned a blind eye while the security forces it supported were used to oppress the Ethiopian people.7
Changing of the Guard and a Reckoning
After years of public protests against TPLF abuses, the regime was pushed out of power in 2018, and Abiy Ahmed came to the helm. As Ethiopia's premier security partner during the TPLF years, the United States had to grapple with suspicion about its close relationship to the now-ousted authorities.
Rather than use the major shift in leadership to change the nature of the US-Ethiopia relationship and set new expectations, US officials embraced Abiy heartily and unconditionally. In turn, Abiy gave indications early on of being pro-America, promising to import more American goods over Chinese alternatives and claiming he would liberalize and privatize Ethiopia's markets.8  Before he was a politician, Abiy had even received US training as an intelligence officer for the war on terror in Somalia, Yemen, and Sudan.9
Abiy's early tenure was promising. He ordered the release of political prisoners, decried the use of torture in Ethiopia's prisons, built new federal buildings, launched an initiative to improve Ethiopia's renewable energy and sustainable agriculture, appointed more women to leadership positions, and granted amnesty to dissidents who had been criminalized by the TPLF. The United States, like so many others Western partners, hailed Abiy for his plans for reform and modernization.10
The United States also celebrated the Ethiopia-Eritrea peace deal Abiy forged with President Isaias Afwerki, which earned him the 2019 Nobel Peace Prize. Not long after, the United States publicly reaffirmed its commitment to Ethiopia as a partner and highlighted the "significant increase in security cooperation" between the two countries since Abiy took office.11
But these positive public moves masked an ugly reality unfolding behind the scenes as Abiy sought to silence political opposition and consolidate power. Violence erupted between ethnic groups, and government forces reportedly killed hundreds of civilians in response. Abiy's administration arrested protesters, activists, and opposition politicians by the thousands and accused "external forces" of trying to destabilize the country.12
The US position remained very supportive, framing much of the conflict as inevitable effects of reforming an autocratic government in an ethnically complex environment.13  The United States also ignored signs that mounting tensions between Addis Ababa and the TPLF would erupt into war. Even as Abiy claimed he would not attack Tigray, his coalition in parliament warned that military intervention into Tigray was justified.14
What looked like a peace deal between Eritrea and Ethiopia had in fact laid the groundwork for a joint and highly destabilizing war against the TPLF in Tigray. When violence broke out in November 2020, the Eritrean army fought alongside Ethiopian forces in an offensive that has left an estimated 600,000 people dead and 5.4 million in need of dire assistance.15  After decades of US assistance training and equipping the TPLF, it was prepared to put up a fight against the rest of the Ethiopian army under Abiy's control. Only a scorched-earth campaign in Tigray and near complete blockade of the region ultimately forced the TPLF to the negotiating table, with a peace deal that resembled resignation.
A UN commission of inquiry accused the Ethiopian government forces, Eritrean forces, and Tigrayan forces of war crimes and crimes against humanity and found that Ethiopian and Eritrean forces used starvation as a tool of war.16
The United States took action six months into the war, imposing sanctions on Ethiopian and Eritrean officials and freezing security and economic assistance.17  But by then, Abiy was too vested in the war effort to be easily swayed.
In a clear demonstration of the limits of a friendship built on security sector assistance, Abiy refused to even meet with top US officials when they came to visit Ethiopia in 2021.18
While the United States was part of the international coalition that helped press Abiy's government into a peace deal in November 2022, this came only after Abiy had secured a clear upper hand on the battlefield, and that peace deal remains fragile and implementation incomplete. Meanwhile, the United States has settled into an awkward position of trying to rebuild trust with Abiy's government while also pressing it for accountability for horrific crimes its troops committed during the war.
With neighboring Somalia still facing a violent terrorist insurgency and Ethiopia itself coming unraveled, America has little to show for its loyal commitment to Ethiopia's military capabilities.
1Jon Lee Anderson, "Did a Nobel Peace Laureate Stoke a Civil War?" New Yorker, September 26, 2022.
2Terrence Lyons, "The Ethiopia-Eritrea Conflict and the Search for Peace in the Horn of Africa," Review of African Political Economy 26, no. 120 (June 2009): 167-180.
3Archibald Henry et al., "U.S. Security Partnership and the Protection of Civilians: Government of Ethiopia & the Ethiopian National Defense Force," Brown University, Security Assistance Monitor, and InterAction. December 2021, 3-16.
4Harry Verhoeven and Michael Woldemariam, "Who Lost Ethiopia? The Unmaking of an African Anchor State and U.S. Foreign Policy," Contemporary Security Policy 43, no. 4 (June 24, 2022): 622–50.
5Human Rights Watch, "Collective Punishment: War Crimes and Crimes against Humanity in the Ogaden Area of Ethiopia's Somali Region" (New York: Human Rights Watch, June 12, 2008): 3-7.
6Human Rights Watch, "'Such a Brutal Crackdown': Killings and Arrests in Response to Ethiopia's Oromo Protests" (New York: Human Rights Watch, June 15, 2016): 21-44.
7Human Rights Watch, "Collective Punishment," 119.
8Verhoeven and Woldemariam, "Who Lost Ethiopia?" 13-14.
9Anderson, "Nobel."
10Verhoeven and Woldemariam, "Who Lost Ethiopia?" 11.
11US Department of Defense, "Readout of U.S.-Ethiopia Bilateral Defense Committee," December 4, 2019.
12Simon Marks, "Ethiopia's PM Abiy Ahmed loses his shine," Politico Europe, September 25, 2020; Dave Lawler, "Ethiopia's Nobel Peace Laureate Cracks Down on Ethnic Violence," Axios, July 7, 2020.
13US Department of State, Special Press Briefing with Tibor Nagy, Assistant Secretary for African Affairs, June 25, 2019.
14International Crisis Group, "Steering Ethiopia's Tigray Crisis Away from Conflict," Crisis Group Africa Briefing, October 30, 2020.
15United Nations General Assembly, Human Rights Council (OHCHR), "Report of the International Commission of Human Rights Experts on Ethiopia," A/HRC/51/46, October 7, 2022, 1-20; David Pilling and Andres Schipani. "War in Tigray May Have Killed 600,000 People, Peace Mediator Says." Financial Times, January 15, 2023.
16OHCHR, "Report on Ethiopia," 12-14.
17Editorial Board, "The US Is Right to Impose Sanctions on Ethiopia," Financial Times, May 27, 2021.
18Anderson, "Nobel."
Communications and Research Assistant, US Foreign Policy


Emma Sanderson joined the Chicago Council on Global Affairs in 2021 as a communications and research assistant on US Foreign Policy. In this role, she supports and conducts original research, analysis, and writing focused on the "restraint" approach to American foreign policy, which seeks to limit the use of military force to the defense of core US national security interests.