Pulling the Plug, Hydropower Future, and In Hot Water
April 21, 2023
Check out our roundup of the week's top news and research in food, agriculture, and global development.

Credit: REUTERS/Philip Moore
Top Story
Pulling the Plug: WFP Leaves Sudan
WFP suspended operations in Sudan due to violence against its workers. The decision comes after WFP staff were killed in the region of North Darfur last week. At the same time, a separate WFP-managed aircraft was severely damaged at Khartoum International Airport by gunfire. The conflict between Sudan's top two generals is deepening the country's humanitarian and economic crisis, with families running out of water and food, hospitals hit by explosions and left without power, and aid workers facing potentially fatal violence.  
Council Insights
Investing in Agriculture
"It is time for governments, development organizations, military, and intelligence communities to broaden their definitions of 'security'—and serve to emphasize that one of the best investments we can make in global stability and prosperity is to help people who can't feed themselves or their families," writes 2018 Next Generation Delegate Cedric Habiyaremye in Global Food for Thought. Read the article to learn more about how food security relates to conflict.

Food & Agriculture
Crisis after Crisis
According to the United Nations, a new record high of 48 million people in West and Central Africa will be severely food insecure during this year's lean season. The food crisis in West and Central Africa is primarily driven by rising temperatures, erratic rainfall, and conflict. WFP faces a $900 million deficit this year in the region and warns that 16.5 million children under the age of five could face acute malnutrition.
Rice Races
The Philippines plans to import 330,000 metric tons of rice this year to boost its declining stockpiles, with the National Food Authority proposing that the imports be purchased through a government-to-government deal. Agriculture officials predict that rice imports this year will likely reach around 2.5 million metric tons, down from about 3.5 million metric tons last year. The Philippines is one of the world's top rice buyers and usually purchases from major suppliers like Thailand and Vietnam to fill production gaps caused by typhoon season.
Grain Conflicts
Ukraine's crop exports are facing new challenges as some EU neighbors stop allowing imports of its cargoes. Hungary and Slovakia banned imports of Ukrainian grain over concerns that the low-priced supplies are hurting domestic markets. The bans threaten Ukraine's ability to supply low- to middle-income nations and receive vital foreign currency income, and some analysts fear the bans will push up global crop prices. Poland, which had placed its own ban, reached an agreement on restarting the transit of Ukrainian grains through its territory.
Deeper Dive
What Is the EU Doing about Grain Bans?
The EU is preparing emergency curbs on Ukrainian grain imports and a second financial support package of €100 million for farmers affected by five member states close to the war-torn country; Poland, Hungary, Slovakia, Romania, and Bulgaria have taken unilateral action to halt Ukrainian grain imports to pacify local farmers, which the EU has slammed as contravening EU and international law. Brussels is facing increasing pressure to devise a solution that applies to the entire European Union
Resilience
Hydropower Future
Tanzania signed agreements with the African Development Bank and the French Development Agency for two development project loans worth $300 million to finance the construction of a 87.8-megawatt hydropower plant in its Kagera region. The project aims to increase renewable generation capacity while reducing hydrological risk via a dam located on a new watershed. The hydropower plant is estimated to reduce greenhouse gas emissions by 216,0000 metric tons per year.  
DC Report
In Hot Water 
JBS has agreed to pay $25 million to settle allegations from commercial beef purchasers that the meat-packing company conspired with industry rivals to restrict market supply, resulting in artificially high prices. The settlement is subject to a judge's review and would require JBS to cooperate in ongoing cases against corporate defendants that have not settled. US Senator Elizabeth Warren warned that the US Department of Agriculture should prevent JBS from receiving government contracts, citing the Brazilian meat giant's "history of criminal misconduct."
Big Actors
Soymeal No More
China's Ministry of Agriculture and Rural Affairs has issued a three-year plan to reduce soymeal usage in animal feed, targeting a reduction to less than 13 percent by 2025 from 14.5 percent in 2022. Officials are worried about China's heavy reliance on soybean imports and hope the changes promote grain saving and reduce consumption in animal feed production. The new target could reduce China's soymeal consumption by 3 million tons annually, with imports possibly dropping to 82 million tons by 2025.  
Big Ideas
Drones vs Weeds
Canadian startup Precision AI has developed an AI-enabled drone that can spot, identify, and kill weeds without the need for large-scale chemical herbicides. The drones can carry five US gallons of liquid per flight and cover roughly 80 acres an hour. The company says its approach can reduce herbicide use by as much as 90 percent compared to traditional methods. The drones minimize collateral damage and are capable of recognizing staple crops, distinguishing them from unwanted weeds.
Ask an Expert
Last year the world managed to escape a complete meltdown of the global food system, despite ongoing conflicts, deleterious consequences of climate change, and the continuing COVID-19 pandemic. What does the year ahead look like?
"The food crisis is not just last year's problem. International efforts after the invasion were a stopgap solution, and one year on, the world is one major crop failure or natural disaster away from a food system meltdown. As local food systems remain fragile, the world must come together once again to address the current humanitarian crisis. This time, even more action and financial support are needed. If countries dependent on food aid are not given the resources to become viable agricultural producers, the global food system may collapse."
— Distinguished Fellow Ertharin Cousin with Devry Boughner Vorwerk and Matthias Berninger in Foreign Policy
Distinguished Fellow, Global Food and Agriculture


Prior to joining the Council, Ertharin Cousin served as executive director of the UN World Food Programme where she led the world's largest humanitarian organization from 2012 to 2017. She also previously served as US ambassador to the UN Agencies for Food and Agriculture in Rome. Cousin is founder and CEO of Food Systems for the Future.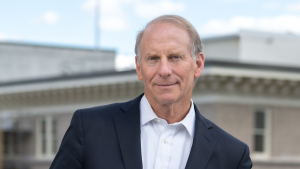 Council on Foreign Relations President Richard Haass offers suggestions on steps we can take to preserve American democracy and tackle challenges facing the United States.
Did you miss one of our previous livestreams? Don't worry! They are all available on our website to watch at any time.
Other Upcoming Events
United Nations Permanent Forum on Indigenous Issues
Date: April 17 - 28
Harvesting Successes: Partnership for Enhanced Delivery of Seed and Soil Fertility Technologies
Date: April 25
Time: 1:00 – 2:30 p.m. EAT
2023 Hunger and Health Illinois Conference – Chicago
Date: May 1
Time: 10:00 a.m. - 3:30 p.m. CT
Training Workshop: Food Policy Analysis Using Multi-Market Partial Equilibrium Modeling
Date: May 2 - 4
AIM for Climate Summit
Date: May 8 - 10
---
Land Acknowledgement Statement
The Center on Global Food and Agriculture recognizes it occupies the ancestral land of the Kiikaapoi, Peoria, Kaskaskia, Bodwéwadmi, and Myaamia people. Indigenous communities around the world disproportionately experience the pressures of climate change, global conflicts, and the COVID-19 pandemic, while simultaneously stewarding 80 percent of the world's biodiversity. These Indigenous tribes and nations are the original owners of this land and continue to be systemically erased by policies and practices that ignore their histories. To learn more about Indigenous foodways and practices, check out our 2022 blog series "Stewardship, Sovereignty, and Solutions."
Communications Officer

Natalie Burdsall joined the Chicago Council on Global Affairs in 2022 as the communications officer for the Center on Global Food and Agriculture. In this role, they promote the work and impact of the Center to expand public engagement in global food and agriculture, and assist in bringing the Council's digital transformation to fruition.

Intern, Center on Global Food and Agriculture

Clayton Elbel joined the Council as a 2023 spring intern with the Center on Global Food and Agriculture.