Opium Boom, Water Wars, and the Green Tech Race
February 3, 2023
Check out our roundup of the week's top news and research in food, agriculture, and global development.

Credit: REUTERS/Dinuka Liyanawatte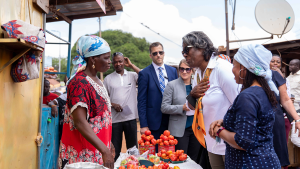 UN Ambassador Linda Thomas-Greenfield argues that implementing a foreign policy for all Americans means tackling the global food security crisis head on.
Council Insights 
Hunger in the Black Belt
"The state should make radical changes to develop a food system that will train young people how to produce food and feed themselves and their families; without substantial changes in how people approach the food system, poverty and food insecurity will continue to persist in the Black Belt," writes Deep South Food Alliance's Andrew Williams in an op-ed with Agri-Pulse and Chicago Council. Read the full article.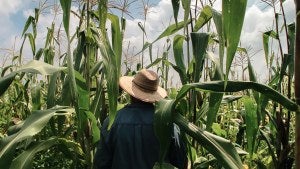 Food & Agriculture 
Calm After the Storm?
Sri Lanka's economy seems to finally be leveling out after it plunged into chaos last summer. Triggered by political mayhem and virtual bankruptcy, the economy left Sri Lankans struggling to meet their basic needs. Despite the appearance of progress, however, many Sri Lankans are still desperate for assistance, with nearly 30 percent of the population experiencing food insecurity.
Opium Boom
A new report from the United Nations Office on Drugs and Crime highlights how the production of opium in Myanmar has flourished since the military seized power in 2021. In 2022, Myanmar saw a 33 percent increase in cultivation area for opium. With steep increases in global food prices and a weak economy post-coup, rural farmers have a strong financial incentive to expand opium poppy cultivation. Myanmar remains the second-largest opium producer in the world after Afghanistan.
Rice Off the Rails
Rice prices have soared in recent months, a sign of continued food inflation. Thai rice, a benchmark for Asian markets, has soared to $523 a ton, the highest price in almost two years. The price increases come as many importers are buying rice as an alternative to wheat after the war in Ukraine disrupted supply chains. However, rice remained subdued for most of 2022, constraining food inflation in Asia.
Deeper Dive 
Defining Famine
On its sixth failed rainy season, Somalia is experiencing a worsening humanitarian crisis that has displaced more than one million people and decimated livestock and crops. Yet, according to the Integrated Food Security Phase Classification (IPC) system, it is not technically in a famine. Somalia does not meet the IPC's benchmark of "extreme deprivation of food," which is indicated by starvation, death, destitution, and extremely critical levels of acute malnutrition.
Resilience
Africa's Production Boost
The African Development Bank announced a $30 billion funding initiative to boost food production in Africa over the next five years. The announcement, which was made at the Feed Africa Summit in Dakar, Senegal, resulted from mobilized funding and political commitment from African countries, development banks, and international partners. The initiative aims to accelerate Africa's food security ambitions and achieve zero hunger by 2030.
DC Report 
Water Wars
The battle between Western states to collectively cut the amount of water drawn from the Colorado River continues to heat up. The Interior Department asked six states to voluntarily devise a plan by January 31. Without a plan, the federal government must impose unprecedented cuts. This is the second time in six months that Colorado River states—California, Arizona, Nevada, Colorado, New Mexico, Utah, and Wyoming—have missed a deadline for consensus on water cuts.  
Big Actors 
Carbon Payments
Ghana become the second African country to receive payments from the World Bank's Forest Carbon Partnership Facility, which aims to reduce deforestation emissions. The World Bank paid Ghana $4.8 million to reduce over 900,000 tons of carbon emissions. Ghana is the world's second-largest cocoa producer, with cocoa production viewed as a leading cause of deforestation. The funds will support over 140,000 Ghanaian farmers to move away from land-clearing techniques for cocoa production.
Trade & Commodities 
Green Tech Race
The European Union announced a new Green Deal Industrial Plan to ensure Europe does not lose to China and the United States in the green tech race. EU officials worry that European industries will be harmed in the face of the Inflation Reduction Act passage in the United States. The plan provides subsidies for renewable energy and decarbonizing industries, and loosens industrial rules for EU countries.
Ask an Expert
How does gender influence the use of AI in agriculture?
"The vision for AI in agricultural technology…is being led by men. And in most cases, it is being led by white men from Western countries. Consequently, agricultural AI technology's vision fails to actively integrate women's perspectives in their direction and aims. Women farmers, who are responsible for half of the world's food, are not actively or explicitly being considered in AI developments for agriculture. They are not even being advertised as key targeted users, even though women farmers produce about half of the world's food."
— Nonresident Fellow Dr. Katelyn Jones in Agriculture's Matrix: AI and the Future of Gender (In)equities.
Nonresident Fellow, Global Food and Agriculture


Katelyn Jones is a nonresident fellow at the Chicago Council on Global Affairs and her research concerns gender politics in international organizations, and is especially focused on gender mainstreaming in policy formation and implementation.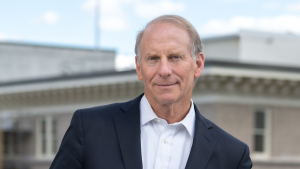 Council on Foreign Relations President Richard Haass offers suggestions on steps we can take to preserve American democracy and tackle challenges facing the United States.
Did you miss one of our previous livestreams? Don't worry! They are all available on our website to watch at any time.
Other Upcoming Events
Intertribal Agriculture Council's Southern California Tribal Farmer Gathering
Date: February 11
Time: 11:00 a.m. - 1:00 p.m. PT
Midwest Farmers of Color Collective Second Big Convening
Date: February 11
Time: 9:00 a.m. - 3:00 p.m. CT
Indigenous Peoples' Climate Leadership: A Holistic Perspective to Achieve Food Security and Nutrition
Date: February 14
Time: 12:15 - 1:30 p.m. CET
Youth and Agriculture: Accelerating a Just Transition Towards Food Security
Date: February 15
Time: 9:45 - 11:15 a.m. CET
2023 Universities Fighting World Hunger National Summit
Date: April 14 - 15
---
Land Acknowledgement Statement
The Center on Global Food and Agriculture recognizes it occupies the ancestral land of the Kiikaapoi, Peoria, Kaskaskia, Bodwéwadmi, and Myaamia people. Indigenous communities around the world disproportionately experience the pressures of climate change, global conflicts, and the COVID-19 pandemic, while simultaneously stewarding 80 percent of the world's biodiversity. These Indigenous tribes and nations are the original owners of this land and continue to be systemically erased by policies and practices that ignore their histories. To learn more about Indigenous foodways and practices, check out our 2022 blog series "Stewardship, Sovereignty, and Solutions."
Communications Officer

Natalie Burdsall joined the Chicago Council on Global Affairs in 2022 as the communications officer for the Center on Global Food and Agriculture. In this role, they promote the work and impact of the Center to expand public engagement in global food and agriculture, and assist in bringing the Council's digital transformation to fruition.

Intern, Center on Global Food and Agriculture

Clayton Elbel joined the Council as a 2023 spring intern with the Center on Global Food and Agriculture.