Grain Blockades, Food Apartheid, and Water Crises
June 3, 2022
Check out our roundup of the week's top news and research in food, agriculture, and global development.

Top Story  
Global Food Security Symposium
Overlapping crises including climate change, the COVID-19 pandemic, and conflict brought unprecedented levels of disruption, from all-time high food and fuel prices to record rates of hunger and food insecurity impacting the world's most vulnerable. Join the Council on June 23, 10:00 – 11:00 a.m. CT, for a conversation with leading experts on the action needed to meet global food security crises, featuring Ambassador Cindy McCain and Distinguished Fellow Catherine Bertini.  
Council Insights  
Grain Blockades
"Russia's blockade is contributing to a global food crisis of potentially catastrophic proportions," writes Council president and former ambassador to NATO Ivo Daalder in a column with Politico. He explores the consequences of Russia's Black Sea blockade on global grain shipments and potential solutions through a naval escort. Read the full article.
Food & Agriculture  
North Korea's Crisis
COVID-19 has infiltrated North Korea's borders, putting stress on its already faltering agricultural sector. Geographic and weather conditions in North Korea are not conducive for agriculture, creating severe food insecurity that leaves 20 percent of its children chronically malnourished, which continues to worsen as farmers fall ill and production slows. The UN's 2017 sanctions on North Korea banned all major exports and imports, including food, which led North Korea to instruct its citizens to farm their own food. 
Deal or No Deal
Efforts to resolve the conflict in Ukraine diplomatically have yet to succeed, but Putin is ready to allow grain exports in coordination with Turkey, with a condition: all sanctions must be lifted. The UN is trying to broker a deal to alleviate effects of the global food crisis and slowing economic growth, though there is no clear path to ending the grain blockades. Ukraine's infrastructure is unlikely able to transport the 30 million metric tons of wheat, corn, and sunflower oil when harvesting season starts, constraining the time global actors have to find a solution. 
Vegetarian Appetites
Rising inflation and stagnant wages are pressuring people to change their personal habits, including what they eat. The cost of animal products, specifically, has increased by 14.3 percent, while fruits and vegetables have increased only 7.8 percent, encouraging people to embrace vegetarianism. Access to fruits, vegetables, and other fresh foods is highly variable, though, as a result of food apartheid, preventing equitable access to lower-cost vegetarianism. 
Deeper Dive  
What Is Food Apartheid?
Food systems function to concentrate power for a privileged minority, creating injustice in the food system that results in what is commonly called "food deserts." Food justice communities are instead encouraging a shift towards the language food apartheid, emphasizing that it considers the entire food system, and the effects of social and racial inequalities within it. 
Data Crunch  
Gene Editing
New gene-edited techniques are paving the way for gene-edited food, which involves taking a gene from one plant and inserting it into another. Global actors are increasingly funding gene editing as governments relax regulations on gene-edited products, paving the way for technologically enhanced food. 
Resilience  
Protecting Pigs
Vietnam successfully developed a vaccine for pigs to fight African swine fever, a devastating livestock disease that has killed hundreds of millions of pigs globally. The vaccine was made in partnership with the US, and its safety and efficacy were confirmed by the USDA Agricultural Research Service. Although there are no estimates of Vietnam's production capacities, the government aims to become the first country to commercially produce and export the vaccine. 
Looming Water Crisis
Iraq's Agriculture Ministry introduced strict water quotas for farmers during the growing season, in response to severe water shortages caused by high temperatures and drought. Cutting irrigation for agricultural regions by 50 percent, Iraq's farmers are producing lower crop yields with smaller grain sizes, contributing to the global grain shortage. Dams blocking the Tigris and Euphrates rivers by Turkey and Iran have reduced river levels by 60 percent, exacerbating the shortage and encouraging a shift towards drought-resistant wheat. 
Big Ideas  
Apple-Picking Robots
Fruit-picking is a time-consuming and labor-intensive task, but it might not be for much longer: robotic tools are being developed to help pick apples. Designed to pick an apple and put it in a bin without damaging it, apple-picking robots could help transform agriculture, and reduce labor demands that are going unmet during the COVID-19 pandemic. 
DC Report  
Funding Food
The Biden administration announced 2.1 billion dollars of funding to address weaknesses in the US food supply system. Designed to improve system resiliency in the event of another global food shortage, the funding will enhance processing and distribution competition, increase access to healthy food, and expand markets for farmers. 
Big Actors  
Fighting Poppy Production
The Taliban are taking aim at solar-powered water pumps to curb poppy harvests and slow opium production, countering its position as the dominant global opium producer. Poppies provide substantially more income than food crops like wheat and pomegranates, inadvertently incentivizing Afghan farmers to continue growing poppies to survive. Even if the Taliban did slow poppy, desert aquifers are still rapidly depleting, exacerbating Afghanistan's devastating postwar economic collapse and growing hunger crisis. 
Trade & Commodities  
Expanding Trade Networks
Israel and the UAE signed a historic trade deal that exemplifies the deepening ties between Israel and Arab governments. The deal is still subject to review by the Israeli government, but is set to remove 96 percent of tariffs on goods traded between the two countries, including food and agriculture. Just prior, the UAE signed a similar bilateral free trade agreement with India and is pursuing trade deals with other countries, including Indonesia and South Korea, signifying its move to strengthen its status as a major business hub. 
Council Events

Experts discuss how Europe's thriving digital sector will fare as the global economic outlook becomes more uncertain.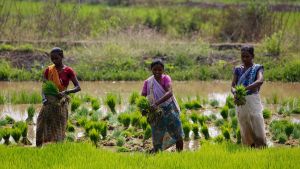 Leading experts discussed action needed to meet unprecedented global food security crises arising from climate change, the pandemic, and conflict.
Did you miss one of our previous livestreams? Don't worry! They are all available on our website to watch at any time.
Other Upcoming Events
Dishing on the Farm Bill
Date: June 5
Time: 12:00 - 3:00 p.m. CT

Food Systems Leadership Network Gathering
Date: June 6-9

Rural Grocery Succession Planning Webinars
Date: June 16
Time: 1:30 p.m. CT
---
Land Acknowledgement Statement
The Center on Global Food and Agriculture recognizes it occupies the ancestral land of the Kiikaapoi, Peoria, Kaskaskia, Bodwéwadmi, and Myaamia people. Indigenous communities around the world disproportionately experience the pressures of climate change, global conflicts, and the COVID-19 pandemic, while simultaneously stewarding 80 percent of the world's biodiversity. These Indigenous tribes and nations are the original owners of this land and continue to be systemically erased by policies and practices that ignore their histories. To learn more about Indigenous foodways and practices, check out our 2022 blog series "Stewardship, Sovereignty, and Solutions."
Communications Officer

Natalie Burdsall joined the Chicago Council on Global Affairs in 2022 as the communications officer for the Center on Global Food and Agriculture. In this role, they promote the work and impact of the Center to expand public engagement in global food and agriculture, and assist in bringing the Council's digital transformation to fruition.

Former Research Associate


Julia Whiting joined the Chicago Council on Global Affairs in 2019 and was a research associate with the Global Food and Agriculture Program. She supported the development of research reports on global food security issues as well as coordinated digital engagement and content for the program.