Fear China Not, Bread Crisis, and Bokashi Revolution
May 26, 2023
Check out our roundup of the week's top news and research in food, agriculture, and global development.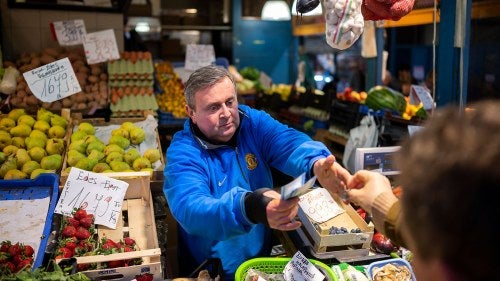 Credit: AP Photos/Denes Erdos
Top Story
Horn of Africa's Children Face Malnutrition 
Over seven million children in the Horn of Africa are malnourished and in urgent need of nutritional aid, with 1.9 million at risk of severe malnutrition-related death, according to the UN International Children's Fund (UNICEF). The United Nations received $2.4 billion in pledges to address the crisis, but as only a third of the requested $7 billion, it is unclear how far the pledges will stretch. The Horn of Africa is the epicenter of one of the worst climate emergencies, threatening already sparse food supplies and putting millions of lives at risk. 
Council Insights 
Learning from Youth
"You can learn everything from young people as much as you can know from an older person, just in a different way," said 18-year-old farmer David Yacobi on this week's episode of Youth in Agriculture: Transforming Local Food Systems. Hear more of his thoughts on youth engagement in agriculture by visiting the Center on Global Food and Agriculture home page.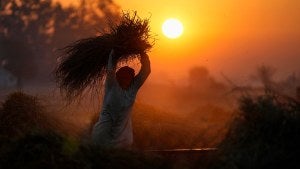 Food & Agriculture  
Rice Shortage
Global rice production for the 2022 to 2023 season is expected to decline, with yields falling in Argentina, Brazil, and Vietnam. The decline in rice harvests and rising prices are anticipated to result in the largest rice shortfall in two decades, impacting over 3.5 billion people globally, especially in the Asia-Pacific region. 
Food Costs
Soaring food prices in Europe have led politicians to impose price caps, a controversial measure that retailers claim forces them to sell products at a loss. Although the price caps have kept the cost of essentials down, economists say they are a poor long-term fix for high food prices. 
Bread Crisis
Failed rains in Tunisia are withering crops, hitting wheat especially hard and leaving farmers in financial despair. Bakeries are shutting their doors as the government makes unfulfilled demands to end the bread shortages, worsening state-wide supply and finance problems. Caused by climate change, the drought is unlikely to come to an end in the near future. 
Deeper Dive  
How Climate Change Is Reshaping Rice
Climate change poses significant threats to rice production, including reduced yields, depletion of aquifers, and elevated carbon dioxide concentrations, undermining food security for millions. Urgent actions such as developing climate-resilient rice varieties and adopting sustainable farming practices are essential to protect this vital crop from the impacts of climate change. 
Resilience 
Investing in Climate
Uganda announced investment plans that will address the impacts of climate change and reduce emissions 25 percent by 2030. The $28 billion in required funding will be allocated to various sectors, including energy, forestry, and agriculture, focusing on sustainable projects such as clean energy and agroecology while engaging the private sector for financing. 
DC Report  
Fear China Not
Chinese ownership of US farmland has increased fivefold over the last decade, inspiring Republican-backed legislation propositions prohibiting the Chinese government from buying US agricultural land. Despite fearmongering by some Republican officials, a 2021 analysis by the bipartisan Center for Strategic and International Studies found that foreign purchases of US agricultural land—including by China—are not a major threat to US food security. 
Billions in Relief
USDA Agriculture Secretary Tom Vilsack has announced plans to distribute $3.7 billion in Emergency Relief Program and Emergency Livestock Relief Program assistance to crop and livestock producers who suffered losses from natural disasters in 2022. The payments will help offset the financial impacts of events such as droughts, hurricanes, floods, and wildfires. 
Big Actors  
A Shrimpy Solution
The rapid growth in shrimp consumption created problems of overfishing, disease, pollution, and forced labor, but one Vietnamese company has a potential solution: recirculating aquaculture systems (RAS). By continuously filtering and reusing water, the method allows high production volumes with less wastewater and lower threats of ecosystem destruction. 
Big Ideas 
Bokashi Revolution
As fertilizer prices continue to soar because of the war in Ukraine, farmers around the world are turning to a new solution: the practice of bokashi. Using fermented waste as fertilizer, the practice costs a tenth of the price of synthetic fertilizers and helps protect soil and plant health. 
Ask an Expert 
How can I take action to advance food security? 
Answer – Roger Thurow, Senior Fellow in Deep Dish: "First of all, it's just making yourself aware of these issues, and then to become active, use that awareness when the next election comes along, whether they're local candidates, national candidates—what are we doing about this? What was your position on these issues in the Farm Bill, on SNAP? On the kind of the school feeding programs, the lunch and breakfast programs that we have in the United States? If they're building schools or they're training teachers, or they're providing desks to schools or books, yay. That's all important, but what work is being done on a nutritional front? So, when those children come to those nicer schools and sit in those newer desks, are they ready to learn or is their head basically on a desk because they're too tired and too hungry in the morning? And so, it's organizations that are looking at that and saying that development is this more, holistic effort that need to be supported."
— Roger Thurow, Senior Fellow, in this week's Deep Dish on Global Affairs podcast
Senior Fellow, Global Food and Agriculture


Roger Thurow spent three decades at The Wall Street Journal as a foreign correspondent based in Europe and Africa prior to joining the Council in 2010. His coverage spanned the fall of the Berlin Wall, the release of Nelson Mandela, the end of apartheid, and humanitarian crises. He is the author of three books.



Join Baroness Catherine Ashton for a discussion on 21st century diplomacy and how it can address the many challenges the world faces today.
Did you miss one of our previous livestreams? Don't worry! They are all available on our website to watch at any time.
Other Upcoming Events
Meet & Greet: USDA Urban Ag Center 
Date: May 31
Time: 9:00 – 12:00 p.m. CT
Equitable Policymaking in Rural Communities: Charting a Path Forward 
Date: May 31
Time: 1:00 – 3:00 p.m. CT
Africa Agribusiness and Science Week 
Date: June 5 - 8
Linking Local to Global: Intersectionality as a Driver for an Inclusive loss and Damage Fund 
Date: June 8
Time: 2:45 – 4:00 p.m. CEST
IFAD13 Roundtable with Farmers' Organizations, Indigenous Peoples, and Youth 
Date: June 12
Time: 1:30 – 4:00 p.m.
---
Land Acknowledgement Statement
The Center on Global Food and Agriculture recognizes it occupies the ancestral land of the Kiikaapoi, Peoria, Kaskaskia, Bodwéwadmi, and Myaamia people. Indigenous communities around the world disproportionately experience the pressures of climate change, global conflicts, and the COVID-19 pandemic, while simultaneously stewarding 80 percent of the world's biodiversity. These Indigenous tribes and nations are the original owners of this land and continue to be systemically erased by policies and practices that ignore their histories. To learn more about Indigenous foodways and practices, check out our 2022 blog series "Stewardship, Sovereignty, and Solutions."
Communications Officer

Natalie Burdsall joined the Chicago Council on Global Affairs in 2022 as the communications officer for the Center on Global Food and Agriculture. In this role, they promote the work and impact of the Center to expand public engagement in global food and agriculture, and assist in bringing the Council's digital transformation to fruition.

Intern, Center on Global Food and Agriculture

Clayton Elbel joined the Council as a 2023 spring intern with the Center on Global Food and Agriculture.