City Leadership and the COVID-19 Response
The 2020 Pritzker Forum on Global Cities was canceled due to the COVID-19 pandemic, so leaders from around the world joined us to recognize the increasingly important role of city leadership.
About This Event
In the response to COVID-19, cities have once again demonstrated their potential to address challenges that transcend national boundaries. We can create a more sustainable and equitable future with cities in the lead.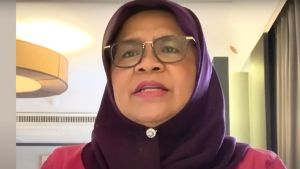 Maimunah Mohd Sharif, Executive Director of UN-Habitat, discusses the fundamental inequalities that have been highlighted in COVID-19 pandemic.

Mayor Lori Lightfoot of Chicago recognizes the critical role cities have played in leading the COVID-19 response. 
Mayor, Athens

Previously, Kostas Bakoyannis served as Governor of Central Greece and Mayor of Karpenissi. He holds an MA from Harvard John F. Kennedy School of Government and a PhD in political science and international relations from the University of Oxford. He is a member of the European Council on Foreign Relations and a Greek Leadership Council member of the UN Sustainable Development Solutions Network.

Minister of Foreign Affairs, Singapore
CEO, Chicago Council on Global Affairs


Ivo H. Daalder served as the US ambassador to NATO from 2009 to 2013. He joined the Council as president in 2013 and took on the new role of CEO in 2023. Previously, he was a senior fellow in foreign policy studies at the Brookings Institution and served as director for European affairs on President Bill Clinton's National Security Council. He is the author or editor of 10 books.


Mayor, Seattle


Mayor Jenny Durkan has delivered on the promise of two years of free college for Seattle high school students, expanded access to affordable pre-k, and provided free transit to students. Before becoming mayor, Durkan was appointed by President Barack Obama to serve as the US Attorney for the Western District of Washington, becoming the first openly gay US Attorney in the country's history.


Director, OECD Centre for Entrepreneurship, SMEs, Regions & Cities
Horacio Rodríguez Larreta
Mayor, Chicago


Lori Lightfoot is the 56th Mayor of Chicago. She's the first Black woman to serve as Chicago's Mayor and has undertaken an ambitious agenda of expanding equity and inclusion across the city. Most recently, Mayor Lightfoot served as a senior equity partner at Mayer Brown, president of the Chicago Police Board, and chair of the Police Accountability Task Force.


President, International Committee of the Red Cross
Mayor, Bristol


Marvin Rees is the elected mayor of Bristol, UK. He was elected in May 2016, becoming the first European city mayor of Black African-Caribbean descent, and has prioritized housing, transportation, and early health and education intervention. After beginning his career in the voluntary sector, Rees worked in Washington, DC on the response of faith-based organizations to President Clinton's Welfare Reform Bill.


Undersecretary for North America and Chief Negotiator of USMCA, Mexico
Executive Director, UN-Habitat
Chair of the Editorial Board and Editor-at-Large, US, Financial Times


Gillian Tett is chair of the editorial board and editor-at-large, US of the Financial Times. She writes weekly columns covering a range of economic, financial, political, and social issues. In 2014 she was named Columnist of the Year in the British Press Awards. In addition, Tett's past roles include US managing editor, assistant editor, and capital markets editor.