Cosmic Harvest, Something's Fishy, and Growing Meat
March 31, 2023
Check out our roundup of the week's top news and research in food, agriculture, and global development.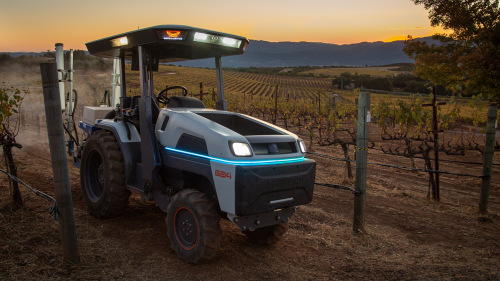 REUTERS/Monarch
Top Story
Access to Drinking Water in Doubt
Access to drinking water is no longer guaranteed in some Tunisian cities. Tunisian authorities have started cutting off drinking water at night to reduce consumption amid the country's severe drought. The decision threatens to worsen already high social tensions caused by poor public services, high inflation, and a weak economy, and could cause further harm to farms dependent on the country's dwindling water supply.
Council Insights
Global Hunger
"Nobody should have to be dying of hunger now, particularly in the 21st century," said Senior Fellow Roger Thurow in the latest episode of the International Livestock Research Institute's Boma Podcast. Listen to the full episode to learn more about Thurow's insights on the politics of global poverty and hunger.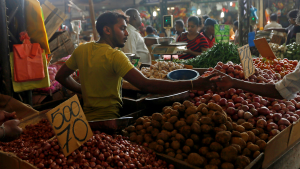 Food & Agriculture
No More Mad Cows
Something's Fishy
Growing Meat
Big Ag Leaves Moscow
Deeper Dive
What Is the Role of the War in Ukraine on Grain Exports?
Resilience
Water in the Sky
A new initiative by a South African nonprofit organization is developing rainwater harvesting systems to sustain vertical gardens in urban areas. Designed to alleviate hunger and water insecurity, the project directly addresses the country's high levels of food insecurity. Run by students, it also engages youth in agriculture to help combat the rising average age of farmers.
DC Report
Water Rules Veto
Senate Republicans passed a bill to overturn the controversial Waters of the US rule under the Clean Water Act, sending President Biden a bill that is expected to be his second veto. The measure passed the Democratic-led Senate on a 53-43 vote, with agricultural groups among some of the most ardent critics of the latest attempt to define the waters of the US rule. Farming groups argue that the new rule is too broad and could lead to federal regulation of streams and low spots on farmland.
Big Actors
Automated Farming
Major agricultural companies like Caterpillar, Deere & Co., and Parallel Systems have introduced new technology to the farming industry: autonomous vehicles. Inspired by the shortage of truck drivers and skilled machine operators, the companies' self-driving trucks, tractors, and bulldozers are helping reduce costs and improve productivity.
Big Ideas
Cosmic Harvest
The UN's FAO and the International Atomic Energy Agency are preparing to analyze and test the effects of sending seeds to space for the first time in 60 years. The seeds, sent to space in November 2022, included thale cress and sorghum, known for their drought and heat tolerance. The experiment aims to develop new crops that can withstand climate change and help improve global food security.
Ask an Expert
Is the world on track to reach the UN Sustainable Development Goals for zero hunger and clean water and sanitation?
"The recent UN World Water Development Report marks global progress halfway through the timeline for hitting the Sustainable Development Goal targets. And what we're seeing is that we're falling far short of those goals for safe human water access and environmental protection. There's a tendency to think that this is not a problem for high-income places like the United States, but the recent chemical spill in Philadelphia's water supply reminds us that drinking water safety is a persistent problem here as well. There are many well-known chemical hazards in the American drinking water system that are either unregulated or ineffectively controlled. This is a continuous threat to our health that persists even when disasters like those in Philadelphia or Flint fade from public attention."
— Nonresident Fellow Dr. Michael Tiboris
Nonresident Fellow, Global Water


Michael Tiboris is nonresident global water fellow at the Chicago Council on Global Affairs and was a public fellow for the American Council of Learned Societies. His research focuses on primary resource stability as a foreign policy objective, and is particularly focused on water resource policy, cooperative resource governance, and global justice.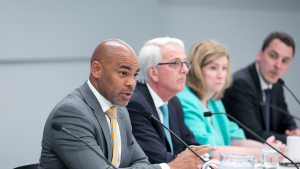 Senior leaders from corporate partner companies are invited to discuss how sustainable global business practices can lead to corporate growth.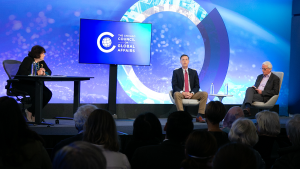 As Russia's war in Ukraine enters its second year, Jessica Tuchman Mathews moderates a discussion with Ivo Daalder and George Beebe on options for protecting Ukraine's independence, ending Russian aggression, and keeping the US and Ukraine's neighbors out of the war.
Did you miss one of our previous livestreams? Don't worry! They are all available on our website to watch at any time.
Other Upcoming Events
Global Food Policy Report: Rethinking Food Crisis Responses
Date: April 13
Time: 9:00 – 10:30 a.m. ET
IFPRI-AMIS Seminar Series: Production Prospects for the Northern Hemisphere
Date: April 18
Time: 9:00 – 10:30 a.m. ET
IFAD at the Perugia International Journalist Festival: Spotlight on Indigenous Peoples
Date: April 22
Time: 3:00 p.m. CET
2023 Hunger and Health Illinois Conference – Chicago
Date: May 1
Time: 10:00 – 3:30 p.m. CT
2023 Food Waste Solutions Summit
Date: May 16 – 18
---
Land Acknowledgement Statement
The Center on Global Food and Agriculture recognizes it occupies the ancestral land of the Kiikaapoi, Peoria, Kaskaskia, Bodwéwadmi, and Myaamia people. Indigenous communities around the world disproportionately experience the pressures of climate change, global conflicts, and the COVID-19 pandemic, while simultaneously stewarding 80 percent of the world's biodiversity. These Indigenous tribes and nations are the original owners of this land and continue to be systemically erased by policies and practices that ignore their histories. To learn more about Indigenous foodways and practices, check out our 2022 blog series "Stewardship, Sovereignty, and Solutions."
Communications Officer

Natalie Burdsall joined the Chicago Council on Global Affairs in 2022 as the communications officer for the Center on Global Food and Agriculture. In this role, they promote the work and impact of the Center to expand public engagement in global food and agriculture, and assist in bringing the Council's digital transformation to fruition.

Intern, Center on Global Food and Agriculture

Clayton Elbel joined the Council as a 2023 spring intern with the Center on Global Food and Agriculture.