Earthquake Fallout, Spy Balloon Hysteria, Ammo for Ukraine 
Susan Glasser, Prashant Rao, and Peter Spiegel join guest host Kim Ghattas to discuss the week's top news stories.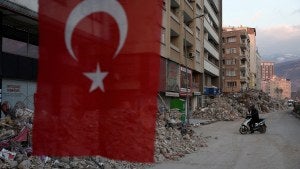 About This Episode
In this week's show: Presidents Erdogan and Assad face mounting criticism for their governments' woeful earthquake responses, NATO allies sound the alarm on Ukraine's ammunition shortage, and spy balloon hysteria continues to strain US-China relations. The Atlantic's Kim Ghattas guest hosts World Review with Susan Glasser, Prashant Rao, and Peter Spiegel to discuss.
Prefer to Listen?
Subscribe to our podcast edition on the following platforms.
Contributing Writer, The Atlantic


After twenty years as a BBC journalist, Kim Ghattas is currently contributing writer for the Atlantic. She hosts the People Like Us Podcast and is author of the NYT notable book of 2020: Black Wave. She has been published in the New York Times, the Daily Beast, Time, and the Washington Post, and she regularly speaks on Middle East issues and American foreign policy.


Staff Writer and Columnist, New Yorker


Susan Glasser is a staff writer for The New Yorker and was a founding editor of POLITICO Magazine, where she also served as POLITICO's chief international affairs columnist and host of the podcast "The Global Politico." She's also a global affairs analyst for CNN.


Senior Editor, Semafor


Prashant Rao is a senior editor at Semafor. Prior to that, he was a former senior editor at The Atlantic, where he oversaw the Global section, and was the deputy Europe business editor for The New York Times.


US Managing Editor, Financial Times

Peter Spiegel is currently the US managing editor of the Financial Times. Prior to that, he worked at the Los Angeles Times and the Wall Street Journal.