Middle East Peace, Pakistani Elections, Ukraine War Updates
Deb Amos, Nirmal Ghosh, and Gideon Rachman join guest host Carla Anne Robbins to discuss the week's top news stories.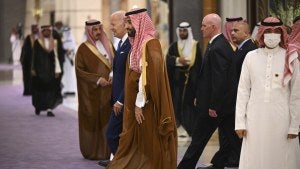 About This Episode
The Biden Administration gets serious about normalization between Saudi Arabia and Israel, but what will it take to close the deal? Plus, a recent terrorist attack roils the Pakistani political environment before upcoming elections. And suicide drones are flown into Russian territory just as developing nations are set to gather to sketch out a peace deal between Russia and Ukraine. Guest host Carla Anne Robbins discusses this and more with Deb Amos, Nirmal Ghosh, and Gideon Rachman.
Prefer to Listen?
Subscribe to our podcast edition on the following platforms.