Six Months of War in Ukraine, Global Droughts, Finnish Partygate
Karen DeYoung, Ryan Heath, and Stefan Kornelius join Ivo Daalder to discuss the week's top news stories.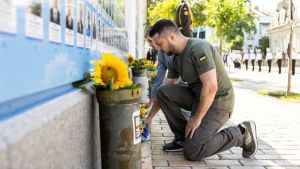 About This Episode
Ukraine marks its Independence Day six months since the start of Russia's invasion. What shape has this brutal war left either side in, and where does the conflict go from here? Plus, extreme heat and record-breaking droughts have left countries around the world scorched and in short food supply as weather extremes become the norm. And finally, how to read the countervailing barrage of criticism, and upswell of support for Finland's Prime Minister Sanna Marin facing criticism over "partygate" videos. 
Joining Council President Ivo Daalder to discuss are Karen DeYoung of the Washington Post, Ryan Heath of POLITICO, and Stefan Kornelius of Süddeutsche Zeitung. 
Prefer to Listen?
Subscribe to our podcast edition on the following platforms.
Associate Editor and Senior National Security Correspondent, The Washington Post

Karen DeYoung has spent more than three decades at the Washington Post. Prior to her current role, she served as bureau chief in Latin America and London and as correspondent covering the White House, US foreign policy, and the intelligence community.

Global Technology Correspondent, Axios


Ryan Heath is the global technology correspondent at Axios and co-author of Axios Login, Axios' daily technology newsletter. Previously, Ryan was the host of Global Insider, POLITICO's global newsletter and podcast, and previously authored POLITICO's U.N. Playbook, Brussels Playbook, and Davos Playbook.


Political Editor, Süddeutsche Zeitung


Stefan Kornelius has spent over 20 years at Süddeutsche Zeitung. Throughout his career, he has covered Germany's Christian Democratic Party, the chancellorship of Helmut Kohl, and defense issues in Europe. His biography of German Chancellor Angela Merkel, entitled "Angela Merkel, the Chancellor and her World," has been translated into 13 languages.


CEO, Chicago Council on Global Affairs


Ivo H. Daalder served as the US ambassador to NATO from 2009 to 2013. He joined the Council as president in 2013 and took on the new role of CEO in 2023. Previously, he was a senior fellow in foreign policy studies at the Brookings Institution and served as director for European affairs on President Bill Clinton's National Security Council. He is the author or editor of 10 books.