The Spiraling Global Food Crisis and Russia's War
How has Russia's invasion of Ukraine upended the global food system? Food security experts Ertharin Cousin and Teresa Welsh discuss.

About The Episode
With richly fertile soil and easy access to international markets, Ukraine has been called the breadbasket of Europe. Following Russia's invasion, the country's grain exports have plummeted, leading to worldwide food price increases of 23 percent and hundreds of thousands facing starvation in the Middle East and Africa. As a global hunger crisis soars, food security experts Ertharin Cousin and Teresa Welsh join Deep Dish to dissect the root causes of modern food insecurity and analyze actions we must take to protect the world's most vulnerable populations.
Interested in learning more about transforming the global food system? Sign up for Devex Dish's newsletter.
Distinguished Fellow, Global Food and Agriculture


Prior to joining the Council, Ertharin Cousin served as executive director of the UN World Food Programme where she led the world's largest humanitarian organization from 2012 to 2017. She also previously served as US ambassador to the UN Agencies for Food and Agriculture in Rome. Cousin is founder and CEO of Food Systems for the Future.


Senior Reporter, Devex

Teresa Welsh is a senior reporter at Devex. She has reported from more than 10 countries and is currently based in Washington, DC. Her coverage focuses on Latin America; US foreign assistance policy; fragile states; food systems and nutrition; and refugees and migration. She is also the author of the weekly newsletter Devex Dish on transforming the global food system.

Vice President, Studies


Brian Hanson is the Vice President of Studies at the Chicago Council on Global Affairs. He oversees the Council's research operations and hosts the Council's weekly podcast, Deep Dish on Global Affairs.


Related Event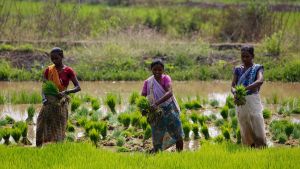 Leading experts discussed action needed to meet unprecedented global food security crises arising from climate change, the pandemic, and conflict.