Should the US Embrace or Reject Engagement with China?
Paul Heer joins Deep Dish to argue that engagement is necessary in shaping the US-China relationship.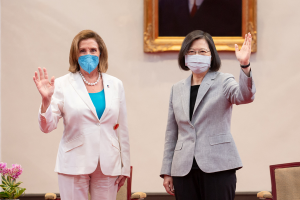 About the Episode
This week, the Chinese Communist Party hosts its twice-a-decade National Congress and President Xi Jinping is set to secure power for a third term. Nonresident Senior Fellow Paul Heer joins Deep Dish to argue the importance of engagement with China as a necessary component of US foreign policy. If we do not pursue it, he says, we are missing opportunities for a more peaceful coexistence between both countries and the world. 
This episode originally aired on August 4, 2022. 
Reading List
The Next Taiwan Strait Crisis Has Arrived, Paul Heer, The National Interest, August 2, 2022 
Engagement With China Has Not Failed, Paul Heer, The National Interest, July 14, 2022 
Understanding U.S.-China Strategic Competition, Paul Heer, The National Interest, October 20, 2020
Nonresident Senior Fellow, Lester Crown Center on US Foreign Policy


Prior to joining the Council as a nonresident fellow, Paul Heer served for 30 years as a specialist on East Asian affairs in the US intelligence community. He served on the staff of the President's daily brief and as a member of the senior analytic service at the CIA prior to becoming the national intelligence officer for East Asia, a position he held from 2007 to 2015.


Vice President, Studies


Brian Hanson is the Vice President of Studies at the Chicago Council on Global Affairs. He oversees the Council's research operations and hosts the Council's weekly podcast, Deep Dish on Global Affairs.


Senior Fellow, US Foreign Policy


Elizabeth Shackelford, a former career diplomat who served the US Mission to Somalia and the US Embassy in South Sudan, focuses on building awareness and understanding of a "restraint" approach to foreign policy, which seeks to limit the use of force to core US security interests and favors diplomatic engagement.


China's Changing Landscape Series Sponsor