Rethinking Conflict Resolution in Sudan
How can international partners help pave the way for a more peaceful future in Sudan?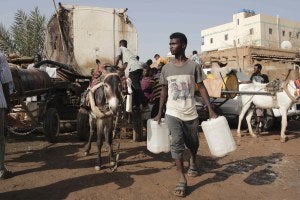 About the Episode
What role do international partners like the United States play in shaping Sudan's transitional path forward? Deep Dish explores the need for a new approach to conflict resolution that prioritizes civilian interests, joined by Jacqueline Burns, former advisor to the US Special Envoy for Sudan and South Sudan, and Peter Biar Ajak of the Belfer Center. They question traditional methods and uncover alternative strategies for constructive international engagement to secure a peaceful future for Sudan.
Senior Policy Analyst, RAND Corporation


Jacqueline (Jackie) Burns is a senior policy analyst at the RAND Corporation. Burns joined RAND after seven years leading policy initiatives in Africa as a strategy advisor with the US Department of State. During this time, Burns focused on international conflict resolution and negotiations in Sudan and South Sudan, and was also detailed to the White House National Security Council.


Fellow, International Security Program, Belfer Center


Peter Biar Ajak is a South Sudanese peace activist and a postdoctoral fellow in the Belfer Center's International Security Program. He was also a former political prisoner who was detained in South Sudan from July 2018 to January 2020, so he knows firsthand what it's like to fight and sacrifice for better future for your people.


Senior Fellow, US Foreign Policy


Elizabeth Shackelford, a former career diplomat who served the US Mission to Somalia and the US Embassy in South Sudan, focuses on building awareness and understanding of a "restraint" approach to foreign policy, which seeks to limit the use of force to core US security interests and favors diplomatic engagement.