Qatar 2022 and the Risks and Rewards of Sportswashing
Why do some governments use sports to launder their reputations – and does it work?

About the Episode
FIFA World Cup 2022 has reached its nail-biting, knock-out stage. For big-spending host Qatar, the tournament has provided an opportunity to bask in the international spotlight, but it has also drawn scrutiny of human rights and the treatment of migrant workers in the Gulf state. On Deep Dish, Jules Boykoff and Minky Worden discuss the growing phenomenon of sportswashing, why sport appeals to autocratic governments, and how businesses, athletes, and fans can respond. Plus, we speak to sports writers and analysts to understand how fans perceive accusations of sportswashing. 
Reading List
NOlympians: Inside the Fight Against Capitalist Mega-Sports in Los Angeles, Tokyo and Beyond, Jules Boykoff, Fernwood Publishing, April 01, 2020 

The World Cup is Exciting, Lucrative, and Deadly, Minky Worden, Newsweek, August 23, 2022 
Associate Professor, Political Science, Pacific University

Jules Boykoff is an associate professor of political science at Pacific University in Oregon and a former professional soccer player. He is also author of the book, "NOlympians: Inside the Fight Against Capitalist Mega-Sports in Los Angeles, Tokyo, and Beyond".

Director, Global Initiatives, Human Rights Watch

Minky Worden is director of Global Initiatives at Human Rights Watch, where she develops and implements international outreach and advocacy campaigns. She previously served as Human Rights Watch's Media Director, working with the world's journalists to help them cover crises, wars, human rights abuses and political developments.

Vice President, Studies


Brian Hanson is the Vice President of Studies at the Chicago Council on Global Affairs. He oversees the Council's research operations and hosts the Council's weekly podcast, Deep Dish on Global Affairs.


Freelance Journalist

Matt Pearson is a freelance journalist coving covering Bundesliga and European football. He is speaking to us from London, England.

Senior Lecturer, Sports Marketing and Communications, Loughborough University

Elisavet Argyro Manoli is a senior lecturer in sports marketing and communications at Loughborough University. She is speaking to us from Athens, Greece.


The prestige and popularity of the World Cup is a political force beyond any nation's control, writes Chris Morris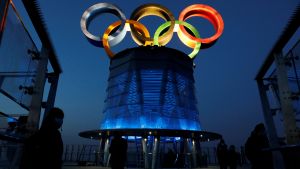 How can the US confront human rights abuses in China, without robbing athletes of the opportunity to compete on the world stage?

Does a diplomatic boycott of the 2022 Beijing Olympics have public support among countries doing so? Data show modest support—and skepticism.