Kenya Has New President, But Election Might Not Be Over Yet
Experts Kathleen Klaus and Murithi Mutiga join Deep Dish to discuss the results of Kenya's presidential election.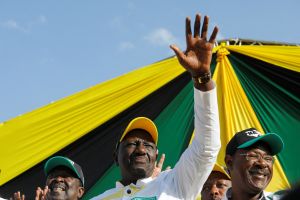 About the Episode
William Ruto has been declared winner of Kenya's presidential election, after edging out longtime opposition leader Raila Odinga by a narrow margin. Odinga has refused to concede, will likely challenge the results in court, and his supporters took to the streets to protest in the election center. Uppsala University's Kathleen Klaus and International Crisis Group's Murithi Mutiga join Deep Dish guest host Elizabeth Shackelford to unpack election results, what it means for Kenya, the broader region, and democracy on the continent.
Like the show? Leave us a rating and review wherever you get your podcasts. 
Assistant Professor, Peace and Conflict Research, Uppsala University


Kathleen Klaus is an assistant professor in Peace and Conflict Research at Uppsala University. Previously, she was an assistant professor in Politics at the University of San Francisco and a visiting assistant professor in Government at Wesleyan University. Her research sits at the intersection of international relations and comparative politics, and focuses on political violence, elections, land rights, and forced migration, with a regional focus on sub-Saharan Africa.


Program Director, Africa, International Crisis Group


Murithi Mutiga is International Crisis Group's Program Director for Africa. He is based in Nairobi, Kenya. He previously covered East Africa for The Guardian (UK) and before that served as a contributing op-ed writer to the International New York Times. Mutiga was also an editor and columnist with the Sunday Nation.


Senior Fellow, US Foreign Policy


Elizabeth Shackelford, a former career diplomat who served the US Mission to Somalia and the US Embassy in South Sudan, focuses on building awareness and understanding of a "restraint" approach to foreign policy, which seeks to limit the use of force to core US security interests and favors diplomatic engagement.