Can Putin's Disinformation About the Ukraine War Work?
Inside Russia, Putin is tightly controlling the narrative around his war in Ukraine. But externally, Russia's disinformation prowess is faltering. Here's why.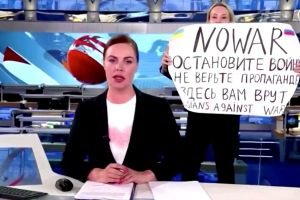 For the last three weeks, people around the world have been watching the war in Ukraine unfold on their phones, intimately observing live footage of the conflict's devastation alongside rampant fake news from Russia claiming the war isn't real. Disinformation experts Bret Schafer and Julia Davis join Deep Dish to examine why Putin's narrative isn't working outside Russia, how long it can dupe the Russian public, and what all of us can do to combat the spread of misinformation.  
Senior Fellow & Head of the Alliance for Securing Democracy's Information Manipulation Team


Bret Schafer is a senior fellow and head of the Alliance for Securing Democracy's information manipulation team. Bret is the creator and manager of Hamilton 2.0, an online open-source dashboard tracking the outputs of Russian, Chinese, and Iranian state media outlets, diplomats, and government officials.


Columnist for The Daily Beast, and creator of the Russian Media Monitor


Julia Davis is a columnist for The Daily Beast and the creator of the Russian Media Monitor. She is a member of the Academy of Television Arts and Sciences, the Screen Actors Guild, and Women In Film.


Vice President, Studies


Brian Hanson is the Vice President of Studies at the Chicago Council on Global Affairs. He oversees the Council's research operations and hosts the Council's weekly podcast, Deep Dish on Global Affairs.