US Public Views Saudi Relationship as One of Necessity

While government officials reaffirm the importance of the US-Saudi relationship, the American public expresses generally chilly feelings towards Saudi Arabia.
In April, CIA Director Bill Burns held an unannounced meeting with Saudi Arabian Crown Prince Mohammed bin Salman. While the US government has not confirmed or commented on the nature of the meeting, the presumed purpose would have been to mend and strengthen ties with this key American security partner. Recent events including the Saudi-sanctioned killing of journalist Jamal Khashoggi in 2018, the Biden administration's attempt to revive the Iran nuclear deal, and the Saudi response to Russia's invasion of Ukraine have deepened political fissures between Washington and Riyadh, pushing the relationship to a point that the Wall Street Journal deemed its "lowest in decades." Data from the 2020 and 2021 Chicago Council Surveys show that the American public's views of Saudi Arabia are also at a low point. And though many Americans view Saudi Arabia as a necessary partner for the United States, few support the existing pattern of selling the kingdom American arms.
Public Perception Turns After 10 Years of Improvement
In 2020, when asked to place their feelings towards Saudi Arabia on a zero to 100 thermometer scale, Americans gave the kingdom a relatively chilly 37. This represented Saudi Arabia's lowest rating in Council polling since 2006, and a marked decline after nearly a decade of gradually warming feelings. And even at their 21st century high of 42 in 2014, American ratings of Saudi Arabia in recent years have not reached the levels seen from 1978-1994—a period of close security cooperation between the two countries.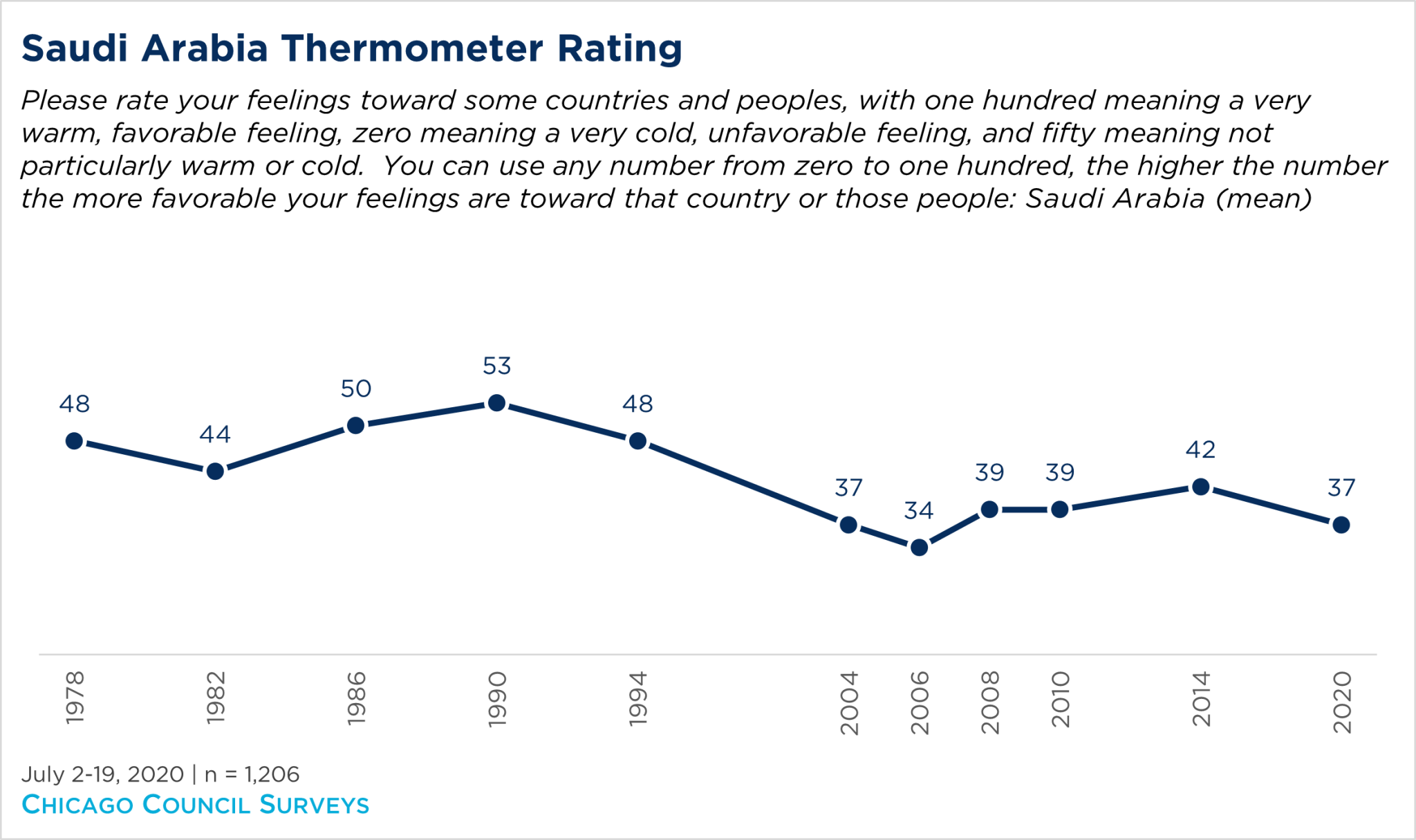 Public Recognizes Need to Work with Saudis... But Within Limits
These negative views of Saudi Arabia are matched by a reluctance to see the country as an ally of the United States that shares American interests and values: only five percent of the American public classifies Saudi Arabia as an ally. Instead, a plurality (45%) describe the country as a necessary partner with whom the United States must cooperate. And over a quarter (28%) say they do not know how to characterize the US-Saudi relationship.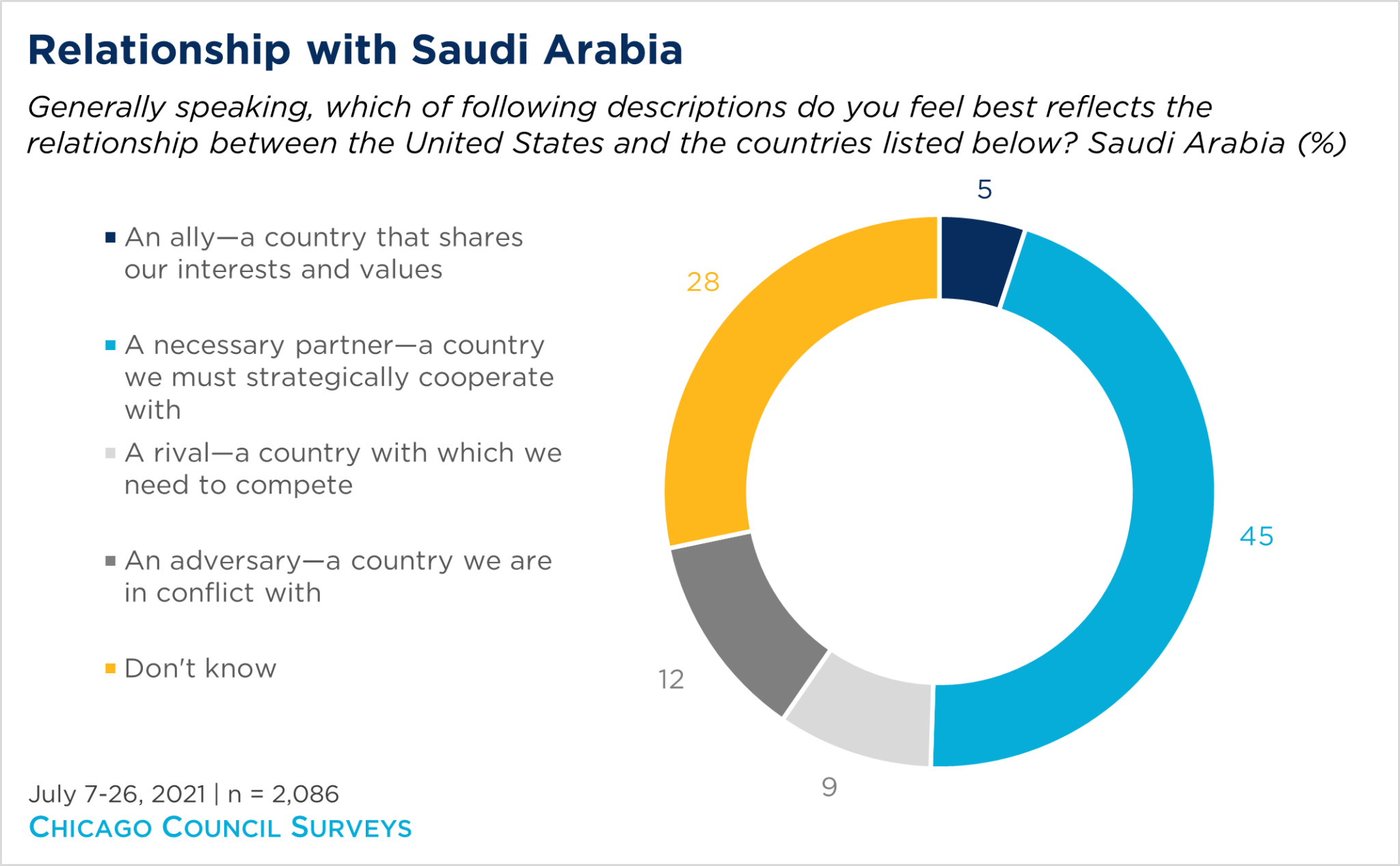 The relationship between the two countries, with differing values, forms of government, and often goals, has long featured a notable element of necessity. For many decades, Saudi Arabia provided the United States with a reliable flow of oil, and the United States provided critical security assistance and collaboration. Even as the relationship has been strained by US policy towards Iran and Israel, and Saudi intervention in Yemen, it has remained a priority for both countries for decades.
However, despite the long history of security collaboration between the two countries, in 2021 the US public was strongly opposed to selling arms to Saudi Arabia. In fact, fewer Americans supported arms sales to Saudi Arabia than to any other country asked about on the 2021 Chicago Council survey, with under a quarter supporting the policy (23%).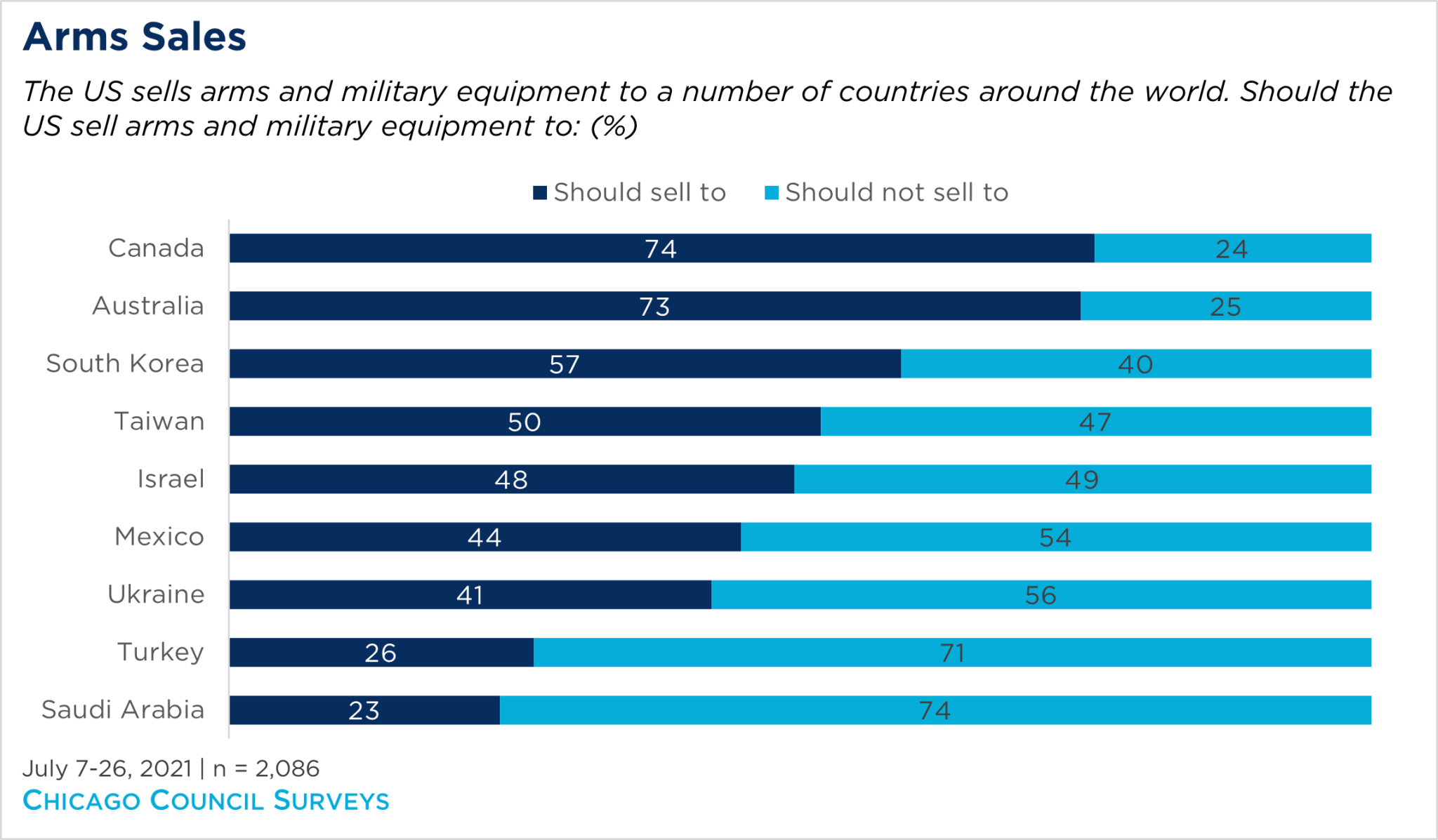 For its part, the Biden administration has attempted to walk a fine line when it comes to weapons sales to Saudi Arabia, pledging to end support for offensive operations by Saudi forces in Yemen, while also approving a $650m sale of missiles and missile launchers to the country at the end of 2021.
With inflation and oil prices soaring, Saudi Arabia and China developing closer ties, and the domestically popular Crown Prince poised to rule the kingdom for decades to come, the Biden administration may have a limited window to salvage this recently souring relationship. These back channel meetings between top officials, and the long-awaited appointment of a US Ambassador to Saudi Arabia, represent steps in a positive direction, but public opinion indicates that there is still much work to be done to set the US-Saudi relationship on stable footing.
Former Research Assistant, Public Opinion and Foreign Policy


Emily Sullivan joined the Chicago Council on Global Affairs in 2021 and was a research assistant on the Public Opinion team.