US Public Grows Increasingly Divided on Immigration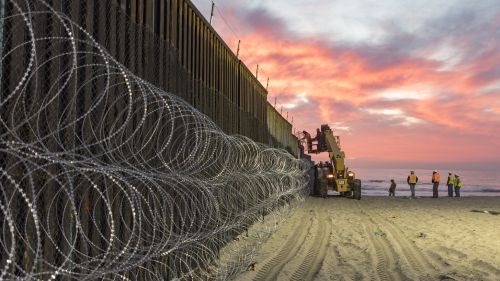 Despite majority approval among Democratic public, congressional Democrats struggle to pass immigration reform.
Congressional Democrats just lost what may have been their last chance to pass major immigration legislation before the 2022 midterm elections. In addition to Senator Joe Manchin's recalcitrance this week, Senate parliamentarian Elizabeth MacDonough effectively stripped the immigration measures out of the Build Back Better Act by ruling them ineligible to be approved through the reconciliation process under which the Act is being considered. This ruling from the parliamentarian represents one in a series of roadblocks faced by congressional Democrats, who are seeking to deliver on President Biden's campaign promise of immigration reform despite Republican opposition.
Addressing illegal immigration remains one of the most divisive policy issues in the United States both at the elite and public levels. Data from the 2021 Chicago Council Survey shows that Republicans (81%) are much more likely than Democrats (27%) or Independents (45%) to classify controlling and reducing illegal immigration as a very important foreign policy goal. In 2020, Republicans (61%) were also much more likely than Democrats (13%) or Independents (26%) to view large numbers of immigrants and refugees coming to the United States as a critical threat to the country.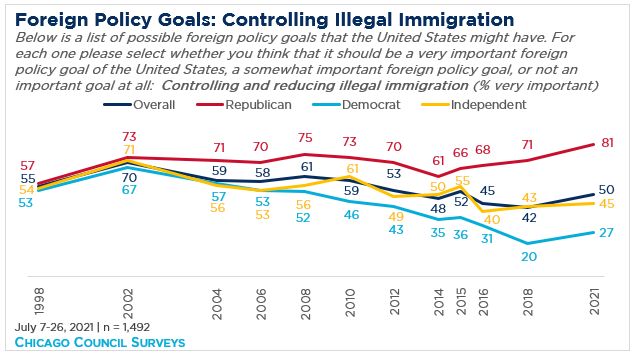 The source of disagreement between party supporters does not seem to be related to their general views of immigrants. In fact, the American Values Survey, conducted by the Public Religion Research Institute September 9-22, 2020, finds that strong bipartisan majorities of Americans believe that immigrants are hardworking (85% overall, 92% Democrats, 73% Republicans, 87% Independents) and have strong family values (81% overall, 89% Democrats, 65% Republicans, 82% Independents).
Instead, the data suggest that diverging policy preferences may come from Republicans' and Democrats' differing perceptions of how the presence of immigrants impacts their own lives. The 2021 Chicago Council survey finds that of the one in three Republicans (31%) who think that the US economic system is unfair to them personally, 59 percent (18% of overall Republicans) think that US immigration policy is contributing to that unfairness a great deal. While Democrats are overall more likely to see the economic system as unfair to them (44%), a far lower proportion of this 44 percent see US immigration policy as contributing to that unfairness a great deal (23%, 10% of overall Democrats). Instead, Democrats are more likely to attribute unfairness to factors such as the power of big business, influence of special interests, and institutional inequality. Similarly, according to the 2021 American Values Survey, a majority of Republicans (65%), but only 18 percent of Democrats and 31 percent of Independents, believe that immigrants are a burden to the country because they take jobs, housing, and healthcare.
Disagreement on Specific Immigration Policy
The different levels of importance that Republicans and Democrats place on limiting immigration naturally lead to different policy preferences. Overall, a plurality of 41 percent of Americans says illegal immigrants currently working in the United States should be allowed to stay in their jobs and apply for US citizenship, but this figure does not tell the whole story. While this policy option is the one favored by Democrats (54%) and Independents (42%), only a quarter of Republicans agree (26%). Instead, a plurality of Republicans favor requiring illegal immigrants to leave their jobs and leave the United States (36%)—a policy position supported by only one in 10 Democrats (10%) and two in 10 Independents (21%). Overall, Republicans are nearly split on whether they favor options that allow for a path to citizenship with or without conditions (48%), or options that do not provide a path to citizenship (50%).
The immigration provisions included in the House Democrats' version of the Build Back Better Act, while falling short of their base's preference for a path to citizenship, would have represented the most significant pro-immigration reform in three decades. However, all hope may not yet be lost for immigration reform advocates. In a joint statement released on December 17, Senate Democratic whip Dick Durbin and five other Senators pledged that, despite their disappointment with the recent roadblocks, they still plan to "pursue every means to achieve a path to citizenship in the Build Back Better Act."
Former Research Assistant, Public Opinion and Foreign Policy


Emily Sullivan joined the Chicago Council on Global Affairs in 2021 and was a research assistant on the Public Opinion team.


Former Intern, Public Opinion and Foreign Policy
Katherine Stiplosek joined the Council in June 2021 and was formerly an intern with the public opinion team.