Ukrainians Unwilling to Give up National Territory

While Ukrainians may be willing to give up on the idea of NATO membership, they will not accept their government ceding territory to Russia.
Ceasefire negotiations between Kyiv and Moscow began the very day after Russian troops crossed the border to begin their invasion of Ukraine in February. Since then, there have been multiple rounds of talks between consulting teams and ministerial officials representing the two countries. Initial Russian demands included the "denazification," demilitarization, and the long term neutrality of Ukraine, as well as the official recognition of Donetsk and Luhansk as independent republics, and of Crimea as part of Russia. Although some of these demands have been adjusted as the conflict has evolved over the last four months, the Kremlin's demands still remain unacceptable to Ukrainian officials, resulting in stalled negotiations and ongoing conflict.
A recent poll finds that the Ukrainian public's views generally align with those of their country's leadership. Despite the immense toll that the fighting has taken, the Ukrainian people are not willing to make territorial concessions.
The Kyiv International Institute of Sociology (KIIS) conducted a survey May 13-18 to investigate Ukrainian public preferences on these issues. While KIIS made their best efforts to employ rigorous methodological standards, this recent survey was affected by fielding difficulties in a war zone, including telephone connectivity issues, particularly when trying to reach respondents in Russian-occupied territories. Large scale migration, both from dangerous areas in Ukraine and from the country as a whole, also pose challenges when trying to get a nationally representative sample. Finally, this poll is likely limited by a lower willingness to participate in polls among pro-Russian Ukrainians. KIIS researchers posted a note on the methodological challenges faced in conducting this survey on their website. These same challenges also affect other polling efforts mentioned in this article. Despite these polls' limitations, the results offer an important snapshot of Ukrainian public opinion at a critical moment, and provide insight into what combination of concessions, if any, may be acceptable to the Ukrainian public.
Territorial Concessions Off the Table
When asked what compromises they would be willing to make for peace with Russia, an overwhelming majority of Ukrainians (82%) say that Ukrainian territory should not be given to Russia under any circumstances, even if this prolongs the war. Only 10 percent of Ukrainians say that some territory can be ceded in order to achieve peace as soon as possible, with another eight percent responding that it is difficult to say. Even residents of eastern Ukraine, where the majority of the fighting has been concentrated, largely oppose making territorial concessions to accelerate the peace process (68%). In this case, the Ukrainian government's position is in lockstep with public opinion—a top Ukrainian negotiator recently ruled out any deal that would involve ceding territory to Russia.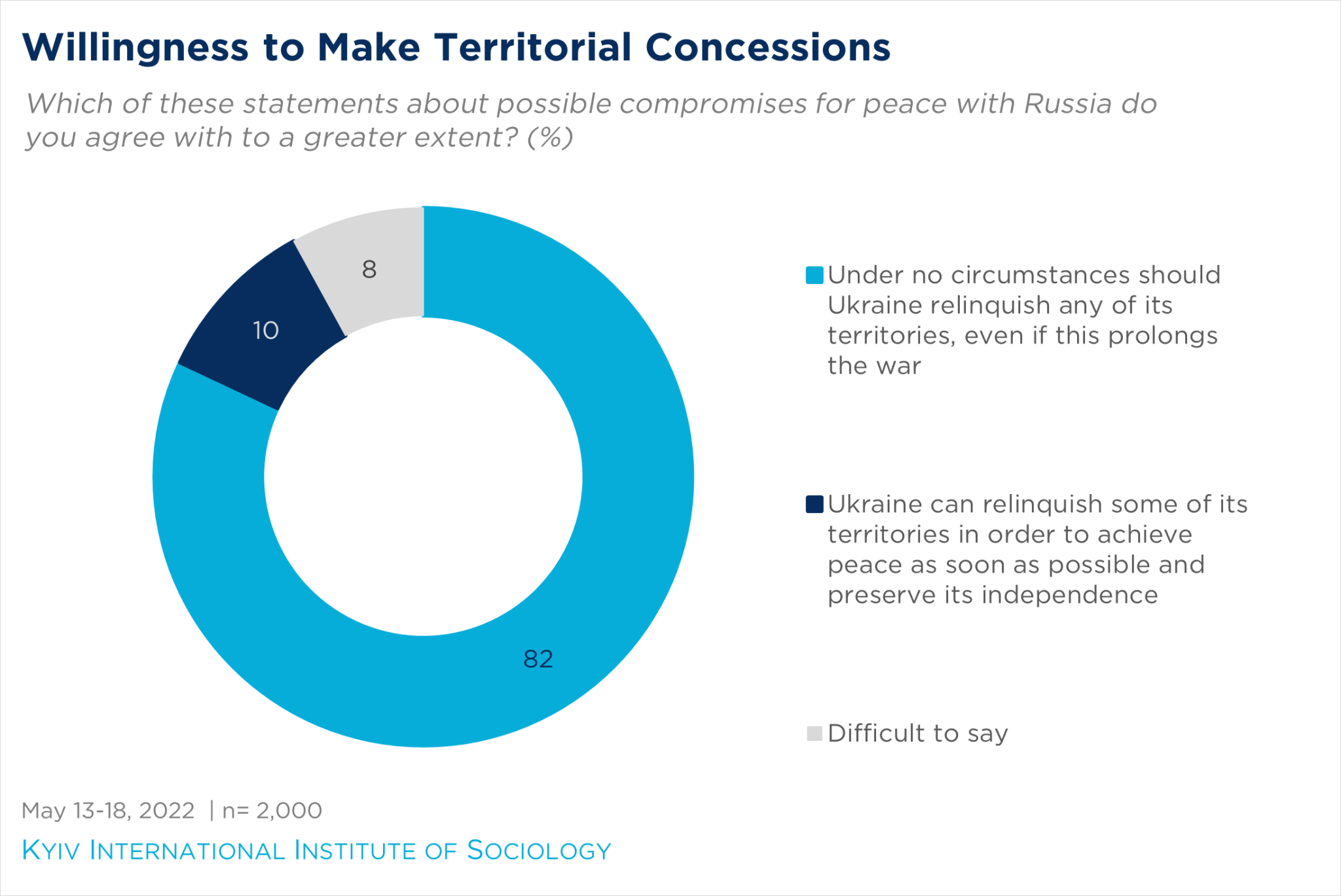 Not only are Ukrainians unwilling to cede any territory to Russia, they are also overwhelmingly confident in their country's ability to hold, or even gain, territory. According to a March 30-April 3 survey conducted by the International Republican Institute (IRI) and fielded by the Ukrainian polling organization Rating, a majority (53%) of Ukrainians believe that, as a result of the war, Ukraine will maintain all territories from within its internationally recognized borders defined in 1991. The other territorial configurations that Ukrainians see as most likely after the war are that Ukraine will regain the territories that were under the control of the Ukrainian government before the invasion in February (22%), or even that Ukraine will regain the Donbas and Luhansk regions (but not Crimea) (16%). Only four percent of Ukrainians believe that their country will lose some territory as a result of the war.
It's difficult to imagine how Russia and Ukraine could come to a negotiated settlement when the publics in each country have such drastically different understandings of the nature of the conflict. For example, a March 24-30 Levada Center-Council survey, revealed that only three percent of Russians thought that the annexation of Ukrainian territory was even a primary reason for the Russian invasion of Ukraine. Instead, Russians thought the purpose of the invasion was mainly to defend ethnic Russians (43%), prevent an attack on Russia (25%), or "denazify" Ukraine (21%). While these other rationales have been heavily promoted to the Russian public through government and media rhetoric, Russian demands for territorial control have been the central topic of the negotiations so far.
Ukrainians Divided on Necessity of NATO Membership
Despite Russian President Putin's longstanding opposition to Ukraine joining NATO, a majority of the Ukrainian public favors NATO membership for their country. According to a March 30-31 survey by the Ukrainian polling organization "Rating," support for NATO ascension among the Ukrainian public was just over two-thirds, which is approaching pre-war levels after a spike early in the conflict. The March-April IRI poll found a slightly smaller majority of 59 percent of Ukrainians in favor of joining NATO, but this represented an increase from previous readings.
The Ukrainian government has indicated that it would be willing to concede plans for NATO membership, and instead remain neutral, on the condition that the country receives strong security guarantees from the West. Data from the new KIIS survey indicate that on this issue there may be slightly more room for compromise between the Ukrainian and Russian positions. While four in 10 Ukrainians still see joining NATO as the best way to ensure Ukraine's security (39%), another four in 10 would accept security guarantees from Western nations in place of formal NATO membership (42%, 15% difficult to say, 4% neither option).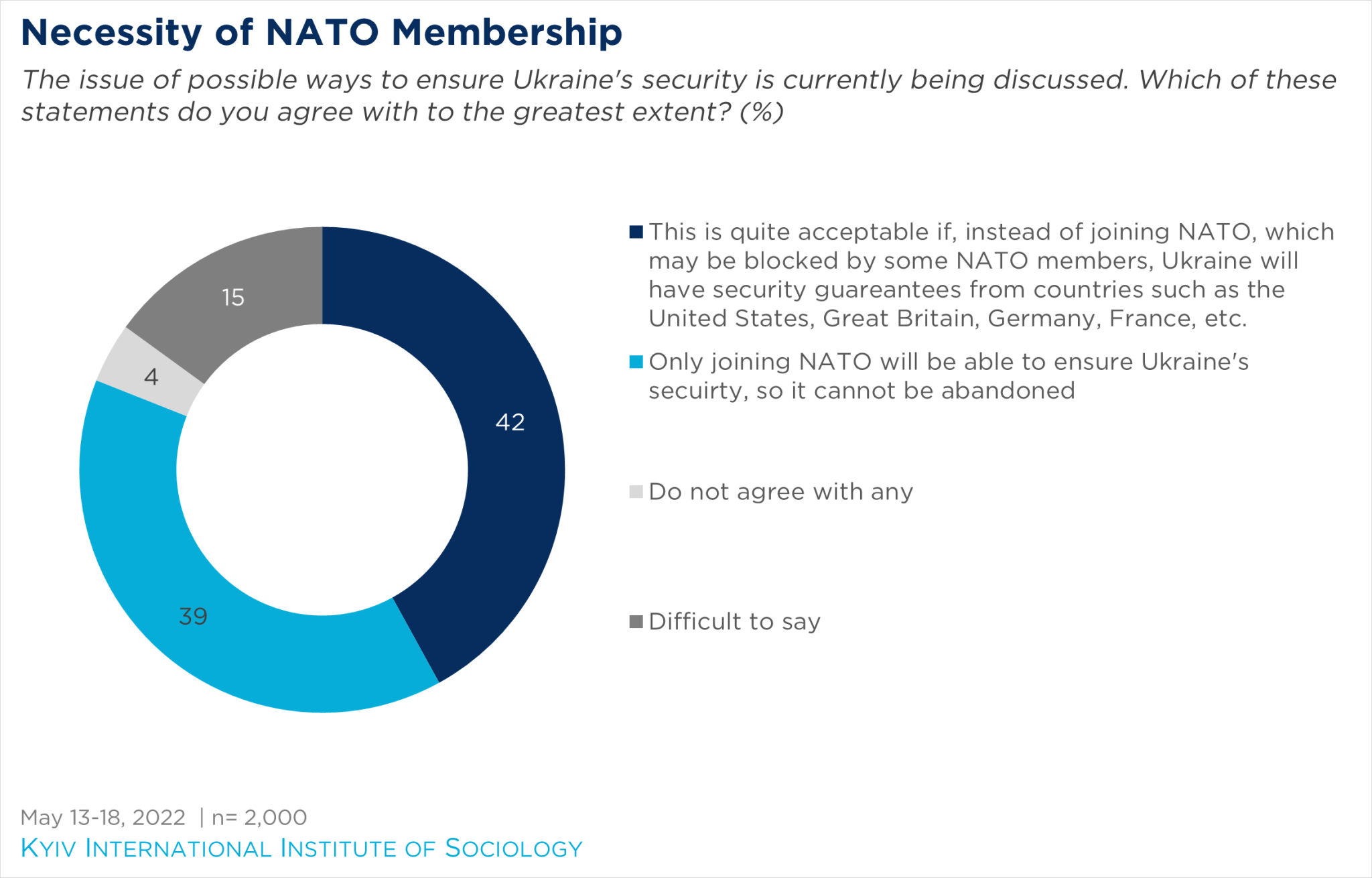 On the March-April IRI survey, a plurality of Ukrainians said none of the proposed concessions were acceptable (44%), but Ukraine declaring neutral status and not pursuing NATO membership was the concession seen as acceptable by the most people (37%).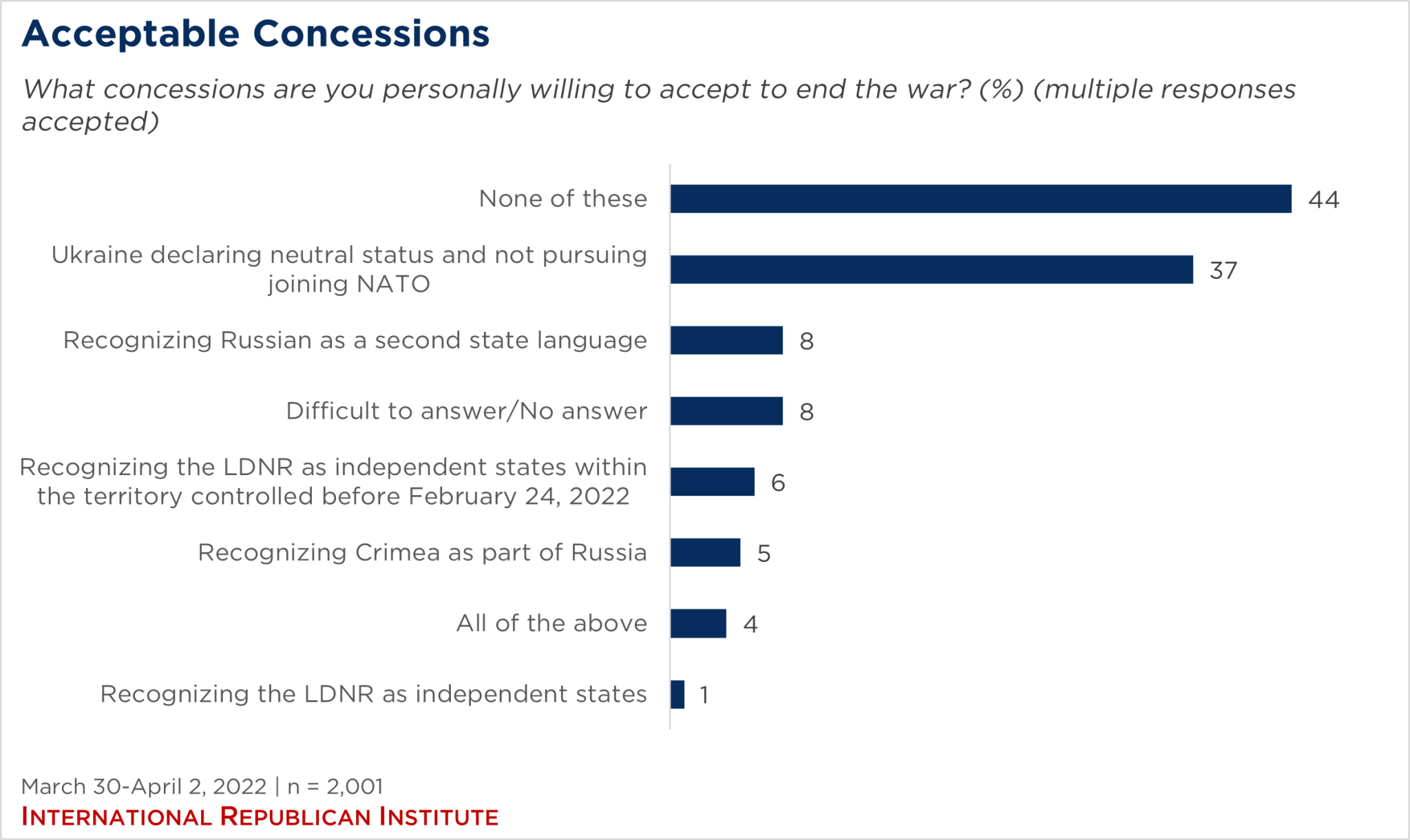 Even after three months of brutal conflict, there are new stories every day highlighting the strength of the Ukrainian people and their resolve to remain independent from Russia. Per the IRI survey, an overwhelming 97 percent of Ukrainians believe that their country will win the war. For now, Ukrainians remain confident and largely unwilling to make significant concessions for peace with Russia.
Former Research Assistant, Public Opinion and Foreign Policy


Emily Sullivan joined the Chicago Council on Global Affairs in 2021 and was a research assistant on the Public Opinion team.