Scaling Partners Towards Self Reliance and Sustainability in Legume Innovations Through a Systems Approach

This blog post from our "Field Notes" series shares more information on self-reliance and sustainability in legume innovations, and how these processes might help address food insecurity.
Field Notes
The Chicago Council is pleased to launch a new blog series, "Breaking Ground," to explore how food systems innovation and agricultural research and development can empower farmers and feed the world. A special subsection of this series, "Field Notes," features voices from Feed the Future Innovation Labs and CGIAR centers.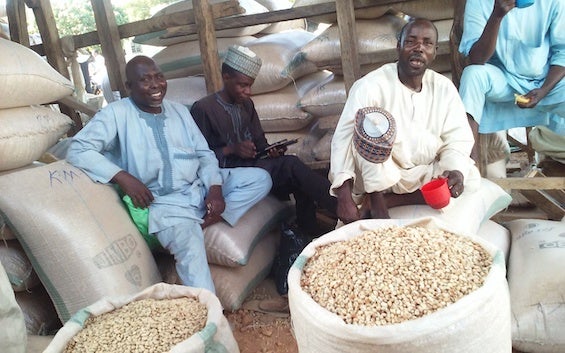 Image caption: Cowpeas at Dawanau market in Kano, Nigeria. Kano is Nigeria's second largest city and Dawanau is West Africa's largest grain market. Photo courtesy of Abba Aliyu. 
"The Journey to Self-Reliance"
The capability of the human mind is overwhelming. Our ability to think, reason and act is unparalleled. However, it is when we effectively take the outcome of what we have created and move it into action that the real magic begins. United States Agency for International Development's (USAID) Feed the Future program is the U.S. government's global hunger and food security initiative. The ultimate goal of this developing world research is to drive innovations into action to create sustainable resilient solutions to combat global hunger, poverty and malnutrition. USAID summarizes this with the phrase, "the journey to self-reliance". This journey can be complex and multi-faceted. The implementation of agricultural innovations can often face roadblocks and without a complete route map the journey can end on the road to nowhere. 
USAID reports that over 800 million people across the world go to sleep hungry every night. The majority of these people live in developing countries who face explosive rates of population growth; unstable governments and conflict; inefficient food production, storage, distribution and market systems; as well as environmental threats which are quickly evolving with the increasing effects of climate change. The Feed the Future Innovation Lab for Legume Systems Research managed by Michigan State University (MSU) is one of 25 Innovation Labs funded by USAID. Labs draw on the expertise of top scientists from U.S. universities who partner with developing country research institutions to work on agricultural solutions that address the country's food security challenges. Our lab focuses on grain legumes research in Benin, Burkina Faso, Ghana, Mali, Niger, Nigeria, and Senegal in West Africa and Malawi, Mozambique, and Zambia in Southern Africa. 
Why legumes?
Legumes are an excellent and affordable source of protein. They also possess a unique ability capture nitrogen from the air and convert it to plant usable nitrogen. This allows legumes to grow in poor soil conditions while also adding nitrogen back into the soil. Legumes are often used in intercropping, providing nitrogen benefits to its crop neighbor.  In addition, legumes require less water to grow than grains and vegetables.
Cowpeas, Vigna unguiculate, are an important legume crop in Africa and are the focal crop of the Legume Systems Innovation Lab. The cowpea grain contains about 25 percent protein, 64 percent carbohydrates, and are low in fat. Both the grain and plant are harvested with the plant primarily used for fodder. The Food and Agriculture Organization of the United Nations (FAO) has published a complete overview of cowpea which can be found on their website, www.fao.org.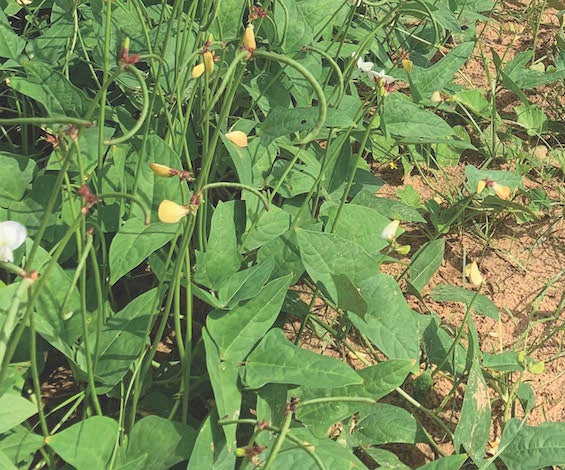 Agriculture in our target countries relies heavily on smallholder farmers who live in rural areas and are often isolated from technology, markets and resources. Projects are bringing new ways of legume farming to these smallholders, yet the introduction of a new technology or concept often exposes unanticipated vulnerabilities in the market system reducing or negating its impact. Through implementation of a systems approach, the Legume Systems Research Lab is managing a balanced portfolio of research projects focused on developing legume innovations that are scalable and ensure impact. 
The first step in this systems approach is in understanding how the system functions and at what entry point an innovation will affect the system most effectively. Second, building the capacity of the people and the institutions in the system is critical for the system to become self-reliant and resilient. Legume Systems Research Lab projects are diverse in research focus  and address both the development and placement of innovative technologies and the understanding of the system that will lead to their successful adoption. To ensure self-reliance, capacity development activities are strategically integrated into each research project.  
In a recent commissioned activity of the Legume Systems Innovation Lab, researchers from Michigan State University are studying the legume value chain in three cities in or near the West African Sahel – Kano and Ilorin in Nigeria, and Niamey in Niger. The study explores how these value chains function and what makes them resilient. They are documenting the buyer-supplier linkages step-by-step from farmers to consumers. Understanding these step-by-step actions can aid the lab in determining what impact the introduction of a new variety or the increased supply that a newly introduced growing process yields will have on the community. Understanding the system allows the lab to better introduce the right innovations at the right time and place in the system. The MSU researchers collaborated with Bayero University of Kano, University of Ilorin, and the International Crops Research Institute for the Semi-Arid Tropics (ICRISAT) in Nigeria; and Universite Abdou Moumouni de Niamey in Niger sharing knowledge and building the capacity of researchers and enumerators in these countries.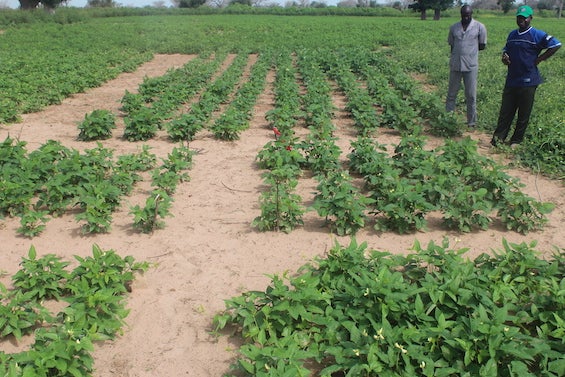 Photo caption: Field trial of new cowpea variety in Keur Bassirou Thiam village in Darou Mousty district, Senegal. Photo courtesy of Aliou Faye. 
In another project, researchers from Kanas State University (KSU) working with the Institut Senegalais de Recherches Agricoles (ISRA) and Agence Nationale de Conseil Agricole et Rural in Senegal are evaluating what factors motivate farmers to adopt new cowpea varieties and identify the socioeconomic barriers to adoption as well as gender and nutrition sensitivities of the new varieties. The research involves five new cowpea varieties tested at both research field centers and smallholder farmers in four villages in Senegal. Researchers and farmers will together collect and evaluate data and share the results. Understanding what the influencing factors drive farmer variety adoption allows the Legume Systems Innovation Lab to more effectively schedule and introduce new varieties into the system where they will be best received. 
The Feed the Future Innovation Lab for Legume Systems Research is currently in the process of awarding several new projects. These will explore innovations in legume insect pest management, new and enhanced cowpea breeding, alternative cropping systems, technology adoption in trade systems, nutritional approaches, and policy input effects on the system. In addition, we will identify gaps within our systems approach knowledge base and commission activities to provide us greater understanding for successful innovation scaling.  
All of our projects integrate knowledge building components for focus country researchers and key stakeholders to ensure that the innovations and systems are supported and ultimately furthered through self-reliance. The overall goals of our program are to increase sustainable and inclusive agricultural growth, strengthen the resilience of communities and agricultural and economic systems, and enhance the diets of men, women and children. Moving our focus countries into the driver seat and out of the need for outside assistance will be the ultimate success. Until then, we are excited about the new relationships, experiences and innovations this journey will take us on. 
Director, Feed the Future Innovation Lab for Legume Systems Research, Michigan State University
Barry Pittendrigh, Director, Feed the Future Innovation Lab for Legume Systems Research, Michigan State University