Reducing Food Loss and Waste by Improving Smallholder Storage

Reducing postharvest losses by half would result in enough food to feed a billion people, increase smallholder income levels and minimize pressure on natural resources.
Postharvest losses
The striking statistic from FAO has been widely quoted: an estimated 1.3 billion tons or one-third of the world's food is lost before it is consumed. In Sub-Saharan Africa alone, post-harvest losses reach upwards of 20-30 percent varying widely by crop and locality, and cost USD 4 billion every year. Poor postharvest management not only reduces the quantity of food available for consumption, but also compromises the quality of food grain—which adversely impacts nutritional value, sale prices, and farmer incomes. These effects combine to undermine all four pillars of food security - availability, access, utilization and stability. Reducing postharvest losses by half would result in enough food to feed a billion people, increase smallholder income levels and minimize pressure on natural resources.
Post-harvest losses occur at nearly every stage of the food supply chain, including harvesting, threshing, drying, storage, and transportation; however, storage losses are the most significant with 50-60 percent of losses in cereal grains occurring at this stage. Smallholder farmers typically store grains after harvest for household consumption and as seeds. Depending on their financial stability, some smallholder farmers store grain for sale until prices increase. Traditionally, grains are stored in earthen pots, bamboo baskets, and other indigenous storage structures. These structures are not insect-, pest- or moisture-proof, and cause losses, both through a direct loss of grain for consumption, and in indirect losses of quality and nutritional value. Aflatoxin, a mycotoxin contamination that occurs as a result of insufficient grain drying and poor storage, is responsible for up to 35 percent of child stunting and 10 percent of adult deaths in South East Asia and Sub-Saharan Africa. Mycotoxins can also reduce the germination rate of stored seed. Improved storage technologies can reduce storage losses as low as 1 to 2 percent. At the household level, technologies such as hermetic grain storage bags and metal or plastic storage containers can help minimize losses. For larger-scale storage by bigger farmers, private traders and millers, technologies such as metal silos, and hermetic cocoons can provide better storage.
The ADM Institute for the Prevention of Postharvest Loss (ADMI) at the University of Illinois has been working in Bihar, India, since 2015 to promote improved grain handling and storage practices at the smallholder farmer level. Recent research in the state of Bihar, India, revealed that farmers tend to underestimate their own losses during harvest and storage. The research demonstrated the effectiveness of hermetic bags in reducing postharvest losses by 90 percent and indicated that access to hermetic storage bags led smallholder farmers to store for longer periods, sell at higher prices, and shift consumption away from market sources to their own stock. In addition, the improved storage reduced aflatoxin contamination by over 75 percent.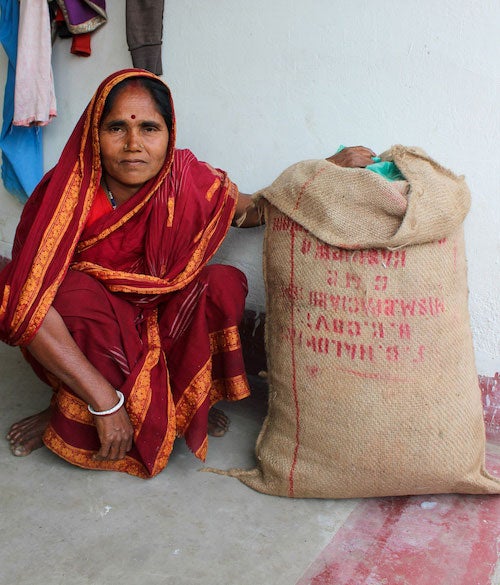 The same family in Bihar has also experimented with using hermetic storage bags, placed inside a traditional jute bag.
In February, ADMI and International Food Policy Research Institute (IFPRI) South Asia partnered to host "Securing the Harvest: A Forum on Improved Grain Storage for Smallholder Agriculture" in New Delhi. This event brought together more than 70 thought leaders, researchers, and practitioners from the public and private sectors to deliberate on the scale of post-harvest losses and better understand barriers to adoption. Two major barriers cited were the high cost of hermetic storage (in comparison to traditional storage) and farmer financial constraints during the harvest season. Currently, in Bihar, hermetic bags sell at INR 80 (USD 1.14) per bag, which is much higher than the traditional storage option of jute bags, which sell at INR 30 (USD .42) per bag. Furthermore, cash-strapped farmers are unable to reap financial benefits from storing the harvest and selling their crops later in the season due to urgency in repaying loans, credit lenders and purchasing inputs for the next planting season.
Subsidies can be an effective way to introduce the value of a new technology in an area. Results from ADMI's study suggests that large initial subsidies encourage farmers to adopt technology, update their beliefs about the benefits of the technology, and increase their willingness to pay for it later. The government of Bihar has announced a 50 percent subsidy for farmers to purchase hermetic bags.
Those who attended the forum emphasized that changes are necessary at all stages of the food supply chain to reduce systemic postharvest loss. Solutions proposed included working through aggregators such as Farmer Producer Organizations to achieve economies of scale, and Public Private Partnerships as a viable model for public grain storage and distribution. ADMI is engaging with partners from the forum to continue the discussion around storage solutions and focus on granular data to support policy reforms to reduce food losses. If you would like to participate in this alliance, please sign up here or email the authors!
In conclusion, improved storage technology can play both a direct and an indirect role in increasing smallholder farmers' incomes. Providing access to hermetic grain storage bags can enhance all four dimensions of smallholder families' food security - increasing physical availability, improving economic access, ensuring safe utilization, and improving stability by providing continuous access to cereals. However, promoting improved storage technologies needs to consider both the cost of technology and financial mechanisms that will enable farmers to purchase the technology.
For more information about ADMI and postharvest loss prevention visit our website and subscribe to our newsletter.
Communications Coordinator, ADM Institute for the Prevention of Postharvest Loss
Sarah Bingaman Schwartz, Communications Coordinator, ADM Institute for the Prevention of Postharvest Loss
Associate Director, ADM Institute for the Prevention of Postharvest Loss
Maria Jones, Associate Director, ADM Institute for the Prevention of Postharvest Loss