The Other COP: Biodiversity Summit Sets New Goals, but Eludes Global Headlines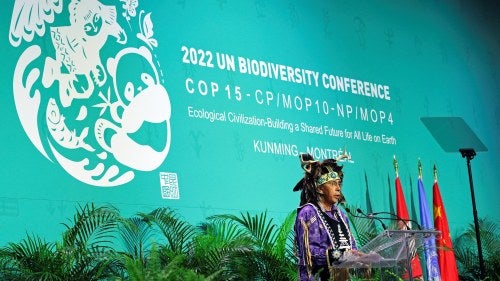 COP15 set new targets for protecting ecosystems, but funding, implementation, and a lack of global attention to biodiversity give pause for Chris Morris.
The statistics are sobering and the silence has been rather deafening. 
The stunning variety of life on earth—its biodiversity—is under threat from human behavior. We are living in an age of extinction, and yet the UN conference on biodiversity, which has been taking place over the last couple of weeks in Montreal, has received curiously little attention. 
It is called COP15 (COP stands for Conference of the Parties to the UN Convention on Biological Diversity, and this is its 15th meeting), and the UN labelled it the most significant conference on biodiversity in a decade. But unlike its recent climate change counterpart—COP27 in Egypt—it has not seen a steady stream of world leaders and celebrities force it onto the front pages. 
And yet the scientific evidence of a rapidly accelerating crisis in biodiversity is abundantly clear. The WWF's latest Living Planet Report, published in October, found that wildlife populations have declined by an average of 69 percent in the past 50 years. In Latin America the average decline has been 94 percent. 
According to the Red List of Threatened Species, compiled in painstaking detail by the International Union for Conservation of Nature (IUCN), more than 42,100 animal, fungus, and plant species are currently at risk of extinction. It means that biodiversity on planet Earth is declining faster than at any other time in human history. 
Numbers never tell the whole story, but sometimes they are worth repeating. Among the species under threat are 41 percent of all amphibians, 37 percent of sharks and rays, 36 percent of reef corals and 34 percent of conifers. From tigers and orangutans to river dolphins and sea lions, from tree flora in Papua New Guinea to hoverflies in Europe, living species are disappearing before our eyes. 
And, remarkably, the IUCN Red List is only scratching the surface. The concluding document of COP15 estimates that a million species may disappear over the coming decades unless action is taken to reduce the severity of the factors which threaten biodiversity. "The biosphere, upon which humanity as a whole depends," the final deal says bluntly, "is being altered to an unparalleled degree." 
No one can say we haven't been warned. 
Why is Biodiversity Important? 
Biodiversity creates ecosystems which nourish all life on earth, including human life. It is a simple but critical point to emphasize: we can't set ourselves apart from the rest. In fact, the variety of our natural world is essential for our survival. It helps create the food we eat and the medicines we need, as well as the oxygen and clean water we depend on. 
It encompasses everything, and that makes it rather bewildering. The scale of the challenge is so large and so important that it can be hard to know where to begin. That's why defined targets, and coordinated international action, are essential.  Frustrated activists often pour scorn on global summits, and with good reason, but these meetings create a framework for progress. We need to move further and faster, but we should not let the perfect become the enemy of the good. 
So, while the news has been dominated by the engrossing finale of the World Cup, what has been achieved at the world's biodiversity summit? The main headline emerging from COP15 in Montreal is a new target which has been dubbed "30 by 30"—an agreement, which has been under negotiation for some time, to give formal protection to at least 30 percent of our planet's land and oceans by 2030. 
At the same time, the summit's final document contains explicit references which acknowledge the rights of indigenous peoples and local communities. They should not be pushed out of protected areas by conservation schemes run by, and for the benefit of, outsiders. Local knowledge goes a very long way. 
There are other targets: to reduce subsidies which harm the environment in industries such as agriculture, logging, and mining by $500 billion a year by 2030; and to restore 30 percent of degraded ecosystems such as wetlands, rainforests, and freshwater lakes by the end of the decade. 
Rich countries have also committed to an increase in international aid for biodiversity to an annual $20 billion by 2025, rising to $30 billion by 2030, helping countries in the developing world to conserve remaining biodiversity "hotspots". Unsurprisingly, arguments over money, and who would pay for what, were among the last issues to be resolved in Montreal. 
So, the negotiators—those who toil over commas and sub-clauses—have done their bit, within the parameters set by their governments. But the impact of their work will only become clear as the years unfold and the natural world creaks under the strain. 
---
Insight and understanding delivered straight to your inbox
The world is always changing. Enter your email below to stay informed and engaged in the world's most critical issues through our weekly Global Insight newsletter.
---
A Man-Made Crisis 
It has not been an easy journey. COP15 was scheduled originally to take place in Kunming in China in October 2020, but it was delayed repeatedly and eventually moved because of the lasting impact of the COVID-19 pandemic. The delay has given targets in 2030 even more urgency than they would have previously assumed. 
But the main causes of the biodiversity crisis are easy to list: increasing global temperatures, pollution, and changes in land use which are causing deforestation and destroying many natural habitats. They have one thing in common: to varying degrees, they are all manmade. This is our responsibility.   
The world of finance and big business has begun to recognize the threat that a collapse in the natural world would pose to economic stability, and act accordingly. The World Bank has estimated that if nothing is done to reverse the decline in ecosystems, as much as $2.7 trillion could be knocked off the value of the world economy by 2030. This is not just about cuddly-looking animals in peril, this is about us. 
So, it is time to think big. An alliance of NGOs has been campaigning for the Montreal summit to adopt the goal of being "nature positive"—which means not just halting the alarming decline in living species by 2030, but actively restoring them. The final document may not make that explicit pledge, but the direction of travel has been established because the science which underpins it is overwhelming. 
And it is important to put the fight to save the natural world, and our place within it, into a broader context. There are obvious links between the aims of COP27 and COP15: limiting global warming and the effects of climate change will help protect biodiversity; reversing trends such as deforestation will help limit the rise in global temperatures. Without nature, net zero will be out of reach, but a virtuous circle can be created. 
There is, though, one political difference between the two COP summits which stands out rather awkwardly. The United States is one of only two countries (the other is the Vatican) that has failed to ratify the UN Biodiversity Convention, which means it has been an influential observer at the Montreal summit rather than a central player. Nearly 200 countries signed the COP15 agreement, but the United States was not among them. 
There are also grumblings emerging from Montreal. Has enough attention been focused on oceans? Why hasn't the disclosure by big corporations of how they affect (and are affected by) nature loss been made mandatory, as some business groups had suggested? Where are the specific targets to hold governments to account, in areas such as reducing the risk of extinction and the protection of endangered species? 
Some African countries were unhappy with the way the final agreement was reached, arguing that their concerns about funding structures had not been addressed adequately. The agreement sets a financial target of $200 billion per year for conservation initiatives, from all sources including the private sector. Many in the developing world had argued unsuccessfully that a larger proportion of that money should be handed over directly from rich countries and put into a new fund. 
We Have Failed Before 
Nevertheless, political leaders have been quick to hail the Montreal agreement as historic, and a landmark moment. Perhaps it could be, but a few words of warning are in order. The target of protecting at least 30 percent of the planet's surface by 2030 is ambitious, but it needs to be backed up by a steady stream of proper funding. Designating protected areas is meaningless unless they are monitored and managed effectively. 
Even now, there is no guarantee that will happen. The previous big UN plan to protect biodiversity set a series of targets to stop the decline of species and ecosystems by 2020. And it failed. There is a lot of catching up to do, not much time to do it in, and another failure will change our world forever.  
Recovery is certainly possible, and successful conservation schemes (such as the protection of mountain gorillas in Rwanda and the Democratic Republic of Congo) show that it can be done. But targets mean nothing unless they are implemented effectively. And it will be really hard for biodiversity to recover if the world fails to keep the rise in average global temperatures below two degrees and preferably 1.5 degrees compared to preindustrial levels. 
The scientists have told us how we need to respond, and the evidence is all around us. Do we have the collective political will?
Writer and Former Correspondent, BBC News


Chris Morris is a writer based in London. He was a BBC correspondent for 30 years, based in Europe, the Middle East, South Asia and the United States. From 2017-2022 he was the BBC's Reality Check correspondent, leading the BBC's on-air fact-checking service.