CRISPR Access, Counterinsurgency, and Wild Crops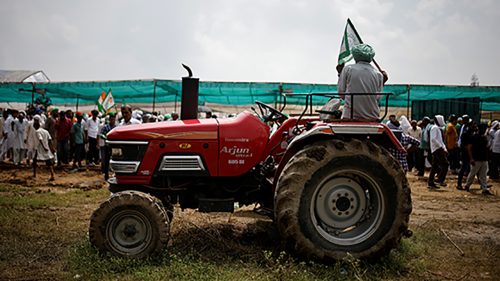 Check out our round up of the week's top news and research in food, agriculture, and global development!
Top Story
Expanding Access to CRISPR
The Netherlands' Wageningen University announced it will provide non-profits with free licenses to use its patented CRISPR-Cas gene-editing technology for non-commercial applications in food and agriculture. CRISPER-Cas has been lauded as a unique and versatile tool to accelerate plant breeding and sustainably feed the world. Charging license fees to protect intellectual property is the norm and could be lucrative in a field is expanding rapidly. But these licensing agreements also often serve to put cutting-edge technologies out of reach for research institutions in low-income countries. Wageningen is just one of the group of universities and publicly funded research institutions that—quite unusually—hold the majority of existing CRISPR patents.
Council Insights
Food Security as Counterinsurgency
Food insecurity and climate shocks are established drivers of conflict. A new Council blog post makes the case that recent events in Afghanistan and Haiti underscore the need for reevaluating US counterinsurgency doctrine, and adopting a new strategy with food security and climate change mitigation and adaptation at the core.
Food & Agriculture
Farmers Protest in India
Hundreds of thousands of farmers gathered in Uttar Pradesh, in what organizers claimed was the biggest rally yet of a months-long series of demonstrations. Indian farmers have been protesting Modi's agricultural reforms since November 2020 and are calling for a nationwide shut-down on September 27.
Sri Lanka Declares State of Emergency
The parliament of Sri Lanka approved a state of emergency declared by the president, allowing them to control food prices and prevent hoarding amid shortages of food staples. Although the government says it has exhausted other options, opposition legislators claim that the emergency rules may be misused to stifle critics.
Insufficient Standards
According to a new review of sustainability standards in food supply chains, standards alone are not enough to ensure equity or sustainability across the food system. More research is needed on issues like causality and enforcement. Sustainability standards can improve some production processes, however.
Deeper Dive
How much land is cultivated under sustainability standards?
Globally, about 80 million hectares of land are certified by one of the hundreds of existing sustainability standards. This comes to less than two percent of the almost five billion hectares agricultural land in the world. Agricultural land makes up 38 percent of the world's land surface.
Data Crunch
Edible Oils' Price Climb
Global food prices have hit 10-year highs, driven in no small part by a surge in the price of edible oils. The FAO edible oil index is up 91 percent from June 2020 and is expected to rise further. But producers are facing numerous challenges from heatwaves to labor shortages, and global stocks are at their lowest in a decade.
Resilience
Endangered Crops
Wild crop relatives, plants closely related to cultivated crops, are important sources of genetic diversity that can help boost crops' climate change resilience. A new study of 224 Mesoamerican wild crops—relatives of vanilla, avocados, potatoes, and others—finds that over one third are facing extinction. This could mean shortages of cultivated varieties as climate change advances. 
Big Ideas
Faux Fish on The Rise
Plant-based alternatives that mimic seafood are cropping up at restaurants and grocery stores around the world. Fish grown in labs from real cells is on the horizon, while industry leaders anticipate significant growth in the Asia Pacific region.
DC Report
Hunger's Disparities
A report by the USDA revealed a deepening divide in racial disparities in food security. An estimated 24 percent of Black individuals experienced food insecurity in 2020, up from 19.2 percent in 2019. For Latinx individuals, there was an increase from 15.8 percent in 2019 to 19.3 percent in 2020. Children also experienced an increase in rates of food insecurity in the year 2020.
Big Actors
Increasing Aid for Afghanistan: The UN has warned another 18 million people in Afghanistan could soon become in need of aid. Basic services, food and other life-saving aid are about to run out, according to OCHA. $606m is needed to provide critical food and livelihood assistance to nearly 11 million people.
Trade & Commodities
Food Prices Rising Again
The UN FAO's food price index, tracking international prices of the most globally traded food commodities, averaged 127.4 points last month compared with 123.5 in July. This rise comes after two months of decline. On a year-on-year basis, prices were up 32.9 percent in August.
Brazil Puts a Pause on Beef
The agriculture ministry of Brazil announced they will pause beef exports to China, its number one customer, after confirming two cases of "atypical" mad cow disease in two domestic meat plants. The suspension hits Brazilian farmers hard, while China will be able to decide when to resume imports.
Former Research Associate


Julia Whiting joined the Chicago Council on Global Affairs in 2019 and was a research associate with the Global Food and Agriculture Program. She supported the development of research reports on global food security issues as well as coordinated digital engagement and content for the program.