Americans Say North Korea Is an Adversary, Still Prefer Diplomacy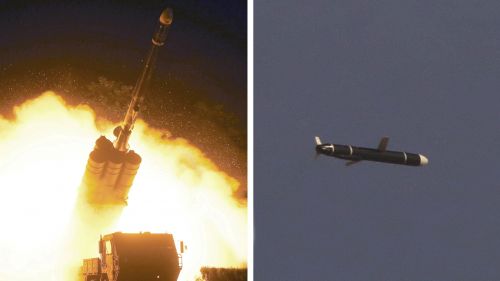 Over the weekend, North Korea launched a new cruise missile. It's unlikely to shift American public opinion.
Over the weekend, North Korea launched its newest cruise missiles, capable of striking targets at 1,500 kilometers and bringing all of South Korea and much of Japan into range. While it is yet unclear if the new system is capable of carrying a nuclear warhead, the test does not violate United Nations' sanctions—which only apply to North Korea's ballistic missile program. But the test may mean an uptick in tensions between the United States and North Korea is in the cards.
Over the past year, North Korea refrained from ballistic missile or nuclear tests and was largely out of US headlines. In a survey conducted in March 2021 in the United States, 59 percent of Americans identified North Korea's nuclear program as a critical threat. While this is an increase in threat perception from 51 percent in 2020, current concern remains well below the high of 75 percent in 2017 in the midst of "Fire and Fury."
But while the perceived threat has declined, North Korea's reputation in the United States remains in tatters. Six in ten (62%) identify North Korea as an adversary in the 2021 Chicago Council Survey conducted in July. (The next closest was Iran at 52 percent.) And the bromance that saw Kim Jong Un and Donald Trump exchanging letters also did little to burnish Kim's reputation. Just 5 percent of Americans express a favorable view of the North Korean leader. This was the lowest mark for any leader included in the survey, including Vladimir Putin (12% favorable) and Xi Jinping (13% favorable).
The Biden administration has said it is prepared to meet with North Korean officials with no preconditions on denuclearization. But North Korea has not featured prominently in Biden's foreign policy, and no meetings have yet taken place. These new tests may push North Korea higher up the agenda.
If there is to be a return to negotiations, the expected goal for the Biden administration would be progress towards the denuclearization of North Korea. Part of those negotiations will inevitably include what the United States is willing to offer to induce such progress.
Broadly, the American public is in favor of the United States offering such inducements. But that support is not a blank check. For example, 76 percent of Americans support negotiating a formal peace agreement with North Korea to officially end the Korean War if North Korea suspends its nuclear weapons program. If North Korea is allowed to keep its nuclear weapons, support for such a deal drops to 24 percent.
Another possible step is for the two countries to establish diplomatic relations. But only a minority support taking this step if North Korea continues to develop its nuclear weapons program. And if North Korea does continue to build its nuclear weapons program, 70 percent favor isolating and pressuring North Korea with economic sanctions.
Of course, US presidents for the last 20 years have said that all options are on the table, implying that military force could be used against North Korea if necessary. While that is unlikely for a number of reasons, the American public is not supportive of such action. Just 35 percent of Americans support taking military action to force North Korea to give up its nuclear weapons.
The test of a new cruise missile by North Korea might signal a new escalatory phase in tensions between the United States and North Korea. But a return to Fire and Fury does not seem imminent, and the American public will continue to favor diplomacy over more kinetic options.
Marshall M. Bouton Fellow for Asia Studies


Karl Friedhoff was a Korea Foundation-Mansfield Foundation US-Korea Nexus Scholar and a member of the Mansfield Foundation's Trilateral Working Group prior to joining the Council. Previously, he was a program officer in the Public Opinion Studies Program at the Asan Institute for Policy Studies based in Seoul, South Korea.