Americans Prefer Sanctions Over Sending Troops to Ukraine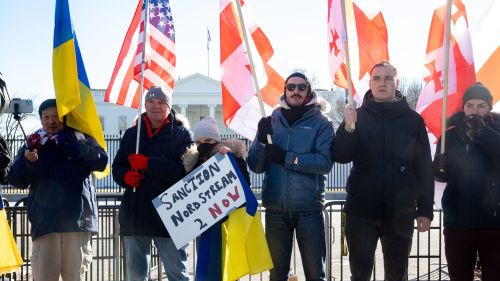 New data reveals that the US public would prefer to respond with to Russia's invasion of Ukraine with sanctions and diplomacy.
Americans, like the rest of the world, woke up on February 24 to the news that Russian President Putin had begun invading Ukraine after weeks of buildup of Russian troops on Ukrainian borders. The Russian military action punctured any American and allied countries' hopes that there would be a diplomatic resolution to the crisis. For his part, President Biden announced a series of new sanctions against Moscow and warned the American public that one of the costs for "defending freedom" might be increasing gas prices for US consumers. The administration also sent about 6,000 additional American troops to NATO members Germany, Poland, and Romania, but reiterated that no US troops would go directly to Ukraine.
Leading up to the Russian invasion of Ukraine on February 24, public opinion surveys found majority support for diplomatic approaches and economic sanctions against Russia. Now that Russia has actually invaded Ukraine, future polls will test whether Americans view the international response towards Russia, including US and European economic sanctions, as effective, or if they think more muscular approaches are needed.
Seven in 10 Support Sanctions and Diplomacy
A Reuters-Ipsos poll conducted February 22-23, just a day before the Russian incursion into Ukraine, found seven in 10 Americans supported placing additional economic sanctions against Russia (69%) and favored continuing diplomatic efforts with Russia (72%).  Diplomacy and sanctions against Russia were preferred over military intervention in a number of polls, including Reuters-Ipsos, a February 5-8 Economist-YouGov, and a February 7 Morning Consult survey.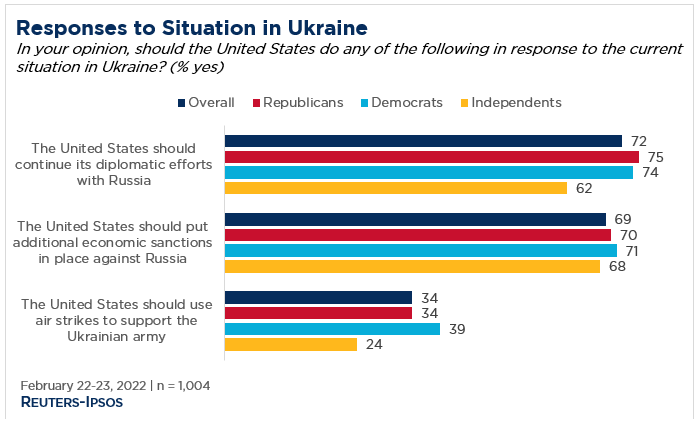 Varying Degrees of Support for Using US Troops
If diplomatic negotiations failed and Russia invaded Ukraine, the Morning Consult survey found some sensitivity to sending US troops if casualties are to be expected.  Three in 10 registered voters favored the United States sending additional troops to eastern Europe "if US casualties are unlikely" (29%). Another three in 10 favored sending additional troops "even if there may be some US casualties" (29%).
Reuters-Ipsos reported that 38 percent of American favored sending US troops to help defend Ukraine from a Russian invasion; 34 percent favored the United States launching airstrikes to support the Ukrainian army. A December 2021 Economist-YouGov survey found that "if an armed conflict were to arise between Russia and Ukraine," 34 percent of US adults said the United States should help protect Ukraine with military force versus 22 percent who disagreed (45% didn't know enough to say).  But among those who had heard a lot about Russian troops moving toward the Russian border with Ukraine, that support rose to 52 percent. In July 2021, the annual Chicago Council Survey found that half of Americans favored sending US troops "if Russia invaded the rest of Ukraine" (50%, up from 30% in 2014).
Democrats More Hawkish on Ukraine Than Republicans
While Democrats are typically thought of as more dovish than Republicans, the data across a number of polls show that it is Democrats who are slightly more willing to use force to defend Ukraine from a Russian invasion. For example, the Economist-YouGov survey found that Democrats (59%) were more likely than Republicans (48%) to say that the United States should take a strong stand so that Russia does not take over Ukraine by force.  Nearly half of Democrats (46%) but only a third of Republicans (33%) support sending troops to Ukraine to help defend Ukraine against Russian invasion in the Reuter-Ipsos poll.
This difference is partly due to Democrats being relatively more focused than Republicans on protecting democracy abroad. The Morning Consult poll found that 65 percent of Democrats versus 49 percent of Republicans agree that the United States has a responsibility to protect and defend democracies abroad. Democrats are also more willing to withstand increases in fuel prices because of sanctions against Russia (65% Democrats vs. 34% of Republicans, Reuters-Ipsos).
Partisanship a Strong Factor
Besides partisan differences on whether the United States has a responsibility to defend democracy abroad, there are also partisan differences on how President Biden is handling the situation. While a majority of Democrats approve of Biden's handling of Russia (56%) and Ukraine (58%), an even larger majority of Republicans disapprove (81% disapprove of Biden's handling of Russia, 77% of Ukraine). These gaps are incredibly similar to polarized assessments of Biden's handling of overall US foreign policy (59% of Democrats approve, 84% Republicans disapprove), the economy (60% Democrats approve, 86% Republicans disapprove) and employment and jobs (66% Democrats approve, 85% Republicans disapprove).
Senior Fellow, Public Opinion and Foreign Policy

Dina Smeltz, a polling expert, has more than 25 years of experience designing and fielding international social and political surveys. Prior to joining the Council to lead its annual survey of American attitudes on US foreign policy, she served in the Bureau of Intelligence and Research at the US State Department's Office of Research from 1992 to 2008.

Former Research Assistant, Public Opinion and Foreign Policy


Emily Sullivan joined the Chicago Council on Global Affairs in 2021 and was a research assistant on the Public Opinion team.