Americans Favor a Two-State Solution More Than Israelis and Palestinians Do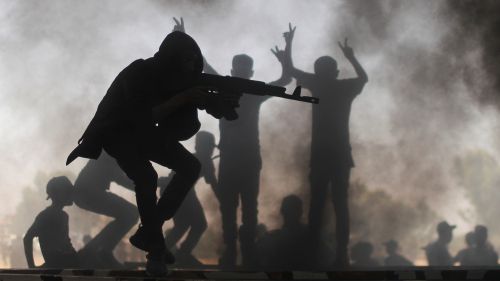 After violent conflict between Israel and Hamas, a new Israeli governing coalition, and Palestinian repression, what would a peaceful future look like?
A Gallup poll conducted in February of 2021, before the most recent round of conflict, found that 75 percent of Americans have a favorable overall view of Israel. Israel's favorability rating with Americans has trended positively over the last 20 years, and has not dropped below 58 percent in any year during that period. This trend aligns with President Biden's recent statements affirming the "close and enduring relationship" between the US and Israel and highlighting its foundation in "shared values and decades of close cooperation."  However, despite their favorable views of Israel, the vast majority of Americans (78%) believe that the US should play only a minor role or no role at all in finding a solution to the conflict between Israelis and Palestinians. This is consistent with Chicago Council Surveys conducted between 2002 and 2018, which have consistently found that at least six in ten Americans prefer that the United States not take a side in the conflict. 
Shifts in American Sympathies 
While a majority (58%) of Americans still sympathize more with the Israelis in the context of the conflict with the Palestinians, Gallup's polling found that the percentage sympathizing more with Palestinians hit a 20-year high of 25 percent this year. This increase is being driven largely by gradual shifts in the views of Democrats (39% sympathize more with Palestinians) and young adults (43% of adults ages 18-35). An AP-NORC survey conducted June 10-14 finds that, despite the recent violence, two in three Democrats and half of Republicans and Independents have hope for a peaceful two-state solution, with 57 percent of Americans overall believing that Israel and an independent Palestinian state could coexist peacefully.  
Palestinian and Israeli Public Opinion 
Palestinians and Israelis aren't as sure about the possibility of the peaceful coexistence of separate states. A June 9-12 poll conducted in the West Bank and Gaza Strip by the Palestinian Center for Policy and Survey Research finds that the most recent period of violence did not affect Palestinian support for a two-state solution, which continues to stand at 39 percent, down from 71 percent in 2006. 61 percent of Palestinians believe that a two-state solution is no longer feasible given the recent expansions of Israeli settlements. A 2020 Peace Index survey found that 41 percent of Jewish Israelis supported the creation of an independent Palestinian state, while 48 percent opposed the idea. It remains to be seen how recent developments will affect Israeli preferences for different possible solutions to the conflict.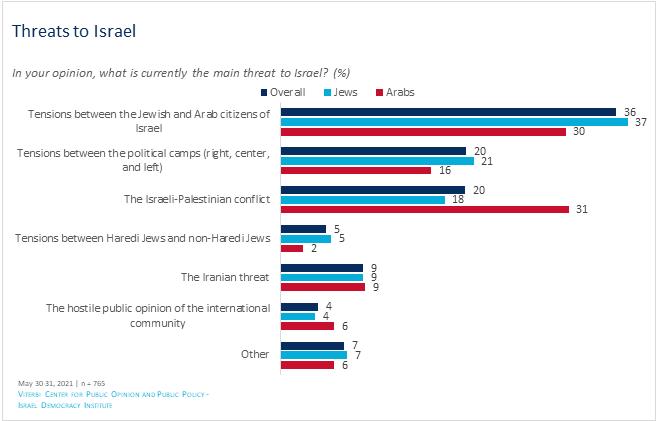 At the same time, both Jewish and Arab Israelis are pessimistic about Israel's security situation (50% Jewish Israelis, 65% of Arab Israelis) and democratic governance (57% of Jews, 65% of Arabs) in the foreseeable future, according to the May 2021 Israeli Voice Index survey, conducted after the implementation of the ceasefire. Among those surveyed, tensions between Jewish and Arab citizens, tensions between political factions, and the Israeli-Palestinian conflict were seen as the main threats to the country. In the weeks since this poll was conducted, the government of right-wing Prime Minister Benjamin Netanyahu was replaced by a coalition government including parties spanning the political spectrum and includes, for the first time, an Arab party. The current Prime Minister, Naftali Bennet, has said that, "It's time for responsible leaders from different parts of the nation to stop this madness," referring to the political division and violence within the country. This, of course, will be easier said than done. 
Former Research Assistant, Public Opinion and Foreign Policy


Emily Sullivan joined the Chicago Council on Global Affairs in 2021 and was a research assistant on the Public Opinion team.


Senior Fellow, Public Opinion and Foreign Policy

Dina Smeltz, a polling expert, has more than 25 years of experience designing and fielding international social and political surveys. Prior to joining the Council to lead its annual survey of American attitudes on US foreign policy, she served in the Bureau of Intelligence and Research at the US State Department's Office of Research from 1992 to 2008.