Amaranth, Brain Food, and a Diversified Database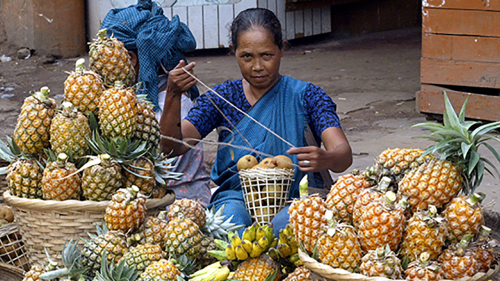 Our weekly roundup of the week's top news and research in food, agriculture, and global development.
Top Story
Honoring Indigenous Foodways
This week's International Day of Indigenous Peoples called for a new social contract that upholds and protects the rights of indigenous peoples around the world. One key way to uphold their right to self determination is through safeguarding indigenous foodways. This can mean recognizing where food trends come from—for example, the case of amaranth. The ancient grain has been used by indigenous groups in North and Central America for thousands of years. It has become a billion-dollar food, sometimes to the benefit of indigenous communities. Ensuring that these communities continue to benefit from the commodification of one of their staple foods is essential to building an equitable food system. Protecting indigenous agricultural systems is also crucial. These systems—like the case of the Khasi people in Meghalaya—often maintain biodiversity and improve climate resilience better than mainstream practices. As the UN Food Systems Summit approaches, continuing to include indigenous voices in the conversation can strengthen the global food system and ensure a more food secure future.
Council Insights
Mexico-US Ties
As the Biden administration outlines its strategies for engagement with Mexico, public health cooperation, migration, and trade will be key issues for both countries. How does the Mexican government view the future of Mexico-US ties? Join Mexico's lead official on North American relations for the Council's inaugural program in the Hart Program Series on Latin America.
Food & Agriculture
Agricultural Aid
The Isle of Man has recently donated over 1.3 million euros to a charity in Africa that works to combat the effects of climate change. The charity will help farmers with improving water availability and soil quality.
Food Supplies Will Dwindle
The IPCC's latest assessment report found that global food supplies will suffer in the next two decades, as temperatures continue to rise. Countries should focus on making "strong, rapid, and sustained" reductions in methane emissions, a potent but short-lived greenhouse gas linked to livestock, oil and gas production and landfills.
Compensating for ASF
Demand for chicken in the Dominican Republic has increased by 15 percent in a matter of days in response to the nation's African swine fever outbreak. In response, the country plans to import 500,000-1 million pounds of chicken from the US, per week if necessary until the situation stabilizes.
Deeper Dive
Methane's Toll
Animal agriculture, and in particular cows, is usually blamed for global methane emissions. Rice cultivation and agricultural waste burning are also contributors to the sector's emissions, however. And while it contributes to GHG emissions, agriculture also stands to lose from the GHG. Methane is a key factor to the formation of ozone close to the earth's surface, which negatively impact crop yields.
Data Crunch
Diversified Database
A group of researchers has released a global database documenting the outcomes of diversified farming for biodiversity and yields. It contains 4076 comparisons of biodiversity and 1214 of yield compiled from 237 articles.
Resilience
Rising Food Aid Demand
Demand for food aid services in the US increased by 79 percent during the COVID-19 pandemic, with 82 percent of hunger relief organizations serving more first-time clients than in previous years, according to a new survey released by Duke University and WhyHunger.
Big Ideas
Brain Food
A new study found that flavonoids, which give plants their bright colors, may aid in preventing forgetfulness and confusion as people age. The research suggests that starting with a flavonoid-rich diet early in life is beneficial to brain health.
DC Report
Selling the Goods:
Congressmen Garamendi and Johnson introduced the Ocean Shipping Reform Act of 2021. The Bill stops shipping companies from denying US exporters' commodities in response to allegations of foreign exporters engaging in anti-competitive business practices. 
Big Actors
Protesting Soybean Royalties
A Brazilian farmers' group criticized a federal antitrust agency's decision to clear a joint venture by biotech seed companies Bayer AG, Corteva, and Syngenta to create a platform for the collection of royalties from genetically modified soybeans in Brazil.
Big Ag Gets Bigger
Cargill and Continental Grain Company have jointly acquired the large poultry producer, Sanderson Farms, for $4.5 billion. Demand for chicken meat has steadily increased for decades, and the new venture will produce about 15 percent of US poultry meat.
Trade & Commodities
Global Food Prices Fall
Food prices around the world, except for sugar and meat price indices, fell for a second consecutive month as reported by the FAO. Sugar prices hit a four-year high after unusually harsh frosts in Brazil cause sugar production in the center-south region to fall by 11 percent.
Bayer Appeal
Bayer has recently lost an appeal of a jury verdict that its weedkiller causes cancer. This is the company's third consecutive appeal loss in cases that have gone to trial.
Former Research Associate


Julia Whiting joined the Chicago Council on Global Affairs in 2019 and was a research associate with the Global Food and Agriculture Program. She supported the development of research reports on global food security issues as well as coordinated digital engagement and content for the program.