Christmas Tree Troubles, Fishy Rebound, and Wonder Wheat
December 9, 2022
Check out our roundup of the week's top news and research in food, agriculture, and global development.

Credit: REUTERS/Alexey Malgavko
Top Story
Peruvian Power Struggle
All eyes are turning to Peru's new president, Dina Boluarte, as thousands of smallholder farmers struggle to survive the worst drought in 50 years. Unable to plant potatoes or sustain their livestock, all while fighting off the avian flu, smallholder farmers are desperate for Boluarte to make much needed change after ousting President Pedro Castillo. Despite his history as the first president from a poor farming community, Castillo failed to make needed changes for farmers, leaving them uncertain if they can continue sustaining themselves and their communities.
Council Insights 
Youth for Coffee
The global coffee sector faces a long list of challenges, ranging from volatile prices to the need to improve social conditions of smallholder farmers. Most prominently, however, is the ageing workforce in the coffee value chain; a sustainable and resilient coffee sector requires greater youth engagement. Learn more in the report The Future of Coffee: Investing in Youth for a Resilient and Sustainable Coffee Sector, with contributions by Nonresident Fellow Felix Kwame Yeboah.
Food & Agriculture 
Declining Biodiversity
Experts and delegates from nearly 200 countries are gathering in Canada this week to tackle the loss of biodiversity and what can be done to reverse it. With 75 percent of land surface and 66 percent of oceans significantly altered, one million species face extinction in the coming decades if immediate action is not taken. The conference, known as COP15, aims to create a framework to tackle global biodiversity loss and hopefully stop the unprecedented environmental changes.
Christmas Tree Troubles
If you plan to buy a tree this holiday season, prepare to spend more than in years past. Natural Christmas trees are experiencing a ten percent price increase this holiday season because of limited supplies and rising production costs, making the average price approximately $80 per tree. The price increase stems from higher costs of fertilizer, fuel, and other supplies, and increasing input costs are likely to last for the next few years.
In Short Supply
Britain's National Farmer's Union issued a warning that the country is facing a potentially devastating food supply crisis. Grappling with skyrocketing costs, producers are struggling to afford fertilizer, feed, fuel, and energy, increasing reliance on food imports. Many UK supermarkets are even rationing the purchase of eggs—and soon other products—to try and combat the growing crisis.
Deeper Dive 
What Will the New Biodiversity Framework Include?
The new biodiversity framework draft, released last year, contains 21 targets to meet by 2030. They include reducing pesticide use, increasing funding to $200 billion per year, and protecting at least 30 percent of land and sea globally through area-based conservation measures. However, the draft included many proposed amendments that parties had not agreed on, prompting concern about how effective it will be.
Resilience
Fishy Rebound
The world's largest freshwater fish, pirarucu, is making a comeback. Native to the Amazon River, the pirarucu was at risk of completely disappearing due to illegal fishing, but the population has now recovered thanks to a sustainable fishing program. By tagging legally caught pirarucu and organizing community boat patrols, the region has been able to discourage illegal fishing, ultimately allowing the pirarucu population to rebound.
DC Report 
Mega Drought
The American West is facing a crisis: a 22-year mega-drought. Acute water shortages are threatening productive farmlands across western states, states that drive America's food production. A group of senators led by Senator Michael Bennet are urging Agriculture Secretary Tom Vilsack to take action, calling for federal money to help improve water conservation through new water infrastructure.
Big Actors
Dumping Deforestation
Agriculture is one of the biggest contributors to deforestation, inspiring a new policy by the European Union that bans the import of products which contribute to forest degradation. From coffee to paper and everything in between, Europe is closing its doors to everyday products with the highest impact on deforestation. The policy still needs to be formally adopted by the European Union parliament, but it nonetheless represents important progress towards ending deforestation by 2030.
Trade & Commodities 
Wonder Wheat
Larger-than-expected wheat shipments out of Russia have allowed global wheat prices to reach a 14-month low, fueling hope that surging food costs are coming to an end. Accounting for nearly 40 percent of global wheat shipments in October and November, Russian output is rising and is reaching record high outputs for the 2022 to 2023 marketing year. Its wheat prices remain cheaper than those in North America, making it an attractive option for the Middle East and North Africa.
Ask the Experts
Water insecurity disproportionately affects women and girls. How can we alleviate this burden, and how would it help local communities?
"Approximately 772 million people globally do not have a water source within a 30-minute trip from their home, requiring them to travel to collect safe water, often multiple times a day. The vast majority of this water collection is done by women and girls. It is a physically demanding task that prevents them from doing other things, like going to school, and it exposes them to violence and injury. Sufficient investment in water and sanitation access nearer to their homes and at schools would completely alleviate this burden. Freeing women and girls from the necessity of dangerous daily water collection would allow them to get an education, offering economic independence and greater ability to avoid early pregnancy. Water security for women and girls is a major component of gender equity, especially for rural girls."
— Nonresident Fellow Dr. Michael Tiboris
Nonresident Fellow, Global Water


Michael Tiboris is nonresident global water fellow at the Chicago Council on Global Affairs and was a public fellow for the American Council of Learned Societies. His research focuses on primary resource stability as a foreign policy objective, and is particularly focused on water resource policy, cooperative resource governance, and global justice.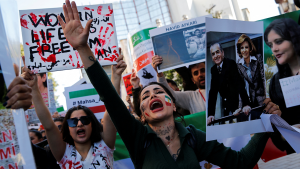 Experts discuss the movement's momentum and the deteriorating human rights situation in Iran, and how it is shaping the future of women's rights.
Did you miss one of our previous livestreams? Don't worry! They are all available on our website to watch at any time.
Other Upcoming Events
IFAD at the Conference on Biological Diversity (CBD) COP15
Date: December 7 - 19
Martin J. Forman Memorial Lecture: My Reflections on Africa's Year of Nutrition
Date: December 12
Time: 10:00 - 11:30 a.m. ET
Harmful Environmental Impacts of Agricultural Subsidies
Date: December 14
Time: 3:00 - 4:00 p.m. ET
2023 18th Annual Chicago Food Justice Summit
Date: February 8 - 10
Black Earth Wisdom Virtual Panel with Leah Penniman
Date: March 23
Time: 7:30 - 9:00 p.m. ET
---
Land Acknowledgement Statement
The Center on Global Food and Agriculture recognizes it occupies the ancestral land of the Kiikaapoi, Peoria, Kaskaskia, Bodwéwadmi, and Myaamia people. Indigenous communities around the world disproportionately experience the pressures of climate change, global conflicts, and the COVID-19 pandemic, while simultaneously stewarding 80 percent of the world's biodiversity. These Indigenous tribes and nations are the original owners of this land and continue to be systemically erased by policies and practices that ignore their histories. To learn more about Indigenous foodways and practices, check out our 2022 blog series "Stewardship, Sovereignty, and Solutions."
Communications Officer

Natalie Burdsall joined the Chicago Council on Global Affairs in 2022 as the communications officer for the Center on Global Food and Agriculture. In this role, they promote the work and impact of the Center to expand public engagement in global food and agriculture, and assist in bringing the Council's digital transformation to fruition.