All Dried Up, North Korean Catastrophe, and Flu Fears
March 3, 2023
Check out our roundup of the week's top news and research in food, agriculture, and global development.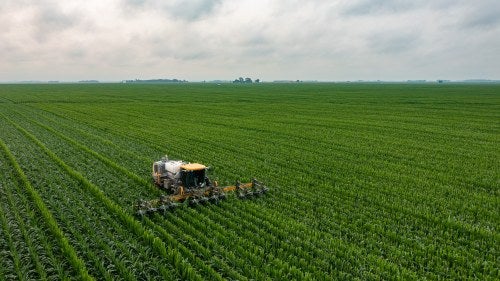 Credit: James Baltz
Top Story 
A New Leader: Cindy McCain
The United Nations has officially announced that Cindy McCain will take over as the executive director of the World Food Programme (WFP) in April, when David Beasley steps down. McCain has decades of experience with humanitarian aid work, and was appointed last year as the US ambassador to three UN food and agriculture agencies. "It's exciting WFP will have such a wise and dedicated humanitarian as its new leader," said Distinguished Fellow and former WFP executive director Catherine Bertini. "Ms. McCain will have multiple challenges — and all the support she needs — to set the direction to raise funds and manage the large organization."
Council Insights
Rethinking Food Assistance
"To prevent and manage food insecurity and undernutrition in Cameroon and beyond, the global community should plan for how to sustainably continue vital food assistance programs, while building more resilient food systems that provide equitable access to healthy diets," writes Chicago Council's 2013 Next Generation Delegate Abigail Conrad in a joint op-ed with Agri-Pulse. Read the full article.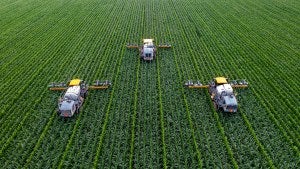 Food & Agriculture 
Flu Fears
Argentina has confirmed its first case of avian influenza in its industrial poultry population, prompting a suspension of all avian product exports and raising fears the disease could spread and permanently hurt exports from the South American nation. The case was detected in the southern province of Rio Negro, and comes after eight cases were detected in wild birds. As a result, the Economy Ministry announced financial support for egg and poultry producers. 
All Dried Up
With scant winter snowfall translating into lower water levels in the Po Delta, farmers in Italy's Emilia-Romagna region worry they might have to abandon traditional crops like corn and soy. Bracing for Italy's second consecutive year of drought, the lack of water could affect the supply of animal feed for Emilia-Romagna's cows and pigs, whose milk and meat are essential to producing the world's Parmigiano Reggiano cheese and prosciutto.
North Korean Catastrophe
North Korea's chronic food shortages have worsened since the COVID-19 pandemic, raising concerns about the country's food insecurity. In 2022, North Korea's grain production was estimated to be 1 million tons under the needed levels to feed the population. North Korean leader Kim Jong Un vowed to strengthen state control over agriculture and take steps to increase grain production, but international concerns still remain.  
Deeper Dive 
Could Avian Influenza Become the Next Pandemic?
Fears are rising about the potential for avian flu to spark another pandemic. The flu is zoonotic and is known to be potentially fatal for humans, and is rapidly spreading through mammals such as mink and sea lions. Efforts are now underway to develop vaccines to protect against human transmission
Resilience
Deforestation Slowdown
Forest destruction in Indonesia is at its lowest pace in two decades. New reporting indicates the rate of forest loss fell by more than half in Indonesia from 2015 through 2021. This improvement comes as the government is rooting out illegal deforestation and prohibiting wholesale forest clearance.
DC Report 
Discrimination Payout
US farmers who faced discrimination in USDA lending programs will finally receive compensation, a steppingstone towards an equitable USDA. The agency is distributing $2.2 billion through the Inflation Reduction Act in the hopes that it can repair its relationships with farmers of color. However, the move is only a small drop in a very big bucket; historical discrimination in lending programs contributed to Black farmers losing $326 billion in the 20th century alone.
Big Actors 
Regenerative Farming
Nestlé and General Mills are encouraging producers to use regenerative farming to cut carbon emissions in their value chain. Nestlé announced plans to have 20 percent of its critical ingredients sourced from regenerative agriculture by 2025 and 50 percent by 2030. General Mills is aiming for one million acres of regenerative agriculture by 2030, representing 30 percent of its farming supply chain. The companies believe regenerative practices can increase soil nutrients and yields, a win for farmers and the environment.
Big Ideas
Seed Vault
The Svalbard Global Seed Vault, built to protect the world's food stock from disasters ranging from nuclear war to global warming, will add 19,500 rare seed variety samples from across the world to its collection this summer. The vault, set in permafrost caves within the Arctic Circle, was launched in 2008 as a backup for the world's national and regional gene banks that store the genetic code for thousands of plant species. Its collection of seed genetics has grown to more than 1.2 million varieties. 
Ask an Expert
How do shrinking water supplies affect agricultural production, especially in the face of a growing global population?
"Already, a quarter of cities, representing 150 million people, are classified as water stressed. By 2050, 66 percent of the world's people will live in cities, generating a potential increase in demand for water of 80 percent and significant and likely competition or conflict between cities and rural areas. However, booming population growth will also mean demand for food will also increase by 50 to 60 percent, largely fueled by growing cities and their changing diets. Cities need farmers to produce more food and more diverse foods, but they will also need them to do so with less water so that there is enough go around."
— Nonresident Fellow Alesha Miller in Growing Cities, Changing Diets
Nonresident Fellow, Global Food and Agriculture


Alesha Miller is a nonresident fellow of the Center on Global Food and Agriculture at the Council. She currently advises a social impact technology startup and is an independent consultant and public speaker on food and agriculture. Most recently she was managing director of the Council's Center on Global Food and Agriculture, overseeing strategy, research, policy development, and team management.



Experts discuss impunity and accountability throughout the Middle East and North Africa in the 21st century.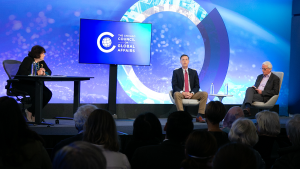 As Russia's war in Ukraine enters its second year, Jessica Tuchman Mathews moderates a discussion with Ivo Daalder and George Beebe on options for protecting Ukraine's independence, ending Russian aggression, and keeping the US and Ukraine's neighbors out of the war.
Did you miss one of our previous livestreams? Don't worry! They are all available on our website to watch at any time.
Other Upcoming Events
IFAD at the Commission on the Status of Women (CST67)
Date: March 6 - 17
Grassroot Partnerships to Strengthen Pacific Food Security and Climate Change Adaptation
Date: March 8
Time: 11:00 a.m. PT
Ukraine One Year Later: The Impact of the War on Agricultural Markets and Food Security
Date: March 8
Time: 9:00 - 10:30 a.m. ET
Ketapanen Kitchen Cultural Immersion Dinner Series
Date: March 11
Time: 6:30 – 10:00 p.m. CT
Groundwater: Potential and Pitfalls for Africa
Date: March 20
Time: 8:00 – 9:30 a.m. ET
---
Land Acknowledgement Statement
The Center on Global Food and Agriculture recognizes it occupies the ancestral land of the Kiikaapoi, Peoria, Kaskaskia, Bodwéwadmi, and Myaamia people. Indigenous communities around the world disproportionately experience the pressures of climate change, global conflicts, and the COVID-19 pandemic, while simultaneously stewarding 80 percent of the world's biodiversity. These Indigenous tribes and nations are the original owners of this land and continue to be systemically erased by policies and practices that ignore their histories. To learn more about Indigenous foodways and practices, check out our 2022 blog series "Stewardship, Sovereignty, and Solutions."
Communications Officer

Natalie Burdsall joined the Chicago Council on Global Affairs in 2022 as the communications officer for the Center on Global Food and Agriculture. In this role, they promote the work and impact of the Center to expand public engagement in global food and agriculture, and assist in bringing the Council's digital transformation to fruition.

Intern, Center on Global Food and Agriculture

Clayton Elbel joined the Council as a 2023 spring intern with the Center on Global Food and Agriculture.