World Review: The Perfect Storm – Heat Waves, Energy Crunches, and Climate Change
Nirmal Ghosh, Elise Labott, and Amna Nawaz join Ivo Daalder to discuss the week's top news stories.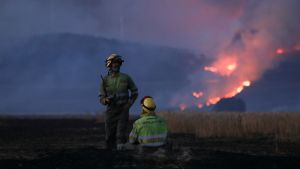 About This Episode
As the Northern Hemisphere battles record-setting heat waves and wildfires, Europe barrels towards a winter energy shortage that will chill homes and industrial output alike. This week—Nirmal Ghosh, Amna Nawaz, and Elise Labott join World Review with Ivo Daalder to examine a perfect storm of energy and environment crises. Also up for discussion: What did Biden and Putin accomplish in their respective trips to the Middle East? And we'll get the latest on unrest in Sri Lanka.
Prefer to Listen?
Subscribe to our podcast edition on the following platforms.
US Bureau Chief, The Straits Times


Nirmal Ghosh is the US Bureau Chief for The Straits Times. His reporting covers politics, elections, conflict and coups d'etat, natural disasters, and social and environmental issues across a dozen Asian countries.


Contributing Editor, POLITICO Magazine & CEO of Zivvy Media


Elise Labott is an adjunct professor at American University's School of International Service and the founder and CEO of Zivvy Media, a digital platform to engage youth on global issues.


Chief Correspondent, PBS NewsHour


Amna Nawaz is an Emmy and Peabody award-winning journalist, currently serving as chief correspondent and primary substitute anchor at the PBS NewsHour. She is also a contributor at NBC News/MSNBC.


CEO, Chicago Council on Global Affairs


Ivo H. Daalder served as the US ambassador to NATO from 2009 to 2013. He joined the Council as president in 2013 and took on the new role of CEO in 2023. Previously, he was a senior fellow in foreign policy studies at the Brookings Institution and served as director for European affairs on President Bill Clinton's National Security Council. He is the author or editor of 10 books.