World Review: Russia, China, and the Battle for Global Dominance
In lieu of a new World Review, Ivo Daalder talks with Catherine Ashton, Robert Kagan, and Kishore Mahbubani about Russia and China's efforts to counter US power.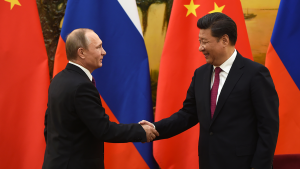 About This Episode
Russia's invasion of Ukraine and China's economic and military rise signify the emergence of a new geopolitical order. In this era of revived great power competition, the United States faces adversaries increasingly willing and able to challenge its global interests and project their own influence. In lieu of our regular World Review panel, this is a replay of a conversation with experts from the United States, Asia, and Europe on what the war in Ukraine has revealed about the changing geopolitical order and whether further conflict is inevitable as the ambitions of the world's powers collide.
Prefer to Listen?
Subscribe to our podcast edition on the following platforms.