Klaus Schwab on the Fourth Industrial Revolution, Globalization, and Equality
Klaus Schwab, founder and executive chairman of the World Economic Forum (WEF), takes a minute to answer questions about the fourth industrial revolution and what it means for globalization and equality.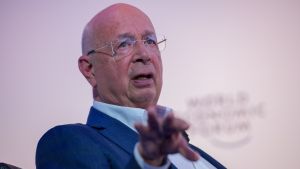 What is the Fourth Industrial Revolution?
The Fourth Industrial Revolution is a combination of technological breakthroughs which will completely change business models, society, economies. [The] Fourth Industrial Revolution is coming with enormous speed, and will change not only what we are doing but who we are.
Will globalization rise or recede going forward?
The world will grow more together in the digital age. We are becoming more interdependent. We will have, not less, we will have more globalization, but the question is: How do we master, and how do we construct, this new type of globalization? I call it, "Globalization 4.0."
What concerns you about economic equality?
It's a poison for society. We cannot leave people behind. We have to make everything to ensure social cohesion of a society, because social cohesion is a prerequisite for a democratically functioning country.
Founder and Executive Chairman, World Economic Forum
Klaus Schwab founded the World Economic Forum in 1971. The Forum employs over 700 people in Geneva, Switzerland, New York, San Francisco, Beijing, and Tokyo.