Emma Belcher on Russia's Nuclear Threat
If Russia's war on Ukraine continues to escalate, could nuclear weapons enter the picture? Emma Belcher looks at the risk and what we can do to reduce the threat.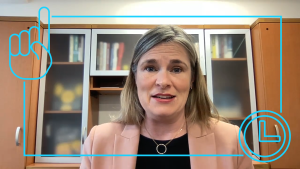 President of Ploughshares Fund Emma Belcher takes a minute to discuss the seriousness of Russia's nuclear threat, what could happen if Russia were to act on it, and how we all can help to prevent nuclear warfare.
President, Ploughshares Fund
Emma Belcher is the president of the Ploughshares Fund, a public grantmaking foundation that supports initiatives to prevent the spread and use of nuclear weapons. Before this position, she was the director of Nuclear Challenges at the John D. and Catherine T. MacArthur Foundation, and published research on nuclear weapons at the Council on Foreign Relations as a Stanton Nuclear Security Fellow.