The Zelensky Effect: How an Ordinary Ukrainian Became an Extraordinary Leader
The unknown story of Zelensky's powerful wartime leadership.

About the Episode
One year ago, Russia launched its brutal and unprovoked invasion of Ukraine, but perhaps the greatest surprise has been the emergence of one of the most significant wartime leaders of the 21st century. How did Volodymyr Zelensky become the guiding force we know today? On Deep Dish, Olga Onuch, author of "The Zelensky Effect," dives into the story of the ordinary Ukrainian who rose to command the global stage.    
Reading List
Senior Lecturer, Politics, University of Manchester

Olga Onuch is a senior lecturer in Ukrainian & comparative Politics at the University of Manchester. She is also the co-author of the book, "The Zelensky Effect", which is a compelling story of how ordinary Ukrainians saved their nation.

Vice President, Studies


Brian Hanson is the Vice President of Studies at the Chicago Council on Global Affairs. He oversees the Council's research operations and hosts the Council's weekly podcast, Deep Dish on Global Affairs.


Related Event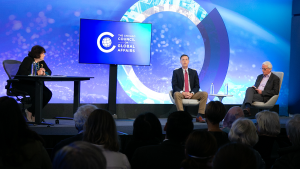 As Russia's war in Ukraine enters its second year, Jessica Tuchman Mathews moderates a discussion with Ivo Daalder and George Beebe on options for protecting Ukraine's independence, ending Russian aggression, and keeping the US and Ukraine's neighbors out of the war.