Renewing American Diplomacy
America's diplomats are still critical for US foreign policy, but the foreign service must become more flexible to engage the next generation and solve today's problems, our guests argue. What would change look like?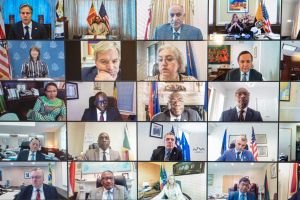 About the Episode
Years of underinvestment, politicization, and data on looming retention problems raise urgent questions about the need for change in the United States Department of State. Ambassador Marcie Ries and Charles B. Rangel International Affairs Fellow Constanza Castro Zúñiga join Deep Dish to explain why diplomacy is still critical for American foreign policy and offer solutions to reimagine the diplomatic service for a new generation. 
Reading List
Ambassador (retired), US Department of State.


Ambassador Marcie Ries is a veteran diplomat with thirty-seven years of service in Europe, the Middle East, and the Caribbean. She was a three-time Chief of Mission and most recently represented the United States as Ambassador to Bulgaria from 2012-2015. She is co-author of a 2020 report from Harvard's Belfer Center offering recommendations on creating "A US Diplomatic Service for the 21st Century."


Charles B. Rangel International Affairs Fellow, US Department of State


Constanza Castro Zúñiga is a State Department Charles B. Rangel International Affairs fellow and co-author of a new study from Georgetown's Institute for the Study of Diplomacy called "The Crisis in the State Department," evaluating data on retention among current officers.


Vice President, Studies


Brian Hanson is the Vice President of Studies at the Chicago Council on Global Affairs. He oversees the Council's research operations and hosts the Council's weekly podcast, Deep Dish on Global Affairs.


Former ambassadors discussed why a foreign service reflective of the United States' diversity can strengthen American diplomacy abroad.