The Evolving Threat of Nuclear Warfare
Carnegie nuclear policy senior fellow Ankit Panda discusses recent nuclear saber-rattling by Russia and North Korea and whether the risk of nuclear conflict is growing.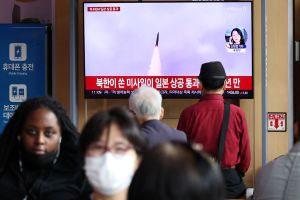 About the Episode
President Putin has demanded the West take his nuclear threats seriously and North Korea is rumored to preparing to undertake a nuclear test in the coming days. On Deep Dish, South Korean and Ukrainian citizens share what it is like to live under the looming shadow of possible nuclear warfare and Ankit Panda discusses whether the nuclear taboo is likely to be broken and how the world should respond. 
Senior Fellow, Nuclear Policy Program, Carnegie Endowment on International Peace


Ankit Panda is the Stanton senior fellow in the Nuclear Policy Program at the Carnegie Endowment on International Peace and is editor-at-large and host of the podcast on Asian geopolitics at The Diplomat. He is also the author of book "Kim Jong Un and the Bomb: Survival and Deterrence in North Korea".


Senior Fellow, US Foreign Policy


Elizabeth Shackelford, a former career diplomat who served the US Mission to Somalia and the US Embassy in South Sudan, focuses on building awareness and understanding of a "restraint" approach to foreign policy, which seeks to limit the use of force to core US security interests and favors diplomatic engagement.


Founder and English Tutor, Let's Speak UA


Mariia Bublyk is an Ukrainian english tutor and founder of Let's Speak UA. She is based in Kyiv, Ukraine.


International Peace and Security Graduate Student, Korea University


Hyunseon Kim is a graduate student studying International Peace at Korea University in Seoul. She is based in Yong-In, South Korea.