SAWBO RAPID Addresses Economic Impacts of COVID-19

Nearly a decade ago, SAWBO was launched by and remains co-directed by Drs. Julia Bello-Bravo and Barry Pittendrigh, both currently faculty members at Michigan State University (MSU).
When COVID-19 hit her home country of Kenya, Rachel Olukhanda Lutomia was working as a salesperson for a clothing business. As restrictions and social distancing guidelines stiffened, Lutomia knew her sales job was not going to provide enough money to support her family of five through the pandemic.
Lutomia had been a part-time hobby farmer prior to COVID-19. She struggled to maintain a modest garden while working and caring for her family but had little success with her crops. While watching local television channel KTN Farmers TV, Rachel saw an animation, created by Scientific Animations Without Borders (SAWBO), on the subject of raised bed farming. The animation she viewed, along with the challenges of the pandemic inspired her to commit to her garden full-time and in just a few months, Lutomia was growing enough vegetables to feed her family, while also having enough crops left over to generate much needed cash.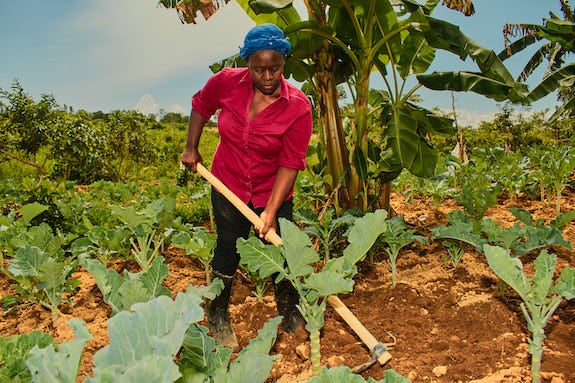 Rachel Lutomia working in her garden.
She credits her success to the knowledge she gained through a variety of SAWBO animations she watched on TV and subsequently accessed through SAWBO's YouTube channel, which inspired Lutomia to start her new career as a farmer.
Nearly a decade ago, SAWBO was launched by and remains co-directed by Drs. Julia Bello-Bravo and Barry Pittendrigh, both currently faculty members at Michigan State University (MSU). In addition to many stories like that of Rachel Lutomia, the effectiveness of education by animations in local languages is well documented through Bello-Bravo's USAID Innovation Lab funded field-based research in countries throughout Africa which has produced over 33 academic papers and book chapters.
"On my own I had tried to raise my vegetables but it had failed, but with the SAWBO videos helping, I succeeded and I plan on expanding. Farming has allowed me to have food on my table during COVID-19, and I can get some cash to supplement what I have. I hope to be able to start farming commercially, especially when it comes to my vegetables," Lutomia said.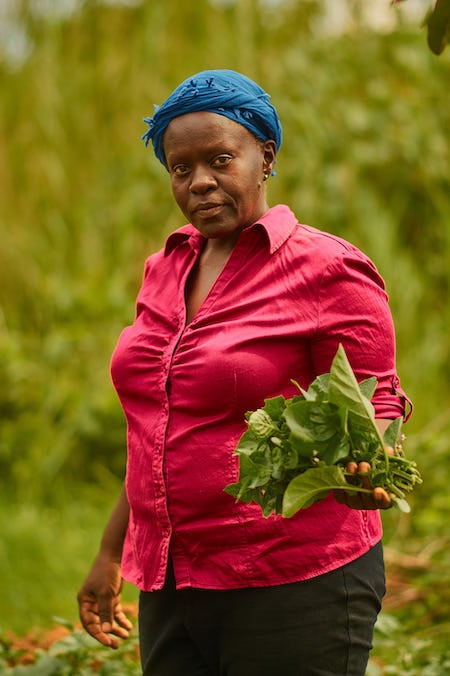 Lutomia shows off some of her produce grown using skills from SAWBO videos.
SAWBO, a leader in the worldwide distribution of free agricultural and health information, has recently embarked on a new partnership through the Feed the Future initiative and seeks to assist others like Lutomia, to use resources and skills in new and innovative ways to address the secondary economic impacts of COVID-19, including disruptions to trade, supply chains and markets.
The Feed the Future SAWBO Responsive Adaptive Participatory Information Dissemination Scaling Program (SAWBO RAPID), aims to build off SAWBO's foundation of democratizing information critical to agricultural and personal well-being to ensure that important COVID-19 information is delivered across borders, cultures, economic divides and literacy levels. Dr. John Medendorp, a Human and Institutional Development and Systems expert at Michigan State University, joins Bello-Bravo and Pittendrigh to co-lead the SAWBO RAPID program.
"SAWBO RAPID uses an integrated information and communication management approach," explain Medendorp. "Our systems approach is focused on ensuring that during times of crisis the right messages are delivered to the right people, at the right time, in the right places and with the right tools so that information is received, understood, integrated into local contexts and most importantly, applied."
SAWBO RAPID will develop educational content, for local language adaptation, on protecting health and safety during the COVID-19 crisis. Expected topics include how to safely store food, plant fields, care for livestock and conduct the daily business of life, while also practicing proper health security measures. SAWBO's approach engages global experts using "boots-on-the-ground" outreach to identify local needs, co-create animations in local languages and distribute the animations virtually to reach remote and marginalized communities in collaboration with global distribution partners.
"The SAWBO system is focused on providing accurate educational information for people of all literacy levels across as many language groups as possible – content that can be used by other individuals and groups around the world to have impact in global communities – allowing for a 'RAPID' response to emerging challenges," said SAWBO co-director Barry Pittendrigh.
"SAWBO's ability to take university-based research and apply it to local issues across the world places the organization in a prime position to address the wide range of economic and health issues caused by COVID-19," explains SAWBO co-director Bello-Bravo. SAWBO RAPID will mimic the approach and method SAWBO has established to reach and impact the over 45 million users of their content worldwide. Recent research published by Dr. Bello-Bravo shows high adoption rates (89 percent) of postharvest loss techniques and improvements in healthcare outcomes through educational animation interventions in developing nations.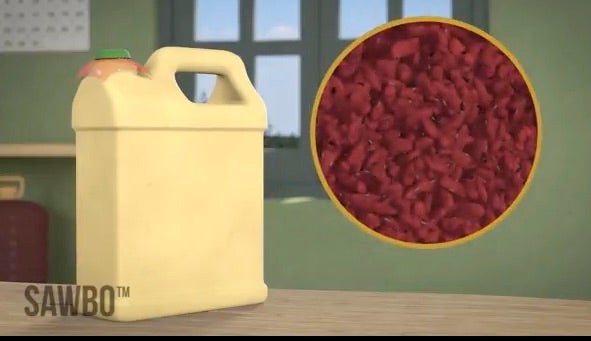 A still from a SAWBO animation on properly storing beans.
Every animation created by the project will be available free of charge for download on the SAWBO RAPID website, through YouTube or the SAWBO Deployer App designed to offer greater offline viewing as well. The first series of SAWBO RAPID animations will focus on reducing post-harvest loss, techniques to increase crop yield and reducing COVID-19 risks while also safely attending and hosting open markets, which are vital to global economic and food security.
SAWBO partners with researchers, animators, translators and educators across the world to create its animations. Dr. Jan Low, 2016 World Food Prize co-laureate, is a contributor to several of the upcoming SAWBO RAPID animations on improved seed systems for drought-prone areas which underlie yield improvement. Low has worked for over 25 years in sub-Saharan Africa.
"SAWBO animations are a wonderful resource for providing relevant, actionable and accessible information to people around the globe," Low said. "I learned about SAWBO animations when I was searching for how to reach rural farmers at scale during the COVID pandemic when we need to operate in several different local languages. What I truly appreciate is that the developers constantly consult the technical experts as they develop the video."
SAWBO has already made its mark as a global source for COVID-19 information with its "Protecting Yourself from Coronavirus" and "Getting the Facts You Need" animations, made prior to the launch of the SAWBO RAPID program. "Protecting Yourself from Coronavirus" is available in 50 language variants thanks to the support of SAWBO collaborators who donated their time and expertise in translating and recording the animation so that it could be shared with millions of people globally. The animation, made in conjunction with Dr. Stephen Esquith Dean of the Residential College of Arts and Humanities at MSU, has been viewed on YouTube by over a half-million viewers globally.
SAWBO's "Getting the Facts You Need" animation on COVID-19, made in conjunction with a United Nations communications team based in Nigeria, has been viewed by over 38 million people through broadcast television in West Africa. SAWBO RAPID will focus its efforts on mitigating the economic impact of COVID-19 in the countries of Ghana, Kenya, Nigeria and Bangladesh. SAWBO RAPID will continue SAWBO's ongoing work with local stakeholders to collect information in those countries on what the specific needs might be and work to build animations that address those needs.
SAWBO's content is created and distributed entirely through online networks, allowing the entire process to be done remotely, while maintaining proper social distancing and stay safe health guidelines. SAWBO RAPID's COVID-19 response sets the groundwork for a systems approach to educational responses to future global catastrophes and further democratizes information critical to surviving times of economic stress.
SAWBO was established almost a decade ago at the University of Illinois at Urbana-Champaign and is now based at Michigan State University. SAWBO extends the land-grant mission of those universities – sharing research to impact its citizens – towards serving the approximately 800 million low literate learners in the world who often have lower economic means. SAWBO has created video content in over 145 languages on over 90 topic areas including health, agriculture, and women's empowerment and has well over 45 million known users who have been directly touched by SAWBO content across the globe. SAWBO has collected numerous awards for humanitarian efforts, public engagement and international achievement.
Communications Manager, College of Agriculture and Natural Resources, Michigan State University

Justin Whitmore is the communications manager at Michigan State University's College of Agriculture and Natural Resources.