Hemispheric Migration: Transnational Challenges Require Transnational Solutions

The movement of Venezuelans across the Western Hemisphere highlights the need for regional coordination.
Last fall, the US Department of Homeland Security reported that Border Patrol agents had 2.7 million encounters with individuals arriving at the US-Mexico border in Fiscal Year (FY) 2022, the highest number since FY 2000. While Central American migrants continued to arrive at the border in high numbers, increased migration among Cubans, Nicaraguans, and, most importantly, Venezuelans, contributed to this year's high number of encounters.
The case of Venezuela in 2022 shows how instability in one country can affect the entire Western Hemisphere through migrant flows and highlights the need for a regional approach to managing irregular migration. In fact, the increase in Venezuelan arrivals to the US-Mexico border is an extension of one of the most significant large-scale movement of migrants in the world. Since 2015, 7.1 million Venezuelans have left their country due to a combination of democratic backsliding and rising economic insecurity. While some Venezuelans have migrated directly to the United States, neighboring countries served as the primary destination for these individuals.
Why More Venezuelans Now Travel through Central America to Reach the United States
Two factors in 2021 combined to create the conditions that pushed Venezuelans to migrate to the US-Mexico border in large numbers. First, the worsening economic downturn in South American countries like Ecuador pushed Venezuelans who initially fled to these countries to migrate further to the United States to seek protection or economic stability.
Second, other countries in the region implemented policies that changed Venezuelans' travel patterns. Prior to 2021, Venezuelans were able to enter Mexico and other Central American countries without requiring a visa. As a result, many well-off Venezuelan migrants flew into Mexico and countries in Central America to travel to the United States, while poorer ones would travel by land through Central America to reach the US-Mexico border. However, that visa-free travel was revoked in 2021 by several countries, including Mexico and Costa Rica. That change made air travel much more difficult for Venezuelans, and incentivized more Venezuelan migrants to travel to the United States via the Central American land route.
The shift to a land-based route—a difficult journey through seven countries—shows up clearly in border migration data from Mexico and Panama. As Figure 1 shows, between May and September 2022, the numbers of Venezuelan nationals crossing into Panama, being apprehended in Mexico, and being apprehended1 at the US border trended upward in tandem.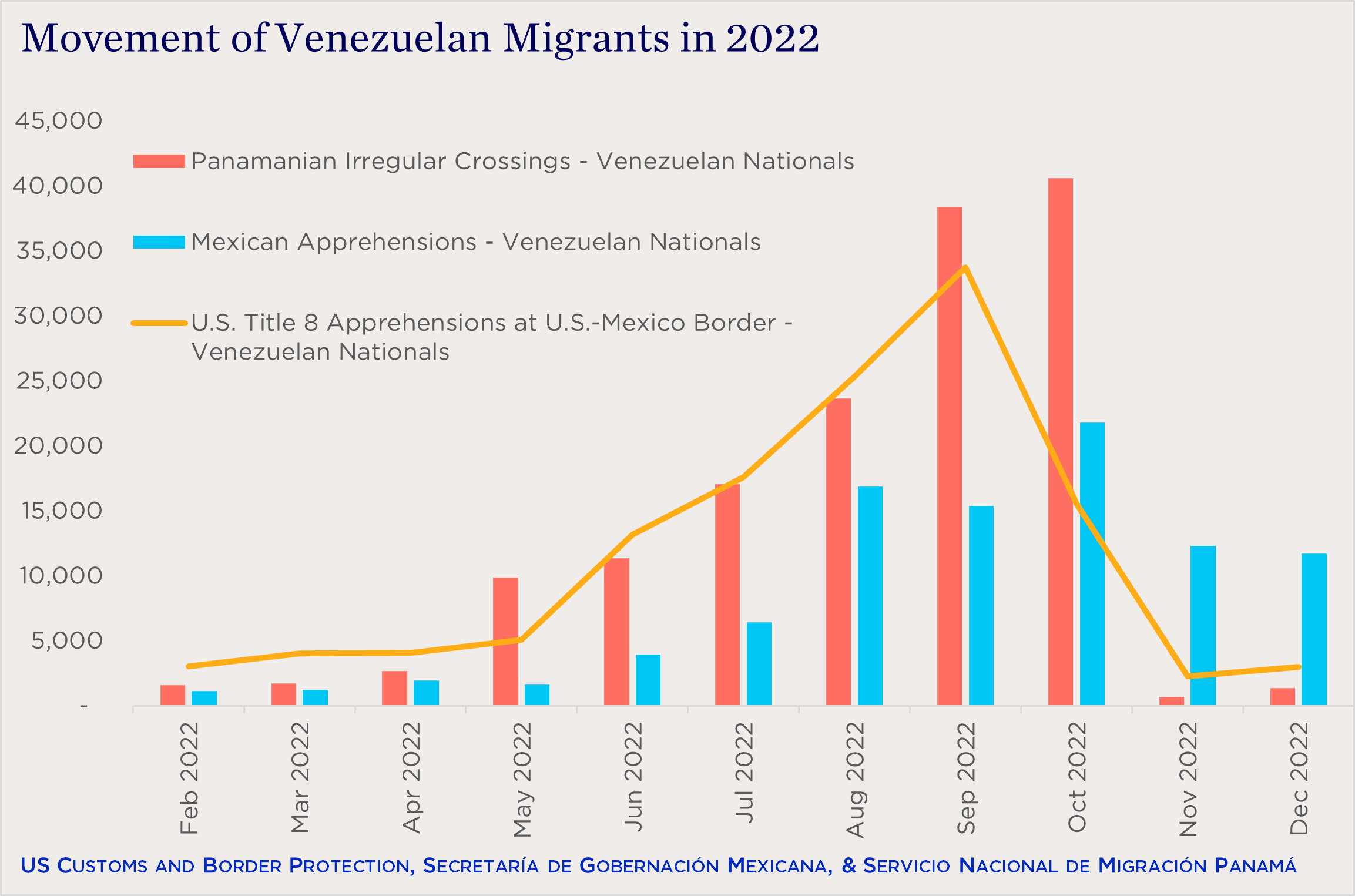 October Shift in US Policy Has Regional Impacts
Venezuelan arrivals to the US-Mexico border dropped between September and November, a trend that emerged in Panama and Mexico's data between October and November. US authorities attributed this decrease to a two-fold US program announced in October. This program allowed Venezuelans with US sponsors to apply for temporary protection in the United States, which reduced border apprehensions by providing a legal pathway for entry. The October changes also allowed Venezuelans without sponsors to be rejected at the border and sent to Mexico under the Title 42 policy2 , a Trump-era policy from which Venezuelans had been previously exempt.3
One important effect of this policy change is that under Title 42, Venezuelans would be expelled to Mexico immediately instead of being given the chance to seek asylum after being apprehended, as they had been previously. These policy changes in October likely discouraged many Venezuelans from making the journey through Central America to the United States and crossing the US-Mexico border, hence the drop in all three figures above.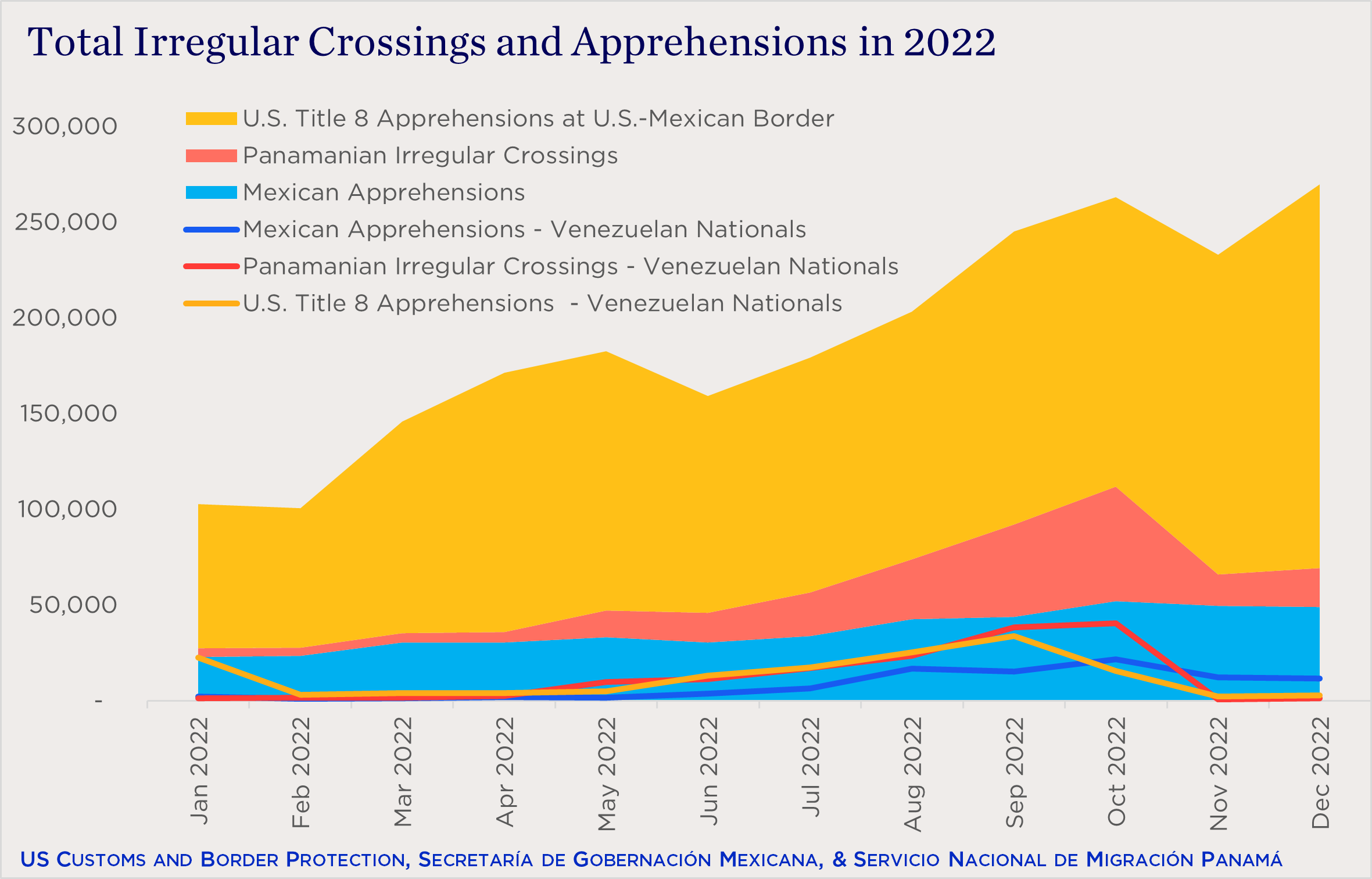 These data also reinforce the case that the Biden administration's Venezuelan policy significantly impacted overall migration trends from South America. Venezuelans are a large enough group of migrants that reducing the rate at which they are crossing through Panama and Mexico had a notable impact on these countries' overall migration metrics. This demonstrates that even a US policy shift focused on just one national group can have a major impact on the countries that lie along the route to the United States.
What Do Increased Migrant Flows Really Mean for Countries along the Route?
In particular, Mexican and Panamanian governmental and nongovernmental groups have needed to provide more social and medical services to Venezuelan arrivals. While international organizations like the International Organization for Migration and Doctors Without Borders have supported these efforts, increased migration has stretched these resources, especially for organizations operating migrant shelters on the northern Mexican border.4 The Mexican government also saw Venezuelans form the fourth-largest group seeking asylum protection in 2022—93 percent of Venezuelans received some form of humanitarian protection—placing additional pressure on the country's strained humanitarian protection system.
Looking Ahead to Hemisphere-Wide Migration Strategies
Although the United States should implement its own policies to manage migration at its southern border, the large-scale and multistep nature of modern migration events means that managing the flow of migrants from South America will need to be a coordinated, hemisphere-wide effort. Some progress has already been made on this front. In June 2022, the United States and 19 other countries signed the Los Angeles Declaration on Migration and Protection, a policy agreement that aims to manage migration through regional coordination using a range of policy tools. While not within its critics, especially among attorney generals from conservative US states, the nonbinding agreement is a promising step forward in establishing a regional approach by committing to expand legal migration pathways, support immigrant integration, and coordinate responses to mass migration. The movement of Venezuelans across the Western Hemisphere highlights the need for the hemisphere to redouble its commitment to this approach in 2023 and beyond.
1Title 8 Apprehensions are instances where Border Patrol agents arrest an individual crossing into the United States between ports of entry and places them in removal proceedings before a judge in the Department of Justice's Immigration court system. Although the Title 8 process is largely punitive in nature, individuals apprehended through it can seek asylum and make their case before the immigration judge overseeing their removal proceedings – a major draw for Venezuelan migrants.
2This policy, which is based on US healthcare law, places individuals stopped at the border into "expulsions," an alternate process for removal from the border under the policy that is faster than other immigration removal proceedings. The vast majority of individuals who go through the expulsion process do not have the opportunity to seek asylum.
3The United States could not expel Venezuelans to Mexico due that country's resource constraints to process these migrants. It could also not expel them to Venezuela due to diplomatic ruptures between both countries. Consequently, US authorities used Title 8 removals for Venezuelans until Title 42 was changed to include Venezuelans.
4Although the Biden administration's policy likely reduced Venezuelan migration, the Mexico Chief of the International Organization for Migration stated and representatives from Mexican nongovernmental organizations stating the expulsions of Venezuelans to Mexico could place additional strain on border shelters on Mexico's northern border as more individuals seek their services upon their arrival to the country.

Ramón is an independent expert on migration policy and previously worked for both the Immigration Project at the Bipartisan Policy Center and the National Immigration Forum.