Beyond the Page
This global affairs book club takes readers "Beyond the Page" on topics shaping our world.
Participants engage in candid and often provocative conversations with authors and each other to explore opinions, personal experiences, and perspectives on works of both nonfiction and fiction. Fans of geopolitical exposés, historical biographies, international romances, and espionage thrillers—this book club is for you.
The Beyond the Page book club is open to Council members. Not a member? Join today.
Participants are strongly encouraged to read the designated book prior to each discussion. All Beyond the Page books are available through the Council's local partner, The Book Cellar.
Have a suggestion or a request for a future Beyond the Page book to read? Email us!
America Second: How America's Elites Are Making China Stronger
Discussion: June 9, 2022
A timely, provocative exposé of American political and business leadership's deep ties to China and the impact on US interests by Isaac Stone Fish.
Buy the book
Buy the audiobook or Kindle
---
Our American Friend
Discussion: August 11, 2022
Spanning from the 1970s to the present day, traveling from Moscow and Paris to DC and New York, Our American Friend is a gripping page-turner about how, sometimes, the fate of the world is in the hands of the people you'd never expect.
To generate lively conversation, here are some questions to consider while reading the book.
What was your favorite part of the book?
What were your impressions of the author's writing style?
Which scene, chapter, or illustration has stuck with you the most?
Did this book remind you of any other books?
What feelings did this book evoke for you?
Are there lingering questions from the book you're still thinking about?
How did it impact you? Do you think you'll remember it in a few months or years?
How does the book's title work in relation to the book's contents? If you could give the book a new title, what would it be?
If you could hear this same story from another person's point of view, who would you choose?
After reading this, what new things did you learn?
What did you Google while reading the book?
Did you agree with the author's conclusions? On what points do you disagree?
Past Discussions

In our first Beyond the Page book club event for Council members, author Isaac Stone Fish leads a conversation with readers on his book, "America Second."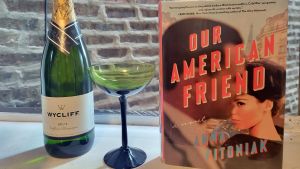 In this Beyond the Page book club event, Council members discuss the international political thriller "Our American Friend" with author Anna Pitoniak.