Ukraine
The latest analysis, events, research, and commentary on Ukraine.

Nearly half of Americans (47%) now say Washington should urge Kyiv to settle for peace as soon as possible.


How are soaring costs affecting lives and testing political support for sanctions on Russia?



Former National Security Council official Fiona Hill discusses the future of Russia's war in Ukraine.

Ivo Daalder argues that China's unwillingness to stand up to Putin is part of what causes the danger of missile hits like the one in Poland this week.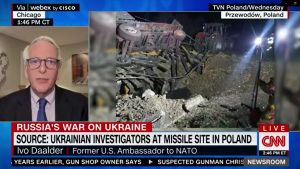 Pivot to Europe: US Public Opinion in a Time of War
On some of the most significant issues of the day, including how the United States should respond to Russia's invasion of Ukraine, Americans across party lines are in agreement, albeit often for different reasons.
Are you a young person being affected by the war in Ukraine? We want to hear from you. Help us amplify stories of your firsthand experiences with conflict, climate change, food insecurity, or economic instability this winter.